The neon signs from the neighboring buildings reflected a soft pink glow on the concrete and illuminated Guitar Lightnin' Lee's face, as he stood in front of the Hi Ho Lounge. With his signature western shirt, black with white ruffles and white hat, he leaned back with one leg propped against the rusty brick wall, cigarette in one hand and lighter in the other.
"Now I don't know what you need to know, but what I can tell you is anything I say, you can take to the bank," Lightnin' says and takes a long drag off his cigarette, closing his eyes as he exhales.
He seemed a bit nervous at the idea of an interview, a modesty that you wouldn't expect from a man who has played with the likes of Earl King, Jimmy Reed, Fats and his son Antoine Domino. But it's a modesty that has kept him under the radar, until now.
Six years ago was the first time I'd seen him and his Thunder Band play at the Circle Bar in New Orleans. I had attended numerous blues shows in the past, growing up in Mississippi, but something about this show—Lightnin's show—was different. The crowd was young, and he wasn't some archaic bluesman sitting on a stool playing the same old songs he had rehearsed all his life. His band was a young group of musicians, all members of various other bands, all from different walks of life.
Lightnin', who sat for the first part of the set, stood up, kicked the stool back with his boots and shook his hips like he had been saving it all night, for the second half. He broke into the best rendition of "Human Fly" I had ever heard, and I couldn't believe it. This was not your typical blues show. Who covers The Cramps at a blues show?
From The Cramps to Cookie and the Cupcakes' "Matilda," Lightnin' sets himself apart from many bluesmen because he has changed with the times and embraced new ways of playing rock 'n' roll and the blues, sometimes making the musical worlds collide.
Born and reared in New Orleans' Lower 9th Ward, Lightnin' describes his childhood as "poor, happy and carefree." He picked up a guitar around age 14, and ever since then, he has accumulated story after story about a life of rock 'n' roll and blues playing. He speaks of times gone by with an almost childlike quality. Lightnin' doesn't seem to realize how much a part of blues history he is.
He trained professional boxers, worked as a deckhand in California and even rented space in Little Richard's house once upon a time. He used to walk past Fats Domino's house on the way to school, and the two developed a close friendship. Earl King, the great electric bluesman of New Orleans, wrote a song just for Lightnin', and he learned how to play many Jimmy Reed songs he covers from the man himself.
Holding a drink in his right hand and a box of matches in the left, with the guitar's smooth wooden bar resting on top, Lightnin' fiddled, sliding the box up and down along the bar's spine while he spoke. People occasionally broke in to say "hello" during our conversation, and as time went on, people congregated and listened to the story about how Lightnin' met Reed decades ago.
"I have a great memory. I don't forget. I met him in Chicago. I had a friend that lived there, and he gave me a job. I went there with just the clothes on my back. My sister was supposed to send me a box of clothes and money. Well, I never got that box. I did meet a girl named Loretta, though. She was Jimmy's little sister. I had a crush on her, but she was too young for me," Lightnin' says. "Jimmy always told me that he wished I'd go back to New Orleans."
He eventually did return to the Crescent City, playing with local legends Eric K. Doe, Little Freddie King and nationally recognized bluesman Earl King. In fact, Lightnin' and King formed a friendship that lasted until King's death in 2003.
"I remember the last time I saw him was at the House of Blues, and he told me that he had written a song just for me. I didn't get to ever hear that song, because he died before I could make it up to where he was. ... I never got to hear that song," Lightnin' says.
A couple of weeks after my first conversation with Lightnin'. I stood with about 200 people on the patio of the House of Blues at the Ponderosa Stomp, an annual music festival honoring the unsung legends of our time. The festival has brought the likes of Ronnie Spector, Mary Weiss and the Shangri-Las, Roy Head, Roky Erickson and countless others to the Big Easy.
In the middle of a sea of black T-shirts, sundresses and khakis, Lightnin' stood in a red suit and a white cowboy hat. As he cued the band, Josephine, his beloved guitar, rested gently on his lap. The drummer crashed the high hat, and the people in the crowd began to move their heads to the music.
A pretty girl with brown hair in a black dress stood up front shaking her hips, and a man in a striped shirt took her hand and spun her across the floor. Suddenly, Lightnin' stood up. This is apparently something he saves for special occasions.
"Now this is for all you kids out there. You may know this song," he said to the attentive crowd. His body started to twist with the sound of the slide guitar, and the crash of the cymbals made out the faint beginnings of the Cramps tune. Half the crowd jumped to its feet before the musicians had played the first few bars of the familiar song, while the other half had no clue what they were listening to. But you'd better believe they liked what they heard.
Take a road trip to the Siberia Bar (2227 St. Claude Ave., New Orleans) Saturday, Feb. 5, at 10 p.m., and hear Guitar Lightnin' Lee and His Thunder Band recording live and Jackson's all-girl band Wild Emotions.
More stories by this author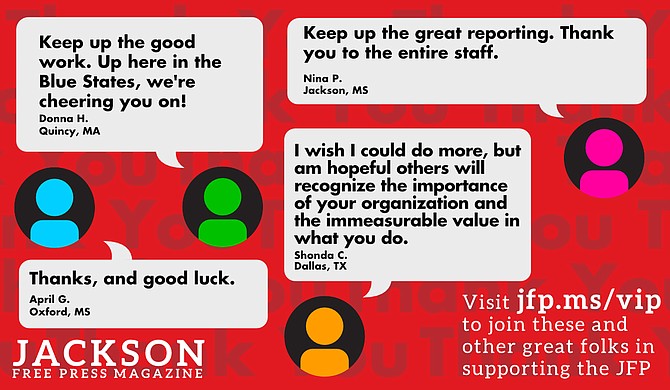 Thanks to all our new JFP VIPs!
COVID-19 has closed down the main sources of the JFP's revenue -- concerts, festivals, fundraisers, restaurants and bars. If everyone reading this article gives $5 or more, we should be able to continue publishing through the crisis. Please pay what you can to keep us reporting and publishing.