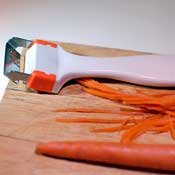 Maybe, like me, you're not that great of a cook, but you want to improve your skills. As you watch cooking shows and read cooking magazines, you may found that some words are unfamiliar. Below are a few cooking terms that might be new to any novice in the kitchen, or they may be a refresher course for the foodie pro.
Basting is a means of keeping any type of meat moist over extended periods of time with a liquid such as melted butter, fat or pan drippings. It also enhances flavor.
Blanching is scalding or parboiling in water or steam and then dipping in ice-cold water to stop the cooking process. This process is usually done for fruits and vegetables to remove the skin.
Braising is cooking meat slowly in fat and a little moisture in a covered pot. The results are a particularly enhanced flavor in meat and vegetables.
Julienne is a knife technique that slices carrots, potatoes, celery, meat and fish into thin strips about the size of matchsticks.
Fricassee is a meat or vegetables dish that has been stewed in thick gravy. The meat is usually white meat.
Sautéing is frying foods in a small amount of fat over high heat. The foods are usually cut into smaller pieces for faster cooking time.
Poaching is simmering foods such as poultry, eggs, fish, and fruit in liquids including water, wine, stock or milk.
Flambé, French for flame, is the process of adding alcohol to a pan to create a burst of flames. This process, typically done to meats and fruits such as bananas, chemically changes the foods.
Source: http://www.newitialianrecipes.com, http://www.merriam-webster.com and http://www.wikipedia.org/wiki/cooking
More like this story
More stories by this author
Like independent media outlets around the world, the Jackson Free Press works hard to produce important content on a limited budget. We'd love your help! Become a JFP VIP member today and/or donate to our journalism fund. Thanks for considering a JFP VIP membership or one-time support.