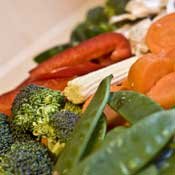 Shop locally and fresh at the Old Fannin Road Farmer's Market (307 Old Fannin Road, Brandon) all winter long. The Farmer's Market is open 8 a.m. to 9 p.m. Monday through Saturday and from noon to 7 p.m. on Sundays. It is located between Lakeland Drive and Spillway Road.
The market sells fresh vegetables and fruits such as green beans, tomatoes, cucumbers, greens, sweet potatoes, acorn and winter squash. A new crop of apples is in and fruits from Louisiana such as grapefruit and lemons are for sale as well. Customers can purchase gourmet candy, chocolate, pecans (shelled, whole or glazed) and Mississippi cheese straws. During the holiday season, you can buy fresh garland, pine and fir trees, fresh and decorated wreaths and handmade bows.
Jim and Cindy Hunt own the farmers' market, which has been open in Brandon for 12 years.
For information, call 601-919-1690.
More stories by this author