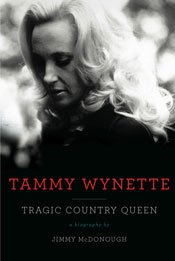 Tammy Wynette once said, "I believe you have to live your songs," but too often the life of this country-music superstar takes a backseat to her hit, "Stand By Your Man."
Author Jimmy McDonough, however, has written a comprehensive biographical account of Wynette's rise and fall in "Tammy Wynette: Tragic Country Queen" (Viking Books, 2010, $27.95).
What most don't know, and McDonough reveals, is that Wynette is country music's first artist to go platinum, with album sales over 30 million currently and more than 20 No. 1 hits.
McDonough relays dozens of interviews with former Music City heavyweights and those closest to Wynette, some of which conflict with one another and others that rebut Wynette's own accounts. From Wynette's rural upbringing in Ittawamba County, Miss., to her last days in her Nashville home, McDonough goes to great lengths to get all sides of her life, and makes no qualms about questioning the validity of conflicting accounts.
Wynette, born Virginia Wynette Pugh, was raised in the country, though not in extreme poverty, and McDonough's chronicling of her travels—from her birthplace to Tupelo to Birmingham and finally to Nashville—provide a more detailed and vivid frame of reference than any tabloid or documentary can afford.
The firsthand accounts of the people close to Wynette put into context some of her bigger hits, particularly those concerning relationships and the emotions around them.
"There is no doubt Wynette cast a spell over men," McDonough writes. "Interview those who have been involved with this dame, and their eyes glaze over as they stare into the distance."
From Wynette's first husband, Euple Byrd (who whispered his proposal to her in church), through her destructive final, fifth marriage to George Richey, McDonough opts to provide ample biographical material on the husbands themselves.
He does this with other prominent figures in Wynette's life, such as longtime producer Billy Sherrill, but never as filler and always as exposition to depict her relationships, romantic or not, as accu-
rately as possible.
McDonough's illustration of her marriages and their eventual declines offers insight into the singer as a wife and forlorn lover.
Wynette goes onstage in her native state shortly after separating from third husband, country music legend George Jones, with whom she formed a wildly popular musical act at the time: "Here she was in Mississippi, stumbling around onstage, besieged by hecklers yelling, 'Where's George?' Jones had always handled talking and joking to the audience. All Tammy had to do was stand there and sing. 'I didn't find out I had a personality until I went out on my own,' (Wynette) said."
Wynette found not only her personality and stage presence by being out her own again, but also inspiration for several of her songs, complete with powerful and haunting vocals.
"'Thank God for my music,' wrote Wynette, maintaining that writing helped her get over the loss of Jones. 'Now when I can't sleep, I just
go to the piano and start writing.'"
Together, Jones and Wynette formed country's first superstar couple, but their inevitable split was symptomatic of four of
her five marriages.
Raised in a strong Christian household, Wynette expressed more than once in her life she felt guilty for the divorces, but as each marriage grew more calamitous, her options shrank.
Shortly after Jones and Wynette split (though they did perform their duet act again in later years), country music's first lady turned to painkillers. The drugs were the result of more than 20 surgeries over the course of her life by McDonough's count.
Wynette quickly became caught in a web. Sometimes she would perform while in great pain, and other times doped nearly unconscious. Richey, her last husband, is a notorious figure in Wynette's life, responsible for administering her drugs via intravenous injection, acting as her manager and, some say, for using Wynette for her wealth.
Married to Wynette from 1978 until the time of her death 20 years later, Richey is both victimized and defended by the couple's acquaintances.
"Any analysis of the Richey-Wynette dynamic at this stage of the game is to submerge oneself in a fog of ambiguity," McDonough writes of their marriage.
But the very painkillers Wynette needed to cope were also her addiction. Some believe Richey, who died in 2010, had a hand in her death, but we'll likely never know.
One thing McDonough certainly makes clear, though: The measure of an artist like Wynette cannot be found in tabloid headlines or even record sales.
So what if Wynette didn't live the lives of her songs' narrative? Her story is far more captivating and devastatingly compelling than any three-minute song, regardless of its popularity.
More like this story
More stories by this author