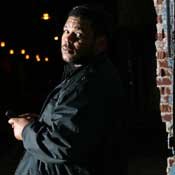 A lot has changed since Skipp Coon and Mr. Nick released their debut opus, "Women Revolution Tennis Shoes," in 2008. We now live in a post-racial society with a black president, a totally just government and international conflicts that get worked out during "Kumbaya" drum circles. So naturally, Skipp is going to dedicate his new album to rapping about jovial frivolity over jumpy, synthed-out pop beats courtesy of Mr. Nick, right? Maybe not.
From its opening line, "Sophomore Slump: Independents Day" wastes no time letting its listeners know that though there's a black president, there's still a long way to go. The EP contains five songs of Mr. Nick's signature brooding piano notes, soulful samples and ominous bass lines lending themselves to Skipp's aggressive delivery and hard-hitting subject matter.
The standout song is "4/28/1967," an homage to the day heavy-weight champ Muhammad Ali refused military service as a conscientious objector, featuring stellar verses from Skipp, PyInfamous, Melaphyre and Mississippi mega-star David Banner. Banner's appearance is quite the coup for the up-and-coming rapper, but Skipp still shines, sounding right at home next to the legendary rapper/producer.
"Sophomore Slump" isn't your summertime dance EP, like Toni Morrison isn't a nice beachside read. But it's worth a concentrated listen. The EP is as hard to swallow as Mississippi's past but as hopeful as its future. It drops July 5.
More stories by this author
Support our reporting -- Follow the MFP.