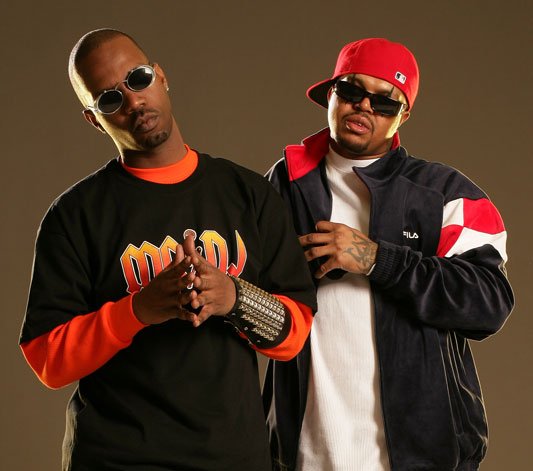 Memphis, Tenn., has always been considered a musical Mecca. From Elvis to B.B. King, the city has been linked with legendary musicians. It is also the city where DJ Paul, Lord Infamous and Juicy J began to carve out their own legacy, forming the rap group Three 6 Mafia in the early '90s. The three friends began making gritty, southern music and selling it any way they could. Their dark, haunting horns and drum patterns became a trademark sound, infiltrating the southern musical landscape. The group made a name for themselves, becoming regional stars and enjoying moderate national exposure.
In an unexpected turn of events, Three 6 Mafia's song "It's Hard Out Here For A Pimp," from the "Hustle and Flow" soundtrack, won an Academy Award for Best Song. They became the first black music group to win an Oscar and perform at the ceremony. The award thrust the group onto the national scene, allowing their music to come screaming out of cars nationwide. In June, I was able to talk with Juicy J and discuss the group's future and recent success.
What's good, man? How's it going?
I'm doing straight, working on that new Three 6 Mafia album, "Last 2 Walk" coming out June 24th.
You guys have always had a huge following in Mississippi. Has the reception changed from back in the day ?
I don't think anything's changed. It seems the same to me. Everybody was cool, showed love. Everything was great; I love Mississippi.
How are you guys moving forward since winning that Oscar?
Everything is great, man. We have this new album coming out June 24. We got this hot club record called "I'd Rather," (and) a smash radio single called "Lolli (Pop That Body)." Everything's looking real good right now.
What kind of sound can we expect from the album? A lot of your diehard fans are saying that you changed your sound a little bit since the big Hollywood splash.
It's the same old Three 6 Mafia sound we've been putting out for the last 10 years. Nothing's changed. People like to say "change" because when you make it big, people say: "He's gonna change. He's gonna change. He's gonna change." Yeah, we may change a snare or a couple of drums here or there, but if you listen to the album, you'll hear the same old Three 6 Mafia stuff like what we used to do in '98, '97. It's one of our best albums. I think people are gonna be surprised and shocked with this album. It's a good album.
What guests can we expect on the album?
We got Akon on the album. We got Good Charlotte, Project Pat, Al Capone, UGK, Lyfe Jennings.
Good Charlotte?! How did that happen?
It's hard! It's not a rock song. It's a gangsta song. It's gonna shock a lot of people. It's one of my favorite songs on the album. It's hard. You just gotta hear it. When people hear it, they ain't gonna believe it. They're gonna be like, "Damn! I can't believe they came like that." It's off the chain, man.
I'm looking forward to it. On the "Lolli" song, you mention Barack ("Like Barack Obama said, it's time for a change."). What are your thoughts on the election so far?
Well, that really wasn't a political statement. I was referencing a female in the song. "Like Barack Obama said it's time for a change/ Pull on over in the back seat/ Pop that body now you got me." I wasn't really trying to endorse it or get into politics with it. However, as far as the election and all that, I think it's great to see that he won, not just because he's black but because the whole United States of America came together and is starting to change. I think everything is getting better now. It was very historic. It'd be cool if him and Hillary (Clinton) got together with her as VP and fought it out together.
You guys are obviously huge influences on the southern scene. What guys influenced you as you were coming up?
Luke Skywalker [Uncle Luke], Outkast, Geto Boys; a lot of folks, Eightball & MJG. There are a lot of people that have paved the way for us today.
Well now that you are recognized as pioneers, have you felt any responsibility to educate the young guys coming up?
Yeah, man. I just tell them to stay independent. People ask my opinion on the music business and the rap game, and I just tell them that if you put out an album, make sure it's independent. If you sell a couple hundred thousand copies, you can make money to feed your family. I don't recommend anybody go major until you reach that point. Once you sell two or three hundred thousand copies on your own, then you can go major. See, I've been with a major label for 10 years. We started with independent music. Even though I've been with a major label, we've been putting out independent music for over 15 years before the major labels. I'm still putting out independent music. You never can stop putting out independent music.
If I sold 20 million copies, I would still put out independent music. You can make a lot of money. There are times you can make more than the major. You sell gold on a major label, that's all good, but gold on an independent, you super straight! And there are a lot of southern artists making independent music, which is great.
You guys are known for your energetic live shows, and I'm sure the Jubilee!JAM crowd is in for a great show. How do you keep up your energy at these shows?
Maaaan, drink a lot of beer. (Laughs.) We're gonna come down and get some of that Jackson, Mississippi, home-cooked food, drink me a beer and jump on stage.
Well we're definitely looking forward to that. Any final words for everyone before you head out?
Everyone go get that album. Three 6 Mafia. June 24, "Last 2 Walk."
Catch Three 6 Mafia's patented high-energy performances at this year's Jubilee!JAM Saturday, June 14 at 11 p.m. Advance tickets are available at all Ticketmaster locations and the Mississippi Coliseum box office for $23 for a one-day pass and $40 for a weekend pass; tickets at the gate are $28 for one-day pass and $50 for a weekend pass. Visit jubileejam.com for more information.
More stories by this author
Support our reporting -- Become a JFP VIP.
The news business has changed dramatically in the past year, and we need your help more than ever to keep bringing you important stories about Jackson and the Metro. Become a JFP VIP with an annual membership or you can Sign up as a monthly supporter. Thanks for anything you can do to empower our journalism!