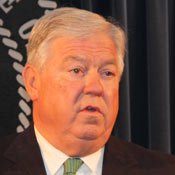 Mississippi Gov. Haley Barbour praised Kenneth Feinberg today, for his ability to oversee a $20 billion escrow fund that BP agreed to set up to compensate Gulf State victims filing claims for losses due to the massive oil spill in the Gulf of Mexico.
Yesterday, however, Barbour addressed his concerns about the escrow account during a FOX news interview saying that creating the account would make it less likely for BP to be able to pay the claims.
"I do worry that this idea of making them make a huge escrow fund is going to make it less likely that they'll pay for everything," Barbour said during the interview. "They need their capital to drill wells. They need their capital to produce income so that they can pay that income to our citizens in Alabama, Mississippi, Florida, Louisiana, and to pay for all the damages done."
Feinberg, The National Law Journal's 2004 "Lawyer of the Year," will be stepping in to oversee a compensatory system the British oil company put in place at the request of President Barack Obama June 16.
"The law is that BP is the responsible party in any damage done to someone because of the oil spill, whether it's loss to income as an employee or as a business or because of injury, BP is suppose to pay it," Barbour told reporters at a press conference this morning. "We expect them to pay it and we'll demand them to pay it, and BP said they intend to pay all legitimate claims, and BP and the president have asked Feinberg if he will be over this system."
Barbour pointed out that Feinberg was in charge of the federal September 11th Victim Compensation Fund following the Sept. 11, 2001 terrorist attacks and maintained a similar fund in Louisiana after Hurricane Katrina.
"Even though he was the Chief of Staff for (Democrat) Sen. (Ted) Kennedy, we have remained great friends, and he's somebody that everybody can trust. That's the reason he was picked--to make sure everybody is fairly and fully compensated, and protects people's privacy," Barbour said.
Feinberg said he spent two hours with the governor and his staff this morning, garnering more information on the nature of the claims.
"I'm running an independent claims facility," said Feinberg, who could not name the number of people working with him to move claims forward at a fast pace. "The president has made clear that this program will be run independently of the White House, independently of BP. The president has also made it clear that he wants prompt payment made to eligible claimants who have filed a claim. Time is the enemy. I do not have a lot of time to make sure that people and businesses need to get compensated quickly, efficiently and fairly."
Feinberg said BP has paid out more than $60 million in short-term interim emergency payments, but both Barbour and Feinberg said BP is responsible for more than the $20 billion in the escrow account if damages surpass that amount.
Despite the money BP dedicated to the clean-up and compensatory effort, Feinberg said the possibility of the company declaring bankruptcy is "not an option."
"Bankruptcy will help nobody except the bankruptcy lawyers," Feinberg said. Barbour said the mechanics behind the $20 billion escrow account allowed the oil company to spread the payment over the course of years so that the company would handle the expenses and still meet its own costs.
"We don't take that $20 billion out at once," Barbour said. "It's paid in increments, otherwise they could never pay our claims."
Feinberg said that it seemed logical BP should be released from a claimant's lawsuit if the company fully compensates the claimant for a total loss.
"That person is getting back money under existing BP programs that do not require that person waive his or her right to lawsuit, even with the interim payments they are getting. If the new facility I'm setting up offers a lump sum comprehensive payment for a total loss, does that person then release BP from any lawsuit? That's what we did with the 9-11 fund. That seems to make the most sense," Feinberg said.
Barbour said BP is also responsible for tax revenue state and local governments lose as a result of the faltering tourism and fishing industry. Connie Rockco, president of the Harrison County Board of Supervisors, told the Jackson Free Press that her district has opened multiple bond issues to fund development in Harrison County, and will suffer if taxes generated from hotel and motel fees suffer in the wake of the spill.
"If BP pays a hotel under $100,000 in lost income, they would be liable to the state for the taxes that would be charged for $100,000 worth of occupancy at that hotel," Barbour said. "That would be subject to the state's sales tax and the hotel and motel taxes collected on the coast. The taxpayers are clearly entitled to recover those loses as well as losses to individual businesses."
Rockco, however, said that local governments should also have ready access to BP money to attempt their own oil-prevention methods and protect their shores.
"This is like Katrina in slow motion," Rockco said. "Local government should have access to money so we can try ideas to keep the oil out of our water. There are oil-collecting mesh and materials that can separate the oil from the water, but paying for these experimental gadgets costs money--and we're not getting any BP funds to try anything. Meanwhile, the oil is slowly rolling in."
More stories by this author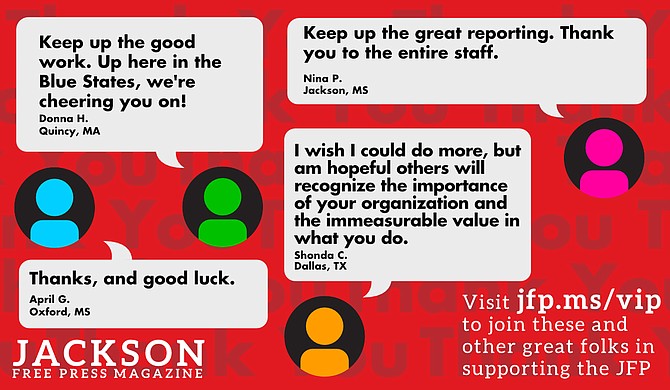 Thanks to all our new JFP VIPs!
COVID-19 has closed down the main sources of the JFP's revenue -- concerts, festivals, fundraisers, restaurants and bars. If everyone reading this article gives $5 or more, we should be able to continue publishing through the crisis. Please pay what you can to keep us reporting and publishing.