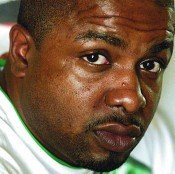 Hinds County Circuit Court has postponed a malicious prosecution lawsuit filed by Cedric Willis, Jackson city attorney Pieter Teeuwissen said today.
Teeuwissen said Willis agreed to allow the city of Jackson more time to submit information relevant to the case, delaying the trial, previously scheduled for Monday, in Circuit Judge Winston Kidd's court until September 27. The rescheduling order, however, was not reflected in Hinds County court records on Friday.
The suit, which includes the Jackson Police Department, former police officers Ned Garner, Jim Jones, Joe Wade and current Deputy Chief Gerald Jones, alleges that then-sergeant Gerald Jones "fabricated information" by saying that a confidential informant had labeled Willis the perpetrator in the 1994 shooting death of Carl White Jr. and the armed robbery of his wife Gloria and daughter Jamilla. It claims the police department also connected Willis to a 1994 rape and the armed robbery and aggravated assault of the rape victim and her husband.
Willis, who filed the suit in 2007, is asking for $12 million for 12 years of incarceration, and another $24 million for punitive damages--not including attorneys' fees and costs. Willis claims city officers continued to press an "improper investigation" against him while knowing that evidence pointed away from him. He was exonerated of all charges and released in 2006, after 12 years behind bars.
Police arrested Willis, then 19, in 1994 for suspected crimes against victims, but according to Willis' attorney Rob McDuff, police--including Gerald Jones--ignored witness' statements that the crimes against Davis may have been perpetrated by three suspects, not one, and that the car described could not be tied to Willis, who did not own a car. Victims Gloria and Jamilla White also described a perpetrator weighing about 160 to 165 pounds. Willis weighed 230 pounds at the time.
Former Hinds County prosecutor Bobby DeLaughter, (who pled guilty to lying to federal authorities last year on an unrelated case) convinced then-Hinds County Circuit Court Judge Breland Hilburn to toss DNA evidence and that could have exonerated Willis.
DNA evidence collected from the rape scene revealed Willis to be innocent of the rape, prompting prosecutors to drop the rape and armed robbery charges. Jackson Police Department forensic ballistic testing concluded that the same .45 caliber automatic had been used in both crimes. Jurors never heard about the charges being dropped or the weapon link between the two incidents. Jurors instead convicted Willis on police line-up identification.
The city of Jackson argues in its July 9, 2010, motion for summary judgment that even if the police officers involved in conducting the Willis case "may not have performed a perfect police investigation" the officers still qualify for immunity because Willis failed to provide evidence--other than allegations contained in the complaint--that police knowingly violated the law.
The state legislature recently passed a law allowing the state of Mississippi to pay restitution to Willis, or anybody wrongly incarcerated, after a case review by the attorney general. Willis learned this year that he is eligible for $500,000 in state restitution.
Read the JFP's 2006 cover story "Deepest Midnight: Cedric Willis and the Failure of Mississippi Justice."
More like this story
More stories by this author
Like independent media outlets around the world, the Jackson Free Press works hard to produce important content on a limited budget. We'd love your help! Become a JFP VIP member today and/or donate to our journalism fund. Thanks for considering a JFP VIP membership or one-time support.