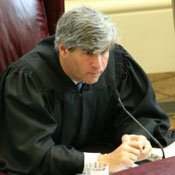 The U.S. Supreme Court's June 29 decision to vacate the 2006 fraud conviction of former Alabama Gov. Don Siegelman and remand that case back to the U.S. 11th Circuit Court of Appeals could mean good news for convicted Mississippi attorney Paul Minor.
A federal jury convicted Minor and former judges John Whitfield and Walter "Wes" Teel in 2007 for federal bribery and honest-services fraud, but the three are appealing, arguing that prosecutors convinced U.S. District Court Judge Henry Wingate to loosen jury instructions so that jurors could decide to convict even without clear evidence of an exchange of services, or quid pro quo, between the judges and Minor. Minor paid the judges' campaign debts, but prosecutors could not prove that Minor expected favorable decisions from the judges in return, especially considering the judges never sought to preside over Minor's cases, but were appointed to them through a traditional court process.
"It's not often the Supreme Court will vacate someone's sentence and send it back like they did in the Siegleman case," former Mississippi Supreme Court Justice Oliver Diaz said. "It shows that the court is looking very closely at all of these convictions of honest-services fraud and overturning those sentences and sending them back.
"If they do the same for Minor's case as they've done for the others, then that's potentially throwing out all the charges against him," added Diaz, who a jury found not guilty of similar honest-services charges in 2005.
U.S. Attorney Dunn Lampton, who brought the indictments in 2003, also indicted Diaz for accepting campaign donations from Minor, even though Diaz never presided over any of Minor's cases. A jury found Diaz not guilty in 2005.
The U.S. Supreme Court decided June 29 on several cases concerning honest-services convictions, all based on the court's 2010 interpretation of federal law in the Skilling v. United States case.
In the case, involving the conviction of former ENRON CEO Jeffrey Skilling, the Supreme Court affirmed the lower court's decision that juror bias did not infect the jury that convicted Skilling. However, the justices took issue with the 5th U.S. Circuit Court of Appeals' honest-services ruling, arguing that honest-services allegations should cover "only bribery and kickback schemes."
Justice Antonin Scalia opined that "a statute that is unconstitutionally vague cannot be saved by a more precise indictment … nor by judicial construction that writes in specific criteria that its text does not contain."
Diaz argued that the honest-services charges wielded against Minor and himself could be used to convict labor unions and the U.S. Chamber, which routinely donate campaign money in hopes of landing judges and politicians who serve their interests.
Minor's attorney Hiram Eastland said the Supreme Court decision a favorable decision for Minor. In addition, the controversial 2010 decision in Citizens United v. Federal Election Commission—which declares that corporate funding of independent political broadcasts in candidate elections cannot be limited under the First Amendment—may have a similar impact. Minor filed a petition for certiorari before the Supreme Court, asking the court to reconsider the application of the honest services statute in their conviction.
"(Minor's conviction) raises First Amendment implications that we know this court is sensitive to ... In fact, those very corporations that they've opened the floodgates to for contributions in the Citizens United case should be pulling for Paul Minor because Minor's case stands for the proposition that there are First Amendment implications in campaign contributions," Eastland said.
"... They would want to be sure of explicit quid pro quo to accuse a contributor and a public office holder of a bribery scheme."
If Eastland is right, Minor, Teel and Whitfield could go free. Last year, the 5th U.S. Circuit Court of Appeals overturned the federal bribery charges connected to the 2007 trial of Minor, Whitfield and Teel, only leaving the honest-services conviction. The 5th Circuit left in place Minor's Racketeer Influenced and Corrupt Organizations (RICO) charge, but the RICO charges are based on honest-services violations. Also remaining are Minor's conspiracy to commit honest services—but the Supreme Court's ruling could overturn that as well.
More stories by this author
Support our reporting -- Become a JFP VIP.
The news business has changed dramatically in the past year, and we need your help more than ever to keep bringing you important stories about Jackson and the Metro. Become a JFP VIP with an annual membership or you can Sign up as a monthly supporter. Thanks for anything you can do to empower our journalism!