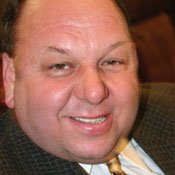 Rep. Steve Holland, D-Plantersville, used the memory of his brother, who died from a meth overdose, to beg the Mississippi House of Representatives to pass a bill that will require cold and allergy sufferers to have a doctor's prescription for medicine containing pseudoephedrine, an important component of illegal methamphetamine, aka meth.
"Three days after we buried my brother's ashes, my youngest brother got caught for the second time (using it), and my mother—that honorable woman who went though the greatest trial a woman can go through—said my brother is living but already dead," Holland told House members. "You've got a real problem here, folks, and you've got a real solution for this, and I cannot figure out why anybody would be opposed to this. This is a wonderful opportunity to do something about a poison scourge that has devastated the Holland family."
House Bill 512, a constitutional amendment authored by Rep. Ed Blackmon, D-Canton, targets pseudoephedrine—a common ingredient in over-the-counter cold and allergy medicine. The bill passed the House with little opposition.
The House had debated the bill for more than an hour, with many representatives vociferously committing themselves to the bill's passage.
Rep. Bobby Howell, R-Kilmichael, successfully inserted an amendment excluding the prescription requirement for wholesale drug distributors regulated by the Mississippi Pharmacy Board. Rep Greg Snowden, R-Meridian, failed to insert an amendment giving the bill a two-year expiration date.
Consumers commonly use pseudoephedrine to shrink swollen nasal mucous membranes often associated with colds or allergies, and Snowden argued that the new law would be burdensome. Under the proposed law, people needing the more legitimate over-the-counter-medicines containing pseudoephedrine would also have to pay for a doctor's visit to get a prescription.
Previous Comments
ID

155618

Comment

The House passed the Combat Methamphetamine Epidemic Act of 2005 ("CMEA") as an amendment to the renewal of the Patriot Act. Signed into law by president George W. Bush on March 6, 2006, the act amended Title 21 of the United States Code (21 USC 830) concerning the sale of pseudoephedrine-containing products. Source: http://en.wikipedia.org/wiki/Pseudoephedrine Most pharmaceutical companies removed the ingredient pseudoephedrine from their over the counter products, the rest went under lock and key at the pharmacy. This seems rather pointless.

Author

Jeffery R

Date

2010-01-29T16:25:41-06:00
ID

155649

Comment

Okay. Found it. I just want to say (as someone who has ALSO lost a brother to meth...or rather to heart failure a year after he got clean due to permanent heart damage from the drug) that this is the most ridiculous thing I've ever heard. I despise Holland's "heartstring symphony" that will add a huge burden to working poor with no insurance or inadequate insurance coverage to be forced to go to a doctor to get a prescription for Sudafed. And here's why. I have allergic asthma and other major allergy issues. It doesn't bother me all the time but during the spring/summer I often have issues with it due to pollen and dust. The "recommended" inhaler that my doctor gave me costs $150.00 WITH INSURANCE. I have GOOD insurance and prescription coverage but that is what my inhaler would cost even with coverage. Due to this, when I am BROKE, I go buy Primatine Mist. Granted, its not the best stuff for you. But, it clears my chest and it cost ten bucks for a month supply of it. I can get it at Walgreens and they register my home address and if I buy more than one box a month I'm pretty sure I get "flagged" somewhere by the DEA or something. I don't give a crap. Let them come to my house...I'm NOT COOKING METH AT HOME. I'm just sitting at home BREATHING. I have a genuine diagnosis that requires this medication and one of the "bonuses" is having a version of it readily available over the counter that is MUCH cheaper than the prescription. I make good money. I have good insurance. But, sometimes that $150.00 inhaler is STILL a hardship for my family. I can't imagine the burden this bill will put on families with little to no coverage who have a teen/adolescent with a cold and just want to give them so Sudafed. RIDICULOUS.

Author

Lori G

Date

2010-02-01T10:20:50-06:00
ID

155657

Comment

I believe I shall go to Rep. Holland's office the next time I have a terrible allergy attack and demonstrate the real effect of his bill. This is utter stupidity. The pseudoephedrine used in most meth comes in powder form from Mexico. It is not cost effective to make it out of those tiny little tablets. Look at the Congressional testimony from 2004-2005. My view is this: witness the maximum security area at Parchman. You can buy any drug you want at a reasonable price. This has been documented over and over. If you can't keep drugs out of a maximum security prison, you cannot keep them out of a free society. Thank you, Mr. Holland, for this new tax. A new tax, you say? Yes. A box of Sudafed was about $10. Now I will have to shell out $100 for a doctor's visit and God knows what for a prescription decongestant. I was going to make a very derogatory comment regarding Mr. Holland but I will not lower myself to that level.

Author

revdrstewart

Date

2010-02-01T12:09:24-06:00
ID

155662

Comment

Lori G, I feel your pain on the expensive medicines. The generic $10 albuteral inhalers were discontinued 2 years ago when the law changed so they had to remove the CFC propellent. The new brand name "Pro-Air" replacements which are CFC free (and not as effective for reaching deep in your lungs as the ones with CFC propellent) are $70+ with insurance, ONLY because they forced the generic out. This kind of FDA license money tactic is what forces people to a Canadian Pharmacy where you can fax a script and pay $8 for the non-US/Non-FDA CFC-Free Albuteral/Salbutamol, without insurance...and hope the drug you get is correct.

Author

herman

Date

2010-02-01T15:57:52-06:00
ID

155679

Comment

Update: The Senate overwhelmingly pass the bill a little while ago.

Author

DonnaLadd

Date

2010-02-02T13:35:49-06:00
ID

155680

Comment

This, after a few years of making me give all my personal information to get limited quantities of medicine already under lock and key behind the counter as it was. There goes work productivity for people like me who can't breathe in this thick Mississippi air about 75% of the year without medicines with psuedophedrine. I can't afford the regular doctor's visit to get the prescription to buy the OTC medicine, nor can my husband (who ALSO needs this stuff.) The alternative OTC medicines have done nothing for me. Thank you also, government, for making no real move to make universal health care a reality. This ties in nicely.

Author

KristinB

Date

2010-02-02T13:47:23-06:00
ID

155681

Comment

Son of a B1tch. Well, hopefully Medicaid will be funded properly enough to handle the extra influx of families coming in to get cold medication. Or maybe some of the kids will end up in the ER with complications from ongoing sinus infections/colds left untreated due to limited access to cheap OTC medications and we can pay for that too. Ladd, you know I'm normally not like this, but today Misssissippi is "Mississtupid". Can I write a column about this? And, if so, can I bring up that I normally don't hate Holland, but due to this and him telling that extremely sexist joke the last time I was in a legistlative hearing at the capital, I'm considering throat punching him if I see him in public? I promise, I'll try not to scare him like Fleming.

Author

Lori G

Date

2010-02-02T13:50:41-06:00
ID

155684

Comment

About a month before the next election, I would like to see an update on the meth issue. Will the problem be resolved, the same, or worse than it is today? At the same time, I would like to see the names of the legislators and how they voted on the issue. Should make for some interesting reading just before election time.

Author

Jeffery R

Date

2010-02-02T14:46:05-06:00
ID

155685

Comment

Please remember that people on medicaid in MS only get 12 DR appts a year and 5 prescriptions a month so even if they can afford the medicine once they get the prescription they will have wasted a dr's visit for something that probably did not warrant one this is a crazy knee jerk reaction and as a mother of 7 kids with allergies and a sufferer of allergies myself I think this is ridiculous if I was already willing to give you all my info to get the meds what more do you want. Our local democratic party is a joke, I am so over this crap.

Author

multiculturegirl

Date

2010-02-02T15:06:19-06:00
ID

155687

Comment

I thought prescriptions were actually limited to three with the other two actually requiring an "override" form being filled out by your physician and it having to be approved by Medicaid? I work with kids on multiple medications and after 3 (it may be 3 name brand) you must get your doctor to fill out a Medicaid override form and fax it to both a division of the Medicaid office (actually I think its an independent company that determines if the medicine is absolutely needed and appropriate for the current diagnosis-they are buttheads) and your pharmacy. So, it may even require MORE paperwork than people are thinking. If kids are already on three medications every time you need an extra one for that month you have to submit an override form to Medicaid and they MAY or MAY NOT "approve" your prescription. I've had them deny psychotropic medications for kids that have been taking them for YEARS and cause the kid to have the therapeutic levels of the drug fall before I could appeal the process and actually get the prescription approved. AND, it was only denied due to the doctor not using the proper "language" on the form. You then have to go BACK to the doctor to get the form filled out again with the "proper language". I could b1tch about this piece of trash legislation for hours! :)

Author

Lori G

Date

2010-02-02T15:16:50-06:00
ID

155692

Comment

its five but you can only have two brand name scripts a month then you need an override and for adults their really isn't one and for kids you can go over five scripts but it requires a prior authorization and if its a child and they need more than 12 office visits they have to submit a plan of care but for an adult you just have to pay out of pocket

Author

multiculturegirl

Date

2010-02-02T15:32:59-06:00
ID

155699

Comment

I said before that I would not lower myself to this level but in light of this foolish legislation I will do so. 1. My mother was killed by a truck driver. I did not push for legislation to prohibit trucks. 2. Two of my cousins committed suicide upon return from Iraq. I did not push for making undeclared wars illegal nor guns illegal. 3. It is good that Rep. Holland's relative did not die from huffing gas; or we would all be walking. Or liquor? Or tobacco? I apologize for any insensitivity, but stupidity MUST be called what it is. I will debate Mr. Holland in any forum he prefers. Please, Mr. Holland, debate me. I DARE you.

Author

revdrstewart

Date

2010-02-02T16:09:36-06:00
More stories by this author
Support our reporting -- Follow the MFP.