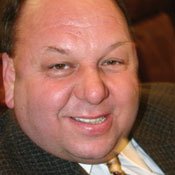 Rep. Steve Holland, D-Plantersville, said he doubted if a majority of the House would vote to give Gov. Barbour the power to cut up to 10 percent of the state budget without legislative input.
Stories this photo appears in:
Keeping our parents and grandparents safe is the goal of a Mississippi House bill creating a Silver Alert system. The system, based on Amber Alerts for children, will allow family ...
Capitol
The House and Senate were up against deadline yesterday for committees to either approve or reject proposed bills. The next deadline is a Feb. 11 end-date for the House and ...
Capitol
Rep. Steve Holland, D-Plantersville, used the memory of his brother, who died from a meth overdose, to beg the Mississippi House of Representatives to pass a bill that will require ...
Politics
Joint Legislative Budget Committee member Steve Holland, D-Plantersville, says House Democrats will not readily agree to hand Gov. Haley Barbour more power to personally cut the state budget. "We're likely ...
Politics
In an effort to address Mississippi's obesity epidemic, the Legislature has passed HB 1530 and sent it to Gov. Haley Barbour for his signature.