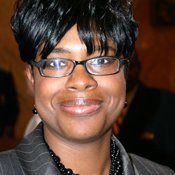 Rep. Adrienne Wooten, D-Jackson, is a woman of convictions, and she has no problem letting those convictions loose on the House floor. Wooten, 35, prevented the passage of a House bill yesterday that would allow persons convicted for the first time of illegal drug possession to petition the court to expunge their conviction from all public records.
House Bill 160 pertains to convictions other than traffic violations, violent crimes, crimes against children, and offenses involving public officials, such as embezzlement or illicit drug sales. Under the bill, a convicted person may petition the court two years after the completion of the terms and conditions of his sentence.
The bill passed in the House with a 91-to-29 floor vote before Wooten made a motion to reconsider, keeping the bill from moving forward. Wooten, a transplant from Riverside, Calif., argued that the potential for expungement needs to go further than simple possession.
"Right now, you already have a statute that allows for expunging (drug) possession, but it caps it at the age of 26, This bill would've allowed you to remove that age limit. However, it's the only drug offense that you're able to expunge, " Wooten said. "Why would you selectively exclude possession from the long list of exclusions? What's the point? If you're going to deal with drug offenses, let's deal with them as a whole."
Rep. Steve Holland, D-Plantersville, who defended the bill yesterday, argued that the bill served a good purpose, no matter how limited its scope.
"I would not ask for a showing of hands, but I can tell you with mathematical exactness that there is not a representative in here who does not know somebody who could be affected by this. For 27 years I've known children who might have had the discretion of smoking marijuana, and because of that they were starved of life because they could never get their record expunged, and the record of their violation kept them from getting good employment."
But Wooten argues to either expand the bill's coverage, or don't bother.
More stories by this author
Support our reporting -- Follow the MFP.