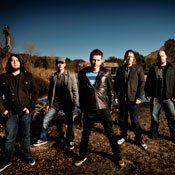 It's been high times for Saving Abel. The Corinth, Miss.-based post-grunge band just finished the last leg of an ultra-successful North American tour with Nickelback, Papa Roach and Hinder. And in March, the Recording Industry Association of America certified its self-titled debut album gold, meaning it sold more than 800,000 albums.
Saving Abel burst onto the hard-rock scene with its first single, "Addicted," which soared to the top of the Billboard charts and was the most-played song of 2008 on Active Rock radio stations.
The band—Jared Weeks (vocals), Jason Null (lead guitar), Scott Bartlett (rhythm guitar), Eric Taylor (bass guitar), and Blake Dixon (drums)—will cruise into Jackson on Oct. 7 to play at the 150th Mississippi State Fair. Blake recently took a break from relaxing to let me annoy him with questions about recording new songs, fame and hanging out with Canadian rockers.
How did Saving Abel form?
Around 2004, Jared and Jason got together. They started grooving and jamming on the weekends. Then it became a little more serious. Their tunes were starting to sound really good—better than half of the stuff you'd hear on the radio. Jason gave me a call (in 2006) and said he was putting a band together, and I hopped on.
Were you a little apprehensive to join the band, or did you know from the start that this band could be something big?
You never can tell. It's a gamble. At first I wasn't sure, but after a few months of playing together, I knew we were going to break out.
Is it true that the band has been recording some new material?
Oh, yeah. We are proud of what we've got so far. We figured it would take a bit of recording and writing to get back into the swing of things before we got anything significant that we could put on the airwaves. But every song that we have recorded, we have been like, 'Wow, these are really good.' And we don't just leave it to ourselves. We show it to other people who are cold-blooded. These are people who would tell us if it sucked or if it didn't. We've gotten the same response from everyone; they all really like it.
How often do y'all get back to Mississippi?
We had a day off recently and got to go back to Corinth and hang out with the family and eat some good food. It's really nice to come home.
Do people rush up to you in Corinth when they see you in public?
I don't think I really dress like a "rocker." I think I dress the same way that I always have. Most of the time, people don't even notice me, and I like it that way. There have been times when fans in Corinth recognized me, and they've been really nice and supportive. You don't always get that because usually the people that dislike you the most are the ones from your hometown. I mean, look at Jesus Christ.
You've recently been touring with Hinder, Papa Roach and Nickelback. What's it like being with such seasoned rockers?
It's been the best of the best. This Nickleback tour is a really well-oiled machine. We watch everything they do. It's been a huge eye-opener, and they are all really good people.
Do you ever give Chad Kroeger (lead singer of Nickelback) grief for being Canadian? Does he say "aboot" a lot?
Naw, man. (Laughs.) We like all those guys. He is one talented dude; a great guitarist, vocalist, and a really good songwriter. I try to pick his brain any chance I get.
Saving Abel will perform at the Mississippi Coliseum on Wednesday, Oct. 7, starting at 7:30 p.m. Buy tickets at the Coliseum Box Office, all Ticket Master outlets and Be-Bop Records.
More stories by this author