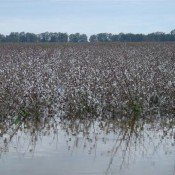 The Mississippi State Fair isn't the only thing suffering because of the state's run of bad weather. The state is considering declaring entire Mississippi counties disaster areas because of enormous farming losses due to weather, said Mississippi Department of Agriculture spokesman Andy Prosser.
"(Mississippi Department of Agriculture) Commissioner Lester Spell and Gov. Haley Barbour and the State Farm Service Agency—the federal government that works for USDA—we've requested they have their county boards make an assessment of crops to declare a disaster for some counties," Prosser told the Jackson Free Press.
Multiple crops have likely suffered million of dollars worth of damage this year thanks to early rain during the planting season that set back planting time, a rough period of drought in the northern territory of the state, including parts of the cherished Delta region, and now constant rain—just in time for the harvest. Prosser said the department expects heavy losses in soybeans, sweet potato and cotton crops.
Even rice, a plant that typically loves wet roots, suffers when the rain comes hard at harvest time, when the extra water prompts the plants' kernels to sprout in the pod.
"In terms of farming, the weather has been kind of crazy this year. It's been terrible for crops from start to finish." Prosser said. "It's premature to make an estimate of the damage because a lot of these crops still have to be harvested, and the only assessment we can make is from looking at the fields from the back of a truck, but we're expecting 30 percent losses across the board. Some farmers could lose up to 100 percent."
To be considered for disaster relief, each commodity would have to suffer 30 percent or more damage countywide, but even if the counties meet that requirement the declaration means nothing if the U.S. Congress refuses to fund it. The political climate for relief spending is currently hot for congressional members, who suffer criticism from personalities like Barbour for deficit spending. Barbour has spoken out against much of the American Recovery and Reinvestment Act—the federal economic stimulus funds—passed in February, and strongly opposes the health-care reform currently under debate in Congress, arguing that both add to the nation's and states' debt.
Failing to get federal help means farmers will have to rely on their crop insurance to cover their losses this year—providing they have insurance.
"A lot of them hopefully have insurance," said Prosser. "If they have no insurance, it could prove to be a total loss for them."
Previous Comments
ID

152752

Comment

The stimulus started under the Bush Adm. I don't recall Barbour kicking and screaming against his spending or of the fact that banks were given so many deregulatory passes.

Author

justjess

Date

2009-10-19T14:02:45-06:00
ID

152757

Comment

The cotton crop should be about half harvested by this time of the year and traveling to Little Rock last week I did not see a single gin running or even one with modules on their lot. Didn't see but one module in the field when there should be thousands by now. Saw a lot of cotton fields with water standing in them, the cotton is going to rot in the fields. Same for the soybean crop. This is going to hurt more people than the farmers. No crops means cotton gins don't run,grain elevators don't get beans and rice to store, no soybean and rice to process ,no harvest means farm laborers have no work..etc this is gonna be bad if it a 100% loss.

Author

BubbaT

Date

2009-10-19T20:14:33-06:00
More stories by this author
Support our reporting -- Follow the MFP.