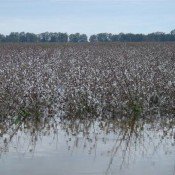 Many Mississippi crops rotted in the field this fall due to heavy fall rains, prompting the USDA to designate 79 of the state's 82 counties as disaster areas.
Stories this photo appears in:
Business
Today, Rep. Travis Childers, representing Mississippi's first Congressional district, will lead a crop disaster tour throughout his district in the company of U.S. Department of Agriculture Deputy Under Secretary Michael ...
Business
The Mississippi State Fair isn't the only thing suffering because of the state's run of bad weather. The state is considering declaring entire Mississippi counties disaster areas because of enormous ...