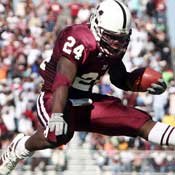 Update: Relying on a strong running game, key interceptions and a mid-game switch to sophomore quarterback Chris Relf, Mississippi State rolled over the favored Rebels to win back the Egg Bowl trophy, 41-27. -Ed.
Throw out the records. This is the Egg Bowl. This year's annual rivalry between the Ole Miss Rebels (8-3) and Mississippi State Bulldogs (4-7) is the most appealing Egg Bowl in the last half-decade, or longer.
Urban Meyer protege and Bulldogs head coach Dan Mullen has squeezed some production out of his offense, and the Rebels are headed to a mid-level bowl, perhaps the Cotton Bowl.
Against elite and mid-level SEC teams, however, both teams have been disappointing. The Rebels have lost to Florida, Auburn and Alabama but inexplicably snuck into the BCS rankings by defeating no. 8 LSU. A confrontation between the KKK and anti-racist protesters overshadowed a victory for Ole Miss last week, even though the anti-racist protesters outnumbered the Klan at least 10-to-1.
The Bulldogs have lost to Florida, Arkansas and Alabama, and went down to Conference-USA's Houston and the ACC's Georgia Tech. With a victory, though, the Bulldogs can gain some momentum heading into Mullen's second season.
Most importantly, the winner of this game will have a recruiting advantage over the next three or four years. Mullen struggled to put together a deep class in 2009, bringing in a fourth of his signees from the junior college ranks. A win over the favored Rebels can change that.
On the other hand, Ole Miss head coach Houston Nutt staked a lot on his 2009 class, signing a mind-boggling 36 prospects. Over the next few years, Nutt will have to be more selective and efficient in recruiting.
Coming into this game, Ole Miss looks vulnerable. Nutt has taken the ball out of quarterback Jevan Snead's hands. The team relied on touchdowns on a halfback pass and a reverse last week. Throughout the season, the team has depended too much on special-teams touchdowns and big plays to overcome turnovers. They have not proved they can run a methodical offense.
Mississippi State has a sharp disparity on offense. Their two quarterbacks combined for 90 passing yards last week, while running back Anthony Dixon surged to second place in the SEC in rushing. Dixon had twice as many yards on a single play (70) as starting quarterback Tyson Lee had. With even modest play from the quarterback position, Mississippi State might be bowl eligible.
No one should underestimate the talent on defense and at running back in this game. State's Dixon and Ole Miss' combination of Dexter McCluster and Bruce Bolden will play at the next level. At this point in the season, every team knows they are their team's only consistent offensive weapon. That has neither prevented McCluster from putting together a Heisman-like surge in production nor kept Dixon from producing explosive plays.
A key to this game will be how Ole Miss (with defensive end Greg Hardy out) defends State's "shovel triple-option."
SEC fans will recognize this maddeningly effective play that Urban Meyer and his offensive coordinator Mullen have been dialing up since arriving in Gainesville from Salt Lake City.
As the play unfolds, the quarterback has three options: a forward pass to the tight end, taking the ball himself or pitching to a running back. The quarterback reads the defensive end. Before the play, a tight end typically stands off the line of scrimmage about two yards. At the snap, he slips behind the offensive line. Mullen has always had the offensive guard pull to seal the backside. With little passing game, State has run this play at least six times a game. It's a bread-and-butter play, around which their entire offense is developed. Ole Miss' defense will have to play disciplined and minimize the damage this play causes.
On the other side, I'm also looking forward to seeing how Ole Miss' Shay Hodge and McCluster are used against State's dynamic freshmen Jonathan Banks and Corey Broomfield. Banks and Broomfield combined for twice as many interceptions (nine) as the entire Ole Miss defense (four). But Hodge and McCluster have been as dangerous as anyone in the conference this year.
I expect Ole Miss to take advantage of State's inexperience by attacking its secondary with in-routes and slants, short routes that can be broken for big gains.
If Snead is on target, the score could get out of hand quickly. With a turnover and some success against a banged-up defensive front, Mississippi State has had a few near-upsets this year and could finally get one this week.
Previous Comments
ID

153648

Comment

John, did you intend to have a pro-MSU slant here, or were you attempting to be objective and just failed? Either one would be explained by an MSU background. What is your educational history?

Author

Leland Jr

Date

2009-11-25T13:56:35-06:00
ID

153650

Comment

It's a sports *column*, Leland Jr. He can have any slant he wants. Although the column sounds pretty balanced to me -- but I am a State grad. And it's SPORTS. Bias doesn't matter; he'll be either proved right or wrong Saturday. Who cares?

Author

DonnaLadd

Date

2009-11-25T14:14:38-06:00
ID

153651

Comment

Donna's response notwithstanding (although she's right, it's a column)...my question is more basic. On what planet does this story even have a pro-MSU slant?

Author

Todd Stauffer

Date

2009-11-25T14:15:41-06:00
ID

153653

Comment

Re. to itodd's "On what planet does this story even have a pro-MSU slant?" For the life of me, I'm lost on any pro-MSU slant on this story. We might have to go to another solar system or galaxey to find any slant. With the time element, we'd have a finalscore by the time we got back. Adrenalin sometimes tops everything in this game. Upset?

Author

J.T.

Date

2009-11-25T14:37:21-06:00
ID

153654

Comment

I'm still simply looking for John's educational background (easy question) but since Todd needs a column-geography lesson let's quickly look at our use of adjectives/supporting phrases: Ole Miss - mid-tier bowl (Capital One is not a mid-tier) - disappointing (though Ole Miss beat #8 LSU, Tennessee, & Arkansas) - inexplicably (being 8-3 and beating #8 is ample explanation) - KKK (why even bring this up in a "SPORTS" column) - vulnerable [offense?] (though just outgained LSU and their solid defense almost 2 to 1) - depended too much (Can you name a single game decided in any part by an Ole Miss special teams touchdown?) - Heisman-like (a positive Ole Miss phrase - first one!) - banged-up defensive front (any evidence other than Greg Hardy being out, which didn't slow down the performance against LSU) MSU - Urban Meyer protege (which has what to do with MSU, other than riding #1 Florida's coattails?) - disappointing (same adjective as Ole Miss, though MSU has only beaten Jackson State, MTSU, Vandy, and Kentucky) - struggled (ah! a negative MSU adjective!) - sharp disparity (how about something more accurate like "ineffective", "unbalanced", or "dysfunctional") - key to this game (you choose something State's offense does? Really?) - maddeningly effective (yes, maddening to the State fans who keep seeing it run into the ground - but obviously not effective) - little passing game (another negative one!) - dynamic freshmen (yet no adjective for Ole Miss' Shay Hodge? Anyone besides Dexter at Ole Miss deserve a compliment?) - twice as many as the Ole Miss defense (yet do you really want to start comparing statistics between these two teams?) - inexperience So, I have got (roughly) seven slams of Ole Miss and one complimentary comment, and five mild negatives and five positives about MSU. I can't believe I spent some of my work day doing this. But I did definitely appreciate the JFP's stick in the eye of anything-but-colorblind VIP Jackson and thought that time spent on analysis would be appreciated here.

Author

Leland Jr

Date

2009-11-25T14:46:29-06:00
ID

153656

Comment

WOW Leland Jr....you did spend some time on that, didn't you. ;-)

Author

Queen601

Date

2009-11-25T15:07:37-06:00
ID

153657

Comment

Leland, you're tickling me to death. Thank you. ;-) I am hereby declaring Ole Miss Fan o' the Day.

Author

DonnaLadd

Date

2009-11-25T15:19:02-06:00
ID

153658

Comment

Oh, and I should add: GO DAWGGGGGSSS!

Author

DonnaLadd

Date

2009-11-25T15:20:02-06:00
ID

153660

Comment

GO TO HELL STATE!

Author

BubbaT

Date

2009-11-25T15:32:55-06:00
ID

153661

Comment

Leland... I think you missed: "If Snead is on target, the score could get out of hand quickly." Wouldn't that be another positive for Ole Miss? ;-) I'll say this... I don't agree with everything that Yargo said, but the reason I questioned what you said is that you immediately attacked his motives for writing the piece. That would be like me saying: Given all the effort you're putting into this, I assume you're kin to Houston Nutt (or the Nutterbutter himself?) Why not discuss the points instead of attacking motives or backgrounds? That would be more fun. For instance...I think Ole Miss DOES look vulnerable to State in this particular Egg Bowl...and that it's a mistake to look past this game to the "Capital One" (argh) Bowl. No doubt UM is stronger on both sides of the ball, but you could also see things falling apart in the fourth quarter against LSU... the game is only 60 minutes long, which (+ crazy bad clock management) is what saved Ole Miss from a demoralizing loss in a game they dominated in yardage, but not points. There is no doubt that State will have to play *up* to beat Ole Miss; but they've played up to some SEC teams that have it together better than Ole Miss (like Florida). And, yes, Tyson Lee has to have the game of his young career, or this thing will be over pretty quickly. The game will be in Starkville and I think the Bulldogs will be fired up. I kinda can't wait for this one!

Author

Todd Stauffer

Date

2009-11-25T15:34:46-06:00
ID

153667

Comment

Honestly, Donna pretty much addressed my biggest issue right off the bat when she pointed out that it was a column, not an article. I'm not in the journalism business, so I don't naturally think about that (important) distinction. As a columnist, he can write whatever he wants, I guess. I wouldn't have even made a comment in the first place if he had just explained his motivation to write a slanted piece, er, column (e.g. "As a Mississippi State alum, this is the most appealing Egg Bowl in a half-decade or longer.") When it wasn't clear why he blew hot air into MSU and made untrue statements about Ole Miss, I commented. I have high standards for the JFP! Obviously I got ticked off by the comments that it wasn't slanted, when clearly it was. That's my price to pay for being a passionate Ole Miss fan with time on his hands. (Still waiting to see someone admit that it might have been slanted after all - just circle the positive adjectives and X the negative ones for each team and see what it looks like!) I'm not related to Houston, just trying to model "good" defensiveness of our school, not redneck-chant-based defensiveness. Todd's points are all on target (except for the LSU analysis - but for a set of incorrect calls on one play in the first quarter, LSU would have been trailing 33-16 by the end of the game and had the stats to support it). I don't think the game is a lock by any means at all. I believe it boils down to the level of passion and intensity that Ole Miss brings to the field. If the vs-TN team shows up, MSU doesn't have a chance. If the vs-Auburn team shows up, MSU still needs to play well to win. Even with a State win, Ole Miss likely plays on New Years Day in Florida or Jerryland, while State just gets to keep thinking that not saying Ole Miss is a sensible way to build a classy, tradition-rich program. It's just not that important of an Egg Bowl, though I'm looking forward to watching it. Now THAT'S slanted. I graduated from Ole Miss. Still waiting to hear from Silent John.

Author

Leland Jr

Date

2009-11-25T22:44:00-06:00
ID

153672

Comment

It is funny how "bias" is usually alleged by the biased. ;-) Happy Thanksgiving, all. And, GO DAWGS.

Author

DonnaLadd

Date

2009-11-26T11:28:09-06:00
ID

153680

Comment

Leland, I stand behind you, but only because I am completely slanted in one direction. "Most importantly, the winner of this game will have a recruiting advantage over the next three or four years." How so? Why is this year's Egg Bowl any different from year's past? Three to Four years? So in 2013, some high school senior will say to Coach Mullen: (given that he is still around) "Sorry, coach, that 2009 game really shook me up. Can't come to MSU." To my knowledge, no Ole Miss-MSU game has ever been so crucial to a university's reputation that it damaged/enhanced recruiting for the proceeding 3-4 seasons. I never foresee that happening either.

Author

jbreland

Date

2009-11-27T13:25:10-06:00
ID

153684

Comment

Oh, it's a ball game. Yay.

Author

Ironghost

Date

2009-11-27T18:48:09-06:00
ID

153686

Comment

John, as the Author of the article, I think you should check FACTS before you "turn it in" for publishing. Too bad the staff at the JFP don't know much about sports either. "OLE MISS LOST TO FLORIDA"? When did that happen? We all know the last time OLE MISS played Florida, OLE MISS WON. Ole Miss didn't play the gators in 2009 so wha are you talking about? To not even simply GOOGLE the OLE MISS schedule to make sure you're correct takes away from any valid points you might have had.

Author

CMYK

Date

2009-11-27T22:23:28-06:00
ID

153688

Comment

I'm still trying to figure out what game Todd watched last week to say Ole Miss was falling apart in the 4th quarter. They scored 10 pts to take the lead, stopped LSU's two point conversion, sacked Jefferson back to the 41 out of field goal range and making them have to go to the end zone for the win. That don't sound like falling apart to me. If anything LSU fell apart by not watching the clock.

Author

BubbaT

Date

2009-11-28T00:39:00-06:00
ID

153690

Comment

A typically poorly written article on sports in this "newspaper". Factually incorrect. "Yargo" must be that "Doctor S" character.

Author

chance

Date

2009-11-28T09:23:28-06:00
ID

153692

Comment

I'm still trying to figure out what game Todd watched last week to say Ole Miss was falling apart in the 4th quarter. They scored 10 pts to take the lead, stopped LSU's two point conversion, sacked Jefferson back to the 41 out of field goal range and making them have to go to the end zone for the win. That don't sound like falling apart to me. If anything LSU fell apart by not watching the clock. Well, that's one way to look at it. The other way to look at it is that Ole Miss was up by two scores and within minutes was looking at one extra second of better clock management by LSU and they would have lost the game. Ole Miss crumbled in those final minutes and got lucky to hold on. CMYK -- nice point, and that's a fact-check that someone should have caught. But does the fact that Ole Miss lost to South Carolina, not Florda, actually help the argument? LOL! Chance -- nice "comment." It amazes me that you Ole Miss fans who won't actually argue the points and just want to poke holes in Yargo's analysis. I think you're nervous -- and for good reason. State's got nothing to lose, but it really is the difference between the Citrus Bowl and a mid-tier mid-December bid if Ole Miss loses this game. And they could lose it. Enjoy the game...we'll find out what Ole Miss is made of soon enough. Go Dawgs!

Author

Todd Stauffer

Date

2009-11-28T12:23:53-06:00
ID

153694

Comment

Story updated. :-)

Author

Todd Stauffer

Date

2009-11-28T14:40:40-06:00
ID

153695

Comment

I told my nephew to go to a good school like JSU, MSU or Southern Miss.. That boy ignantly went to ole miss. Now he's all sad and a loser to boot. Maybe he can transfer from ole miss to MSU. Seeing State put that thang on ole miss is like seeing the Steelers win it all. I hope McCLuth and Snead graduate. I know several of the receivers will be gone. Next year ole miss will be even sorrier. Mississippi State has done at least 2 things that makes me so happy - playing Alcorn in the late Seventies when ole miss wouldn't and beating the arrogant ole miss on today. My neice went to Mississippi State. I always knew the girl was smarter than my nephew.

Author

Walt

Date

2009-11-28T14:59:32-06:00
ID

153705

Comment

too much drama, just enjoy the games

Author

morganjames

Date

2009-11-28T16:27:02-06:00
ID

153707

Comment

Oh, we sure did enjoy it, morgan. Them dawgs WHOOPED some rebel a$$, no. (Should I put "whooped" in quotes?) What a great game. Who the hell are they, hey!? Love all y'all; remember it is just a ballgame. ;-)

Author

DonnaLadd

Date

2009-11-28T19:09:03-06:00
ID

153710

Comment

Wow - apparently Coach Dan Mullen has learned quickly from our Mississippi politicians - the best way to move the State forward is to promote divisions within it! "The University that represents the real people of Mississippi"? Very progressive, MSU -- bring up class division arguments from the 19th century. Coach, if you bring in Sarah Palin next year on the Jumbotron to say that "real Mississippians" play "real football" in Starkville, the crowd will absolutely LOVE IT. BTW Coach, the grand total of successful programs built on the premise of beating Ole Miss equals zero. If this is what we have to look forward from Coach Mullen's 5-year tenure as MSU coach, I'll be glad for our State when he is gone. We have enough stress in our communities, churches and schools without public rhetoric like that. As for the game, I was indeed nervous and for good reason -- our vs-Auburn team came out for the 2nd half, and State had their best quarter of the year. They definitely wanted it more and it showed. Coming off an emotionally-draining win against our rival, we were just flat, while the Doomsday Clock apparently did the trick for State.

Author

Leland Jr

Date

2009-11-29T09:33:51-06:00
ID

153712

Comment

I watched about 20 minutes of the game but I did notice that while I was watching the TV camera NEVER showed the Ol Miss fans. Could someone who saw the entire game think back to recall if the Ole Miss side of fans was ever shown. Could it be that the cameras were set to only/mainly show the home side of the field? Seemed odd to me.

Author

FrankMickens

Date

2009-11-29T11:43:19-06:00
ID

153713

Comment

Frank: I saw a number of different cutaways to Ole Miss fans, usually after scored by either team. The cameras tend to pan the stands for please or dejected fans depending on what just happened in the game.

Author

Todd Stauffer

Date

2009-11-29T14:46:48-06:00
ID

153715

Comment

ITODD you can LOL all you want but the mistake is just another example of the reporting that goes on at the JFP. Anyway, big win for the dawgs. After the gane, Dixon tried to mumble on the Jumbotron but as usual couldn't construct a sentence. Dan Mullen showed a lot of class yesterday. I don't think I have ever, ever, ever, ever seen a headcoach get on the p.a. after the game to rub in the "big win". What class. But then again he's working for the same folks who are all covered up with facial hair, trying to fight women and kids after the "big win" who were simply trying to get to their cars to get out of that pathetic place. I have never seen so many people YELLING at the opposing fans AFTER the game who were just simply leaving. Those same losers didn't have much to say before the game but after it was all over the TRUE spirit of the person comes out. Much like Mullen. He might fit in up there. All he will need is some facial hair. Doesn't Todd have some facial hair?

Author

CMYK

Date

2009-11-29T23:02:05-06:00
ID

153718

Comment

CMYK, I can see you're upset, but you need to relax and stop your anonymous attacks people including, bizarrely, me. (It's a "crappie" thing to do, CMYK. ;-) I don't even get the whole thing about facial hair, but you're playing right into the Ole Miss privilege stereotype -- I tell you, it's the ravenous, wild-eyed comments on this board from Ole Miss fanboys that have cemented my support for State! What Mullen said was a direct reaction to what Nutt had said to elevate the rhetoric prior to the game, and, in the spirit of intense state football rivalries, Nutt got to eat his words about there being one program "on the rise." These coaches have to keep their jobs and, to do that, they have to recruit. For Ole Miss and its image-challenged program (and MSU and its bottom-of-the-conference record) that's going to mean recruiting from within the state for the most part. The State win over Ole Miss will be a huge boon to their program for recruiting within the state in the coming off-season -- the best they could have hoped for. This defeat of Ole Miss by MSU will allow local high school players to wonder seriously about the strengths of the Ole Miss program and whether they might be better off joining the State program, which has certainly appeared to turn a corner with this game and its newly discovered faux-wishbone running attack. As the pro game swings away from the ridiculousness that was the West Coast offense and gets back to its running roots (with a detour along the way with the unfortunate wildcat), it could make a lot of sense for talented backs to be in a program that would showcase their talents. So, that's why you got those comments from the head coaches -- they know their audience and their goals for next season. This reactionary anger from the Ole Miss faithful after seeing their team defeated in a good, honest football game only feeds that particular fire.

Author

Todd Stauffer

Date

2009-11-30T10:52:43-06:00
ID

153719

Comment

Not to make the fanboys' heads explode, but looks to me like Yargo's analysis was pretty good on this game. I didn't see anyone else give State the chance that he did.

Author

DonnaLadd

Date

2009-11-30T11:09:40-06:00
ID

153723

Comment

CMYK- What's with the facial hair thing? I am die-hard Ole Miss fan and I have facial hair. So What? We got beat. Deal with it. State played a great game and Ole Miss played like a jr high team.

Author

BubbaT

Date

2009-11-30T12:11:28-06:00
ID

153734

Comment

The "facial hair" thing is precious! What is this, 1955, with Ole Miss fans whining about all the sandals and longhairs coming down here to stir up trouble?! Some of you are living and breathing stereotypes, I swear to God. To the rest of the world: Not all Mississippians (or Ole Miss fans) are like CMYK. We promise. Oh, and I like Todd's facial hair. And I assure you, CMYK, my vote is stronger than yours.

Author

DonnaLadd

Date

2009-11-30T13:07:48-06:00
ID

153763

Comment

Definitely no need for name-calling here, Rebs -- that's what I was getting at with my disappointment with Coach Mullen's divisive approach. We have two powerful cross-racial social forces in Mississippi: religion and football. Leaders across the State in these two fields can decide to take a zero-sum "our set of Mississippians is more ___ than your set of Mississippians" approach, or a "everyone in the country should want to be a ___ Mississippian" tack. Coach Mullen has made a big deal out of doing the former. This is not healthy for our State and I don't like where exactly this strategy gets anyone but him in five years. There really are many more important topics to discuss on the JFP site, anyway - I just wanted to know where John Yargo went to school (still haven't heard) and then factually point out his biased *column* (which I don't think would be in the JFP's best interest to show any bias, though that is most certainly not my call). BTW Frank, I think the actual cameras themselves were biased as they made most everything (particularly in the third quarter) look like MSU was the only team there.

Author

Leland Jr

Date

2009-11-30T15:03:53-06:00
ID

153926

Comment

I have no relationship with Dan Mullen or Mississippi State. I attended Millsaps College. I call them as I see them. But then, I don't think there's anything particularly opinionated or even open to reasonable debate, about identifying Dan Mullen as Urban Meyer's protege or calling one of Meyer's Tebow-orchestrated plays "maddeningly effective" (Florida scored a 20-yard touchdown on that play against FSU, last week) or calling Ole Miss's turnover-prone and red zone-challenged offense "vulnerable." You blame the officials, but the reason the LSU game was not out of hand within ten minutes was because Houston Nutt wisely protected his offense (and Jevan Snead) by playing conservatively, in the red zone, early in that game. Lots of yardage, three field goal attempts, no Ole Miss touchdowns. I still have to question why Ole Miss was ranked #20 or #25, in some polls. LSU, a team I followed closely, was simply not the #8 team in the country. (Plug: I have posted my own rankings of college teams on my blog.) Maybe they should be in the mid-to-late-teens, at best. The SEC is simply coasting on its laurels this year (see below). A conceivable situation: though a remarkable seven teams get bowl bids, the top four teams (Florida, Alabama, LSU, and Ole Miss) go 1-3 or 2-2 in bowl games (as I think they could, based on their performances to this point). On another point: the Cotton Bowl, despite its cushy New Year's Day slot and great history, is a mid-tier bowl. The SEC and Big 12 just so happen to have incredibly favorable bowl contracts that skew the perception. And when those two conferences annually get two BCS bids, the Cotton Bowl's selection committee has to go deeper into the SEC's ranks to come up with a team. Consider this: the equivalent for the Pac-10 (2nd or 3rd place in the conference) would be the Holiday or Sun Bowl. The equivalent Big East team goes to the Gator Bowl. (And give the Big East and Pac-10 credit for consistently scheduling tougher out-of-conference games.) Are those now upper-tier bowls, too? I imagine that many very serious college football fans do not even know who played in those bowls last year.

Author

John Yargo

Date

2009-12-02T18:57:25-06:00
More like this story
More stories by this author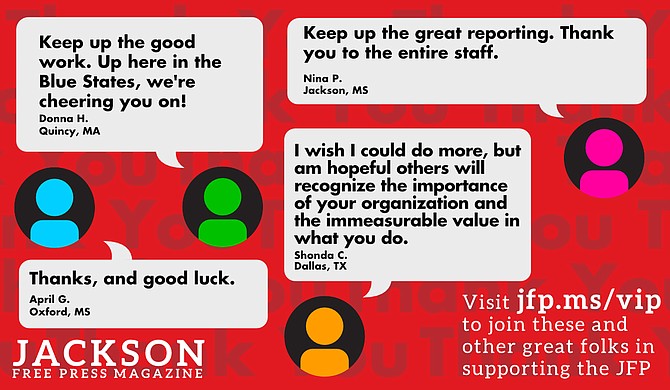 Thanks to all our new JFP VIPs!
COVID-19 has closed down the main sources of the JFP's revenue -- concerts, festivals, fundraisers, restaurants and bars. If everyone reading this article gives $5 or more, we should be able to continue publishing through the crisis. Please pay what you can to keep us reporting and publishing.