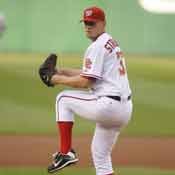 In the dog days of summer, two prodigies have arrived at a decisive moment in their careers. Stephen Strasburg debuted for the Washington Nationals, and LeBron James entered NBA free agency. Both have had an unusual role on their teams as highly regarded first-round picks. And now, they might be the most important players in their respective sports in the second decade of the 21st century.
The Cleveland Cavaliers have hitched the franchise's hopes to James, and the Washington Nationals will depend on Strasburg to overcome the youth and lack of talent around him. Each franchise has weak leadership. If James leaves Cleveland or Strasburg is a bust, either team could leave their respective cities in the next half-decade.
ESPN has made each athlete, the 22-year-old Strasburg and the 25-year-old James, a news category. Watch the ticker at the bottom of the monolithic network's broadcast to get the latest in tea leaves, innuendos and rumors on either athlete. In fact, the 24-hour sports channel has made a cottage industry of hyping these prospects.
The Hall of Fame chatter, led by ESPN talking heads, has already started for each of them. Despite the talk, neither Strasburg nor James is the most talented prospects at their respective stages of development. They're just the most talented in an era of media saturation and hype-as-product sensationalism.
The appeal of both athletes stems from their status as brilliant prodigies. Oddly enough, Strasburg's debut against the last-place Pirates drew viewer interest on the same night of game three of the NBA Finals, which boasted as many as six Hall of Famers.
Even better than acknowledging when a player achieves something special is acknowledging that he could do something special five or 10 years from now. I've decided to reserve my astonishment for the day when commentators predict Hall-of-Fame greatness from sonograms or forecast future drafts based on Little League highlights.
Unfortunately, the hype seems to have been mostly destructive for James. Almost everyone agrees that he has refused to be coached by the Cavaliers staff, and the franchise's ownership has mostly allowed James and his entourage to have their run of the facilities. Though a force of nature sprinting toward the basket, he's content to become an average jump shooter.
James is a highlight-reel talent and rises to almost every challenge. He's already one of the five best players in the league and an annual MVP finalist. But even his greatest admirers have to wonder if he'll ever be historically great, in the rarefied category of Michael Jordan, Magic Johnson or Bill Russell. Nevertheless, I suspect his flight in free agency probably won't bring a title to whoever wins the sweepstakes.
James's real long-term legacy might be in marketing, where his charisma is on full display. The basketball wunderkind took the Michael Jordan book on corporate sponsorship and added a few chapters. Jordan was basically a well-paid employee of Nike and Hanes. Unlike Jordan, James is basically an investor in the brands he endorses. And he embodies 21st century "cool" in a way that Dwayne Wade, Dwight Howard or Kobe Bryant will never be able to.
Strasburg, on the other hand, is an unusual phenomenon in that the marketing potential is not really there. Strasburg will get the endorsements if he performs well, but I doubt he will ever become the face of an advertising campaign or his sport.
In his first start on June 8, Strasburg pitched seven innings and struck out 14. It's already one of the finest outings in the Nationals brief history. The demure Californian displayed a fastball upwards of 100 mph, with great placement. He attracts attention from baseball fans and outsiders. Even if you're not interested, you're likely to be bombarded with his stats until you are.
But Strasburg's arrival alone brings very little other than hope to the Nationals. More than 83 years ago, Washington's greatest baseball player ever retired. Walter Johnson was a reserved, lanky and blue-eyed right-hander, just like Strasburg, who suffered years of losing on the Nationals (in their first iteration), before winning a World Series in his 17th season. In very different eras, both Johnson and Strasburg have inspired curiosity and fear from colleagues and viewers from day one.
Will it take that many years for the contemporary phenom's Nationals to be within reach of a championship? Will James seriously compete for an NBA championship in Cleveland, Chicago or Los Angeles? Most importantly, will either of them come close to fulfilling the hype that Strasburg's debut and James's flirtation with free agency inspired?
Taking into consideration the historic trends and my instincts, my answers would be probably, maybe and no. But perhaps not in that order.
More stories by this author
Support our reporting -- Follow the MFP.