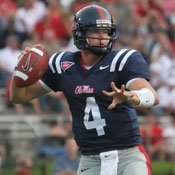 You only need to look back to the 2005 NFL Draft to see how disastrous it can be.
"Bad-apple" players like Adam "Pacman" Jones, Matt Jones and Chris Henry disrupted franchises and marred the league's image. Tragically, two players, Darrent Williams and Henry, died violent premature deaths. Two others, Maurice Clarett and Jones, have served prison sentences.
Due in part to the behavior of Henry and Jones, Commissioner Roger Goodell instated new player personal conduct policies, shifting the dynamic between the player's union and the league's owners. Increasing acrimony between owners and players is one of the reasons they couldn't complete a new collective bargaining agreement by the end of March, and the 2011 season will likely see a lockout. Blame it on the 2005 NFL draft class.
When the draft goes well, as it did for the New Orleans Saints in 2006 or the New York Giants in 2007, it can change a team's fortunes and secure a Lombardi Trophy. And the 2010 Draft has special importance with the uncertain future of the NFL hanging in the balance.
Several high-profile Mississippi athletes boost this year's draft. These players likely will be selected this weekend. Ole Miss has produced Dexter McCluster, Jevan Snead, John Jerry, Shay Hodge, Kendrick Lewis and Marshay Green, while Mississippi State can soon claim Anthony Dixon and Brandon McRae as alums on NFL rosters.
Running back Dexter McCluster could become the next Darren Sproles or Garrett Wolfe. At 5 foot 7 inches, Sproles has managed to be a versatile and productive running back with the San Diego Charges. Wolfe, who has the same measurables as Sproles and was drafted in the fourth round, has been a non-factor. McCluster played and performed well in the SEC, a very athletic conference, but his 40 time was pedestrian. His production at the next level is going to depend on the NFL system. If he's coached by someone like Charlie Weis in Kansas City or Gary Kubiak in Houston, he could become a Pro Bowler.
When analysts say you can get productive rookie running backs in later rounds, Mississippi State's Anthony Dixon is who they have in mind. Dixon, who has the feature back's combination of speed, ball security and strength, carried the ball nearly 1,000 times while in Starkville, so mileage is a concern. He should have two or three solid years as an NFL starter before he starts to slow down.
Ole Miss wide receiver Shay Hodge is built in the same mold as Mike Wallace, who had a sensational first year with the Pittsburgh Steelers last year. Hodge is bigger and probably a little slower, but he could be just as productive in the NFL. Hodge, more so than McCluster or Dixon, is the most promising player from Mississippi this year.
Also from Ole Miss, safety Kendrick Lewis led the team in tackles and notched six interceptions, over his last two years. While the offense performed abysmally, Lewis played at an All-SEC level. Some scouts have him listed as the fourth best safety, behind USC's Taylor Mays, Texas's Earl Thomas, and Tennessee's Eric Berry. Lewis, who adds value as a kick blocker, could go as high as the fourth round.
Another Rebel senior from the secondary, cornerback Marshay Green projects as a fifth-round pick. A team captain, Green returned punts and kickoffs, ranking in the top 10 all-time in Ole Miss's history. He has the skill set and intangibles that organizations like the New England Patriots and Indianapolis Colts have valued for a long time.
Greg Hardy, a defensive end, looked like a first-round choice and future NFL star early in his college career, but injuries have hobbled him. He still has the kind of speed and size that NFL scouts drool over, so you can expect him to be a second or third round choice for a team willing to roll the dice.
Offensive guard John Jerry—brother of Atlanta Falcons' first round pick, former Ole Miss defensive tackle Peria Jerry—has started 48 games in the SEC and blocked for three 1,000-yard rushers. But he has ballooned to over 350 pounds in the past, and his ability to move laterally in pass protection is limited. He could start as a rookie fourth-round pick, but he probably won't become a Pro Bowler.
Quarterback Jevan Snead has all the markings of a bust, despite his strong arm, good technique and athleticism. At the start of the 2009 college season, a few commentators projected that he would be the first overall pick in this year's draft. But Snead, who transferred from Texas after losing the quarterback battle to Colt McCoy, has a poor work ethic and doesn't understand defensive schemes. He projects as a seventh-round pick, but perhaps Al Davis will take him in the first.
Wide receiver Brandon McRae, who has prototypical size at 6 foot 4 inches, 205 pounds, led the Bulldogs in receiving. McRae will be drafted in the seventh round or will be signed as a rookie free agent. Though he only started 10 games, he does show an explosive burst running away from defenders, and he could blossom in a pro-style offense.
More stories by this author
Support our reporting -- Follow the MFP.