So in case you guys havent heard. My new statewide radio show debuts this Sunday on MPB. Its my return to radio and Im proud to have this platform in which to hear what Mississippi has to say on a lot of issues. We're going for a lot of grassroots support and I need you to spread the word and listen in on Sunday. Your switching to MPB on the dial will be duly noted and hopefully the numbers will reflect a new, fresh demographic tuning in to public radio. CALL IN AND SHOUT US OUT 877-MPB-RING OR 877 672 7464 OR FOLLOW US ON TWITTER: twitter.com/ACloserLook
Bringing a whole new demo. A fresh dynamic to public radio. Sunday, May 17th @ 2pm is the debut of MPB's new statewide radio show "A CLOSER LOOK" hosted by Brad "Kaz" Franklin.
The show will take a "closer look" at the issues YOU are talking about. Whether People or Politics. Laws or Lifestyles. We're looking out for you from the streets to the Corporate Suites
A CLOSER LOOK CAN BE HEARD ON THESE STATIONS:
Jackson: 91.3 FM
Biloxi: 90.3 FM
Greenwood: 90.9 FM
Meridian: 88.1 FM
Mississippi State: 88.9 FM
Oxford: 90.3 FM
Booneville: 88.9 FM
Bude: 88.9 FM
CHECK YOUR LOCAL DIAL TO SEE WHICH STATION IS MPB IN YOUR CITY..EVERY CITY HAS IT!!!
Previous Comments
ID

147365

Comment

FYI: This Sunday we'll be taking a closer look at Taxes, Tea Parties, and Tough Talk on Obama..we'll have some engaging guests so TUNE IN!

Author

Kamikaze

Date

2009-05-14T15:17:47-06:00
ID

147565

Comment

No thanks, Kaze. I can't imagine you'd want me and a lot of my friends who are over 40 to listen. You've told us, in so many words, that we aren't relvant, thank you very much.

Author

Kacy

Date

2009-05-17T21:43:44-06:00
ID

147570

Comment

Kacy, I never said 40, I said 60 since you wish to throw an actual number out there. Stop being so sensitive. There are members of jxnpro that are in their 40's. I'm closer to 40 than I am to 25-30 so that "40" is a number YOU threw out. Jeez If you wish to NOT listen then cool but your reason...please. We have welcomed and even encouraged folks of ALL to join the Jackson Progressives as long as they had a passion for moving this city foward. Your premise that I or anyone else is declaring those over 60 useless or senile is RIDICULOUS. However, at this time we need them to be wise enough to know its time to pass the baton. Whether it be politics, sports, or RADIO. Its time for youngblood in this city.

Author

Kamikaze

Date

2009-05-18T05:58:58-06:00
ID

147589

Comment

I didn't get to listen to much of the show yesterday, but I like what I was able to hear. I'll try to tune in next Sunday, though I'll be in Memphis and I don't know how well the Oxford MPB station picks up in Memphis.

Author

golden eagle

Date

2009-05-18T08:51:49-06:00
ID

147592

Comment

Picks up WELL into Memphis. In fact I heard it going all the way into Bartlett clearly. so listen in

Author

Kamikaze

Date

2009-05-18T09:10:55-06:00
ID

147606

Comment

Caught 40 minutes of it on Sunday. GREAT SHOW. When i turned it on it was in the midst of a pretty right wing statement and i thought, "This is like listening to freakin 1180 AM" but then your guest, Robert, came on and was really a strong Progressive voice who was not afraid to push a bit when he thought he was right. i almost called in a number of times but was really enthralled with hearing all the different viewpoints who called in. You've got a real representative show on your hands Kaze, good start! Please keep up your efforts for our city. peace.

Author

daniel johnson

Date

2009-05-18T10:51:02-06:00
ID

147608

Comment

thanks Daniel. Glad you enjoyed. and my goal is to make sure all sides and viewpoints are represented. I want to be a moderator of sorts and never overly push my views(although I will have MANY lol) on folks a'la Rush or Hannity or even Olberman

Author

Kamikaze

Date

2009-05-18T10:55:58-06:00
ID

147612

Comment

DAMMIT I knew there was something I was supposed to check for Sunday!!! I'll have to catch you next week. Congrats on getting your own show. writes a digital Post-it note on computer...

Author

Jeff Lucas

Date

2009-05-18T11:25:52-06:00
ID

147752

Comment

Kaz, Is the show archived online? How can I get involved?

Author

Renaldo Bryant

Date

2009-05-19T11:26:27-06:00
ID

147756

Comment

Thanks BW. The podcast will be up today on mpbonline.org. We had a great debut show on Sunday and looking for another this week.

Author

Kamikaze

Date

2009-05-19T11:53:50-06:00
ID

147902

Comment

PODCAST!!! PODCAST of my radio show is up http://is.gd/BHd5 Last sunday's show Taxes, Teaparties, and Tough Talk On Obama

Author

Kamikaze

Date

2009-05-20T13:24:25-06:00
ID

148308

Comment

Podcast of the 5/31(yesterday) show is up NOW! http://www.mpbonline.org/podcast/ACloserLook.xml

Author

Kamikaze

Date

2009-06-01T10:25:45-06:00
ID

148707

Comment

Podcast of our 6/14 show up NOW! Gay Rights/Gay Marriage: Where Do You Stand? http://www.mpbonline.org/podcast/ACloserLook.xml

Author

Kamikaze

Date

2009-06-15T10:06:32-06:00
More stories by this author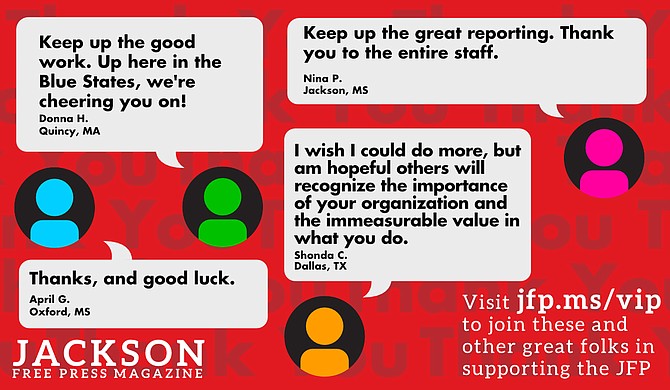 Thanks to all our new JFP VIPs!
COVID-19 has closed down the main sources of the JFP's revenue -- concerts, festivals, fundraisers, restaurants and bars. If everyone reading this article gives $5 or more, we should be able to continue publishing through the crisis. Please pay what you can to keep us reporting and publishing.