Taking breaks from epic Halo 2 battles and scourging fraternity pledges, I'd caught breaking news flashes of Jackson's zany mayor busting into residential buildings and wearing Kevlar vests.
To me, this was totally awesome. But the idea that a metropolitan city was in such terrible shape that the mayor was able to act as an officer of the law was frightening.
Classmates hailing from Jackson spoke of the city in hushed tones, as if it were a town on the cusp of extinction. Some spoke of their hometown with pride, treating their driver's license as if it were a badge of courage.
"I'm from the streets of Compton."
"Oh yeah? I'm from the streets of Jackson."
(oOoooOooohh)
This did not sound like the perfect vacation spot. Why doesn't Truman just nuke this Gomorrah?
Funny how things change. In October of 2008, I'm sipping on a smoothie at the Main Squeeze Juice Bar in downtown Oxford, hiding from my graduate studies, and reading an article detailing corruption in bingo parlors across the state. I'm very intrigued. Not so much with the incredible investigative reporting, but with the idea of opening my very own bingo parlor somewhere nearby. Sounded like a great gig. After finishing my liberal-hippy-granola-treebarking fruity explosion, I flipped to the cover of the free publication to figure out what paper had the gonads to research a story as controversial as this. It read, "Jackson Free Press."
I gasped. That city hasn't burned to the ground yet? I then read another article. Then another. The paper has some spunk, I'll give 'em that. An advertisement then caught my eye. "Intern at the JFP." Alas, a way to temporarily escape the accounting ledgers which torment me in my sleep. Jackson, MS, here I come.
In February of this year, I arrived in Jackson with a pile of dirty clothes and a red "Masters" golf tournament cap. I quickly met new people and reconnected with old friends. I found a quaint apartment, and through the graciousness of the owner/saint, was able to secure a more-than-charitable payment system.
Something else happened; I soon realized Jackson wasn't that bad. In fact, it wasn't bad at all. I was enjoying myself immensely. I wasn't afraid to stroll through downtown with friends at night to take in the scenery. I wasn't afraid to talk to strangers. I wasn't afraid to be myself. Jackson was doing just fine. (no pun intended)
I've also found that Jackson is full of characters -- ranging from the late Frank Melton to my neighbor who has shared intimate secrets with me that are too bizarre to reveal in this post. I've met rastafarians and trustafarians, libertarians and vegetarians, democrats and dixiecrats, you name it. The diversity has been refreshing. Unique personalities interacting despite differences in race, ethnicity, creed, color, favorite Beatles album, etc. This is my kind of town.
In addition to finding these treasures, I also found a friend that is female.
She is more educated than me and drives a nicer car. She is not necessarily old enough to be considered a "cougar", but God, I wish she was. We are similar in so many ways, but very different in our beliefs.
She, for one, worked for Ronnie Musgrove this past election season when he ran for senate. I am so apolitical it would make you sick.
She backed Barack Obama. I back this... http://www.theonion.com/content/news_briefs/obama_revises_campaign
(The Onion may be the most accurate news source in the United States.)
She believes in free speech. I believe in free guns. She hates pizza, and I bleed Pizza Shack. We both love Netflix, however, and the world is right again.
Recently, we were taking a morning walk around Fondren and happened upon the Jackson Women's Health Organization. Though I hold no opinion on abortion rights because of the dense grey areas, I strongly disagree with unruly individuals protesting outside a building where impoverished women are contemplating making one of the most difficult decisions of their lives.
From across the street, I angrily glared at the clueless, heartless, bags-of-hate yelling their empty heads off with rhetoric ripped from their brochures. Next to these apes were children. Children. How sick do you have to be to enslave your kids to wave signs protesting an action they do not comprehend?
With her by my side, I openly remarked, "Who would do such a thing?"
"I would," she replied. She has a dry sense of humor so I knew she was joking.
"I mean, I did," she again answered. I was in shock. The joke was over. In fact, there was no original humor. The girl walking next to me- the Obama supporter, Musgrove apologist- as a young girl, had once stood in the very same spot as these screaming pedestrians. Wow. We debated a bit longer and finally settled on the notion that we don't know enough about the subject to seriously consider ourselves "well-informed." Agreed.
And this is why I love Jackson, MS. You can meet anybody and everybody, and swear that no two people are alike. Everyone seems to have a quirk.
Bryan Doyle recently opined, "Move to Mississippi." Well, I take that one step further. Move to Jackson.
Previous Comments
ID

148729

Comment

Jackson was doing just fine. (no pun intended) Love this, Jackson. The whole thing. What a great tribute to this wonderful, wacky, weird city.

Author

DonnaLadd

Date

2009-06-16T12:12:31-06:00
ID

148732

Comment

Well said, good sir. Well said.

Author

bryan doyle

Date

2009-06-16T13:18:25-06:00
ID

148733

Comment

My favorite part about moving from Oxford to Jackson was the sorority girls' reaction in my French Class. You're going to JACKSON? They're eyes got big, and they really didn't know what to say. It was like I told them that I just got Cancer. Or was being shipped to Fallujah. One of them was even FROM JACKSON.Er, Madison. Go Figure.

Author

bryan doyle

Date

2009-06-16T13:21:57-06:00
ID

148736

Comment

Great read, just what I needed on this sleepy afternoon at work.

Author

chip

Date

2009-06-16T13:55:07-06:00
ID

148737

Comment

I'm looking for the "like" button. Excellent essay, sir! Keep it up! ps: donna - can you guys post author bylines on pieces like this?

Author

JSL1

Date

2009-06-16T14:24:40-06:00
ID

148738

Comment

Dunno Jackson, I think I prefer this one: In Attempt To Jump-Start Economy, Obama Declares Tuesdays Ladies' Night

Author

Todd Stauffer

Date

2009-06-16T14:54:17-06:00
ID

148740

Comment

JSL, we don't do bylines on blog entries -- it would mess them up in the Jackblog line-up on the front page. "Fearless Jackson" is at the top, and his username at the bottom. People can put a tagline with their name at the bottom if they want.

Author

DonnaLadd

Date

2009-06-16T15:41:58-06:00
ID

148760

Comment

I guess I just don't notice all the wacky things in Jackson... I don't think it's much different from any other city...just smaller.

Author

News Junkie

Date

2009-06-17T08:08:55-06:00
ID

148776

Comment

Baquan- I have blonde hair, brown eyes, graduated from a boarding school, and pledged Sigma Nu. You are hilarious.

Author

jbreland

Date

2009-06-17T09:51:27-06:00
ID

148949

Comment

I really enjoyed your article. I love Jackson too! I have contemplated moving to other places but for some reason I just can't. I love this city!

Author

Tell it!

Date

2009-06-24T12:53:17-06:00
ID

148951

Comment

In order for me to move from Jackson, I'd have to be moving to a totally different city. What I mean here is as long I'm leaving here, I will not live in the suburbs.

Author

golden eagle

Date

2009-06-24T14:33:49-06:00
More stories by this author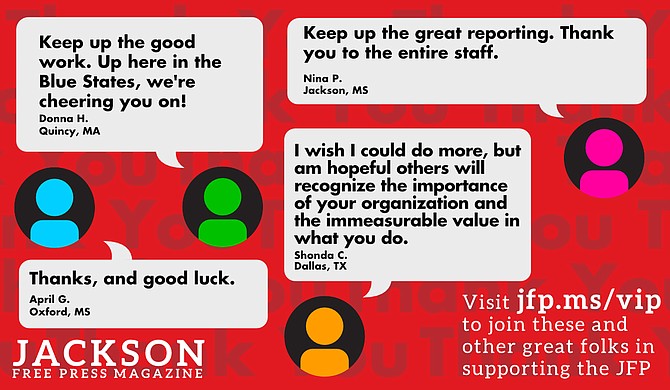 Thanks to all our new JFP VIPs!
COVID-19 has closed down the main sources of the JFP's revenue -- concerts, festivals, fundraisers, restaurants and bars. If everyone reading this article gives $5 or more, we should be able to continue publishing through the crisis. Please pay what you can to keep us reporting and publishing.