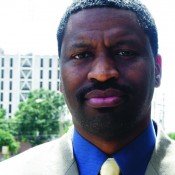 The U.S. Equal Employment Opportunity Commission has found evidence that the Mississippi Department of Public Safety engaged in discriminatory practices against black state troopers. In a June 1 letter, EEOC acting Area Director Willie Schaffer wrote, "there is reasonable cause to believe" that MDPS "engaged, and is engaging in, unlawful employment practices in violation of Title VII of the Civil Rights Act of 1964. … The documentary, statistical and testimonial evidence disclosed (MDPS) discriminated against blacks as a class because of their race with respect to assignments, demotions, discharges, discipline, harassment, hiring, intimidation, hostile work environment, promotion and the overall terms and conditions of their employment.
MDPS, according to Schaffer, "was not able to provide non-discriminatory reasons for the adverse actions and its asserted defenses are pretextual."
Mississippi NAACP President Derrick Johnson lauded the EEOC in a press conference yesterday. Derrick said black troopers had approached the NAACP years ago with complaints that the department was engaging in discriminatory promotion practices. The NAACP, according to Johnson, pushed officers to first seek an audience with departmental superiors.
"Because the department was not willing to fix any of the problems, we decided to move forward and file on their behalf with the federal Employment Commission," Johnson said, and then outlined a laundry list of complaints including frequent use by fellow troopers of racist comments and usage of the word "nigger."
Mississippi Department of Public Safety Commissioner Steve Simpson said in a statement that the EEOC findings were "vague."
"Because of the vagueness and lack of specifics in this EEOC Report, the Department of Public Safety will continue reviewing any potential merits of the allegations and any action, if necessary, that needs to be taken," Simpson wrote, but added that the Department of Public Safety "continues to take the allegations in the EEOC Report very seriously."
Johnson said troopers' reports were anything but vague, claiming some of the department's 207 black officers were particularly incensed at interdepartmental measures to promote white officers: "They would often keep the window for promotions open for short time periods, many promotions were done by word of mouth, and interviewers would often handpick individuals.
Rep. Billy Broomfield, D-Moss Point, who joined Johnson at the press conference, said troopers would complain that they had scored higher than their white counterparts, only to get turned down for promotions.
"Troopers tell me that testing for promotions involves a proficient score in an oral examination and a written test," Broomfield said. "We have evidence that shows that a number of black troopers scored higher than 95 on the written test, only to be told that they didn't fare well on their oral exam, even though they have the seniority, experience and no disciplinary measures their record."
When asked to show proof of test scores, Johnson said the EEOC had already reached its conclusions on the matter.
"We're not standing here with allegations anymore," Johnson said. "We're saying we've turned over hard evidence to the U.S Employment Commission, and they have investigated and sought input from the Department of Public Safety and, based on their findings, they have concluded that the Department of Public Safety has discriminated against a number of officers."
Simpson formed a committee to investigate the charges against the department, and said in a statement that members of the black coalition lodging the complaint were unwilling to meet with either Simpson or members of the committee.
"To date, this group has continued to refuse to meet with the commissioner or the special committee," MDPS said.
Johnson would not present any troopers to voice personal complaints for the purposes of retribution: "Federal law affords employees the protection of organizations like the NAACP to file on their behalf to ensure that there is no retaliation."
John Kalahar, public affairs director for the Mississippi Department of Public Safety, could offer few specifics on the department's next move beyond the assurance that the department would conduct its own investigation on the matter.
"We've been investigating. We've got our 14 days, just like the EEOC report said, and we're going to take or 14 days to either comply with the report or come up with our own suggestions to make changes," Kalahar told the Jackson Free Press. "I'm not going to say one way or the other what we're going to do beyond that. We're consulting legal counsel."
Johnson said the EEOC will seek both parties: the NAACP and MDPS "to sit down and negotiate a remedy to the complaint in which they have found merit."
"If both parties can not agree, then the EEOC will turn their findings over to he U.S. Department of Justice to determine if they need to pursue legal action against the state," Johnson said.
Broomfield said the MDPS environment "has not changed, based on conversations with troopers."
Johnson said the discriminatory promotional system is still in place and would be asking MDPS not to fill any vacancies until the promotional process has been fixed.
More like this story
More stories by this author