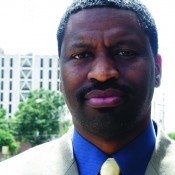 Mississippi NAACP President Derrick Johnson said the NAACP wants the courts to prevent legislators running in districts with unfair racial proportions.
Stories this photo appears in:
Politics
Gov. Haley Barbour's crusade for more Republican districts in the Mississippi House of Representatives is putting him at odds with the Mississippi NAACP, which wants the U.S. Department of Justice ...
Politics
A new report issued by the NAACP finds that the national tea-party movement has resentment about racial and social issues running throughout its many factions. The study, titled "Tea Party ...
Education
One example of how state and local government continues to attack public education in Mississippi is a bill that would allow charter schools, said NAACP President Derrick Johnson during a ...
Jackson State University students are organizing a rally on the steps of the State Capitol at 1 p.m. today in protest of Gov. Haley Barbour's recommendation to merge the state's ...
Education
Mississippi NAACP President Derrick Johnson blames legislators for the state's low rank in a national summary of elementary school math grades. "The Nation's Report Card: Mathematics 2009," released yesterday, outlines ...
Justice
The U.S. Equal Employment Opportunity Commission has found evidence that the Mississippi Department of Public Safety engaged in discriminatory practices against black state troopers. In a June 1 letter, EEOC ...