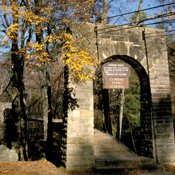 You're itching to put your nature skills to use at a campsite, but where do you go? Mississippi has hundreds of cultivated campgrounds in every corner of the state for pitching your tent (or renting a cabin/parking your RV). Here's a rundown of some of our top picks for campsites in the Magnolia State's parks. Visit http://www.mississippistateparks.reserveamerica.com to make reservations.
For Water Enthusiasts: Roosevelt State Park
2149 Highway 13 S., Morton
601-732-6316
Amenities highlights: tennis court, swimming pool, electrical hook-ups, laundry
In addition to the normal campground services and amenities, Roosevelt State Park campgrounds offer an array of water sporting activities including water skiing, water slides, fishing and a boat ramp if you want to take your boat out on Shadow Lake. And because it's between Jackson and Meridian, it's less than a gas tank away from home.
For Hikers: Tishomingo State Park
Milepost 304 on the Natchez Trace
662-438-6914
Amenities highlights: swimming pool, fishing lake, electrical hook-ups, laundry
Located in northeast Mississippi at the foothills of the Appalachian Trial, Tishomingo State Park is an ideal campsite for hiker's with varied skill levels. And with sloping rock formations, rock-climbing enthusiasts can also occupy their time in nature.
For Groups: Tombigbee State Park
264 Cabin Drive, Tupelo
662-842-7669
Amenities highlights: fishing lake, electrical hook-ups, laundry
If you're looking to take a group of friends out in the woods and engage in some team bonding, look no further. Tombigbee State Park campgrounds has a soccer/rugby field, volleyball net, baseball/softball field and hiking trails. 'Nuff said.
For Homebodies: LeFleur's Bluff State Park
2140 Riverside Drive, Jackson
601-987-3923
Amenities highlights: canoeing, fishing lake, cable TV, picnic pavilion
If North Mississippi seems too far of a drive, reserve a campsite at Lefleur's Bluff State Park off Lakeland Drive in Jackson. The campgrounds are situated on the banks of Mayes Lake, where you can fish, canoe or bird watch. And if you begin to long for home, it's just around the corner.
For Anyone: Paul B. Johnson State Park
319 Geiger Lake Road, Hattiesburg
601-582-7721
Amenities highlights: private beach and swimming area, showers, laundry
Located just five miles south of Camp Shelby, Paul B. Johnson State Park is a serene getaway without sacrificing proximity to civilization. The campground offers a baseball/softball field, disc golf course and water/jet skiing, and is home to forest of pine, dogwood
and oak trees.
More like this story
More stories by this author