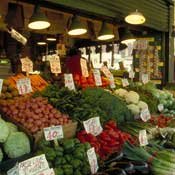 Gerard Manogin
On July 1, the Trust for America's Health and the Robert Johnson Foundation ranked Mississippi the No. 1 most obese state in the nation. The year before, CQ Press named the state the No. 1 unhealthiest state in America.
Many Mississippians are fed up with the trend and wonder how they can change their lifestyle in a healthy way. Last Friday, Jackson Roadmap to Health Equality's Fresh Farmers' Market opened in the Jackson Medical Mall, taking another step toward community-oriented lifestyle changes.
"This area is considered a food desert, which means you can go miles and miles not find fresh fruit and veggies," says Benita Burt, director of Jackson Roadmap. The farmers' market will feature fresh fruits and vegetables from farmers in the area who are members of Jackson Roadmap's Farmers' Committee. Burt hopes the market will "offer accessibility to people in the community."
The Jackson Roadmap group received a grant from the W.K. Kellogg Foundation to help educate and assist people in the community to get healthy by making wise food selection and by exercising. The program also aims to help three JPS schools—Johnson Elementary, Brinkley Middle and Lanier High—become healthier. Jackson Roadmap provided personal trainers to individual students and cafeteria staff throughout the school year who were available to answer questions during school days. They have helped them make healthy food choices and live a more active lifestyle.
The Jackson Roadmap program has asked the schools to start their own garden, from which their produce will go to the market, and the profit will be returned to the schools.
The Jackson Roadmap to Health Equality's Fresh Farmers' Market is located in the Jackson Medical Mall and is open on Fridays noon-6 p.m. and Saturdays 8 a.m.-2 p.m.
Support our reporting -- Follow the MFP.