A lot of people have asked, or called, or emailed asking me about my "acceptance speech" Sunday night. It seems as if a lot of folks didnt quite catch it over the low rumble of a room full of ecstatic(and drunk) party-goers. You've all been witness to my life transition over the past 2 years. Trips abroad to the Czech Republic and Ghana coupled with becoming an investor/owner in Farish st., starting the Jackson Progressives with the big homie Matt. and getting engaged to my best friend in this entire galaxy and love of my life have changed my focus. I have a new passion. Rebuilding this city. Making this city what should have always been but couldnt be because of underachieving leadership, apathy, the fear of change, and the fear of youth. And to me a "rapper" is not going to be able to spark the change that this city needs. Whether fans of my music, my columns, or my activism, Im at a point now where I want to seen as more than just a "rapper". Hip hop is something I DO its not what I AM. It doesnt define me and it doesnt limit me. Ill admit I was a little sad awwwwww:-( that even after you guys have watched and supported me in my new career as a developer that you saw as still...a rapper. Im indeed honored to have garnered your votes and support as "Best Hip-Hop" artist for the past 3 years. But as of...well..now, Im removing myself from contention for the award in the future. Im hoping to you believe in me enough to see me as "Best Public Figure", or "Best Community Acitivist", or "Best Rebel Rouser". Im no longer the Hip-Hop aritst who happens to be a developer and activist, but the Developer and Activist who happens to do Hip-Hop.
Second, I want those of you who may not be "hip hop fans" or may have only begun to look into the hiphop world through my eyes to realize that there are other artists here that are putting in work. The Skipp Coons, the 7:Thirty's, The 5th Childs, The PYInfamous's of the city deserve your undivided attention. No, they dont NEED my approval. No, they don't NEED my blessings. No, you dont NEED my permission to listen to them either lol. They each put out excellent pieces of work in 08. But if my words on Sunday influenced even one of you to give these guys a listen, then it was worth it. Hell, I didnt even put out any new material in 08! Those guys are much more deserving of your accolades than I. Im happy to be doing rock music now. And if MUST vote for me, You can be looking to vote Storage 24as best rock band for 2010..www.myspace.com/storage24live..(cheap plug).
Don't get me wrong. Im STILL one of the greatest to ever do it here! On stage, I have few rivals. Im just not the greatest doing it right NOW. Im NOT retiring and I WILL release new material! Don't worry. you'll get your Kaze fix(smile). Im an MC, not a rapper. The difference is, MC's would do this even if they WERENT getting paid. Its just that music is no longer #2 on my list (after God) Family is. Then Farish Street. In fact music is like 5 or 6 now. and as I told Skipp last night, some days its 8 or 9. And I NEVER thought that would happen so I MUST be going through something right? It's the new generation's time now. Im proud of my accomplishments in music and Ive done all I can do here. Ive reached and cracked the ceiling of expectations for artists in our state. Honestly, I can't call for the old folks in city government and local boards to get the hell out of our way unless Im willing to do the same in an arena where I am the veteran. So kudos to the real "Best HipHop" Artists of '08-09. and here's to one of them winning the vote in next year's "Best Of" Issue.
Previous Comments
ID

143108

Comment

I did hear your acceptance speech, and I really admire your decision. I know that you are going to continue to do great things! I'm proud to be a part of the Progressives and to call you a friend. And as long as we're getting cheap plugs in, let's see a tie between Queen and I for "Best Columnist" next year huh? :)

Author

andi

Date

2009-01-27T22:29:29-06:00
ID

143113

Comment

Great column, as ususal! Always honest & to the point. I see wisdom in being able to move on in your life, and to make room for others. I was thinking the other night at Hal & Mal's when the Hot Tamales played, that 5 years ago I couldn't imagine a time when there would be 2 brand new all women bands, more female singer-songwriters stepping out. It's a new day in Jackson for young women musicians, too, there are more and more. Being a mentor is a good role for a certain age. Not that you will ever quit making music, just that you can try on different roles that fit better at certain times of your life. I personally see you as an incredible bridge builder and community strengthener and I'm glad we have you doing that in Jackson right now.

Author

Izzy

Date

2009-01-28T07:43:36-06:00
ID

143116

Comment

Congratulations, Kam, on lots of things: the award, the new marriage, your great taste in a spouse, your new home, etc. I heard your speech and thought it was terrific. Your leadership can be an essential part of Jackson's evolution and the evolution of all of us. What works for us one year no longer fits us. What we like during one part of our lives, we no longer have passion for. Your pointing others to that reality is, in effect, a gift that encourages others to, themselves, step into unexpected new adventures. Don't forget, though, Kam, a Renaissance Man can be and is a lot of things at the same time, some that seem to be contradictory and some that seem to be complementary. You are a Renaissance Man. Peace. J.T.

Author

J.T.

Date

2009-01-28T11:42:23-06:00
ID

143117

Comment

Thanks, I appreciate the sentiments. Sometimes you jump out on faith ya know:-) Not knowing if those other artists in attendance would like or dislike my actions. But I always feel like I should lead by example.

Author

Kamikaze

Date

2009-01-28T15:38:21-06:00
ID

143118

Comment

@J.T. awwww, thanx!

Author

Queen601

Date

2009-01-28T16:11:46-06:00
ID

143123

Comment

I heard some of what you said that night. I just say do what you need to do, man. No matter how "grown" we think we are, we still continue to grow and change, so our perspectives shift and our desires adjust accordingly. There are things that we were put on this earth to do, and you know better than anyone else what that is. May God bless you on your future endeavors.

Author

LatashaWillis

Date

2009-01-29T07:42:28-06:00
ID

143149

Comment

WOW!!! Having watched (and been a fan) your career as a rap artist since my days at JSU; I must say I'm a little shocked at your decison. But not surprised. I am happy to see your new career as an activist blossom as the city works to build a more positive image. I can hardly wait to see your name go down in history as one the great civic leaders of all times. I will continue to support and pray for you. Congrats on your engagement.

Author

Meka

Date

2009-01-30T14:41:00-06:00
ID

143152

Comment

Well, Im not dying lol!!! and Im NOT retiring. Just helping to pave the way for those who have come after after me. Leaving the Mississippi hip-hop scene better than I found it. Just as I hope to leave Jackson in a better way than I had it coming up(and now). My focus is just on other things now. As ya get older priorites sloooooowly come into focus

Author

Kamikaze

Date

2009-01-30T14:51:58-06:00
ID

143153

Comment

...And I thank you for being a fan. and ya dont have to stop! There'll be new music soon from my new Rock project and some new rap material..And of course there'll be some shows.

Author

Kamikaze

Date

2009-01-30T14:53:42-06:00
More stories by this author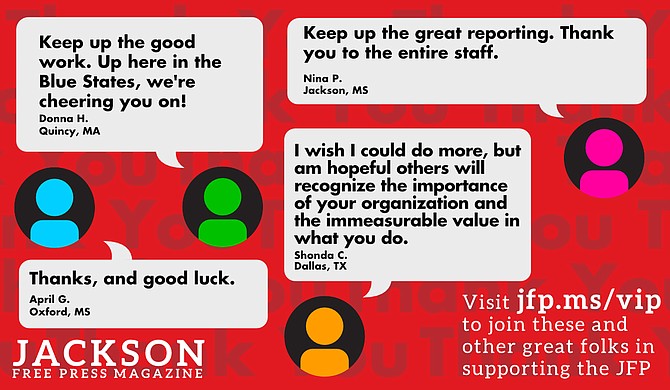 Thanks to all our new JFP VIPs!
COVID-19 has closed down the main sources of the JFP's revenue -- concerts, festivals, fundraisers, restaurants and bars. If everyone reading this article gives $5 or more, we should be able to continue publishing through the crisis. Please pay what you can to keep us reporting and publishing.