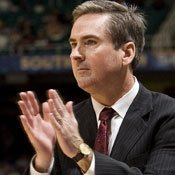 On Saturday, Mississippi State (5-2) travels to Anaheim, Calif., to play UCLA (2-5) in the annual John R. Wooden Classic. Both teams began the season ranked in the top 25, but have fallen out recently.
This year's Classic features only the second match-up between the two teams. (In the 1995 NCAA tournament, top-seeded UCLA dispatched fifth-seeded Mississippi State, 86-67, on its way to a championship.) In eight appearances in the Wooden Classic since it began in 1994, the SEC is 2-6.
The SEC's reputation is at a particularly low point. A scarce three of its teams got into the NCAA Tournament last year. A suddenly resurgent (and inexperienced) Kentucky is the only team currently in the top 10. But the Pac-10's struggles are more severe. Only one team, No. 12 Washington, is ranked in the top 25. Over the last three years, the NBA draft has stripped that conference of young superstar talent.
Both Mississippi State and UCLA have gotten off to bad starts, losing to mid-majors Rider and Portland, respectively. In addition, off-the-court distractions have caused some damage on the court and in reputation. The NCAA is scrutinizing State freshman Renardo Sidney's finances for the last two years, and UCLA's Drew Gordon has been dismissed for behavior detrimental to the team. Both were expected to be featured players. (Why State has gotten involved in the Sidney fiasco puzzles me, but that will have to be a subject for another day.)
Neither team, though, has begun conference play. Once UCLA adjusts to life after Gordon and the Sidney case is resolved for State, you could see both teams ascend in their weaker conferences. Beating UCLA, the holder of a record 11 national championships, will always help in putting a season back on track. For UCLA, ending a four-game losing streak is the first step.
As with last season, State has struggled to score points. Their base set is four guards around front court "presence" Justin Varnado. "Swat" Varnado is often successful in patrolling the front court (9.7 rebounds per game) alone and is more than adequate on the offensive end (67.3 field goal percentage). Sophomore combo guard Dee Bost distributes the ball well and has gained weight. Forward Ravern Johnson is the outside shooting threat. This year, coach Rick Stansbury hopes he can lead his team beyond the second round of the NCAA tournament. But Bost has stepped forward and told Sporting News that State "can win a national championship."
Coach Ben Howland's "Big East Out West" style characterizes UCLA's team. Unlike other Pac-10 coaches, he prefers a slow, grinding offense and aggressive man-to-man defense. His teams have played in three Final Fours in the last four years. Howland went into this season with the most inexperienced team he's coached at UCLA. This year's edition has looked disinterested on the offensive end. Against MSU, UCLA will need to be very efficient, cutting down on turnovers. Some combination of James Keefe (a less-athletic senior) and J'mison Morgan (a sophomore who has struggled with conditioning will leave to replace J)
The records and the teams' styles seem to point to a close game. State is vulnerable to outside shooting, but UCLA is mediocre from the outside (27 percent). UCLA, without Gordon, will have to be creative on the front court to offset Varnado.
UCLA and State will improve and go deep in their respective conferences. At season's end, this game will look like a more compelling game than it does now. If UCLA's talented front court can produce, it might be the best pure defensive match-up of the weekend.
More stories by this author
Support our reporting -- Follow the MFP.