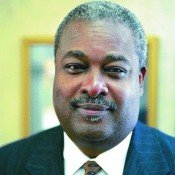 Mayor Harvey Johnson Jr. reversed two of the last mayor's more controversial decisions Wednesday, announcing that he is bringing back the Crime Prevention Unit that Mayor Frank Melton eliminated four years ago, as well as reinstating an annual UMMC payment of $200,000 t to finance fire equipment and special training for firefighters. Melton had canceled the UMMC annual payment in lieu of taxes that Johnson had arranged during his last term as mayor.
Johnson announced these decisions Wednesday when he presented his preliminary city budget to Jackson at noon. He was optimistic, despite decreasing revenue and increasing city expenses.
"The city of Jackson continues to be financially stable, despite the ongoing economic challenges cities like ours are facing across this country with the national recession," Johnson told members of the Jackson City Council and about 75 visitors and city employees. "The city of Jackson continues to weather serous issues such as decreased sales tax revenue, increasing costs of providing employee health insurance, and having to make a provision for repayment of the $26.2 million bond that was issued this past year for streets and bridges, apparently without a clear, long-term repayment mechanism in the budget."
Johnson presented a $359,513,035 budget, which does not include a tax increase but represents a budget increase of 2.7 percent over last year's adopted budget, which includes a $10 million increase due to unspent funds from the infrastructure bond. He told the crowd that he had requested city department directors retain the 3 percent across-the-board budget reduction the Melton administration instituted during the last quarter of this fiscal year. Johnson has also told directors to leave unfilled all vacated positions outside the realm of public safety and "essential" public-works staff.
The mayor promised to fill financial holes mainly through the "aggressive" pursuit of grants at the federal, state and local level. Grant management was Johnson's strength during his last administration.
Johnson announced the return of a payment in lieu of taxes that former Mayor Frank Melton did away with in the early part of his administration. "We want to establish a capital city revenue fund that can be funded by contributions from property-tax exempt entities in our city. The beginning of this fund, I'm happy to say, is a $200,000 contribution from the University of Mississippi Medical Center to help with fire protection," Johnson said.
During Johnson's previous term, the city had arranged for an annual UMMC payment of the same amount to finance fire equipment and special training for firefighters, and to counter the revenue the city does not generate from the untaxed hospital. Melton suspended the payment, arguing that other hospitals did not pay it.
Johnson said the internal audit division would also "work with the administration" to determine cost saving measures and ways to improve efficiency.
With respect to service improvement, Johnson announced that his budget would re-establish the Crime Prevention Unit, a collection of city employees who worked with police, neighborhood associations and schools to assist in preventing crime. He also plans to recruit new police officers to bring the city's current 488 officers up to 500.
The returning mayor also announced that his budget would allow the city to administer police sergeant and fire captain exams, and includes a proposal to increase the number of park rangers for the city's 52 parks and recreations sites to promote a sense of safety and encourage Jackson residents to use those city resources.
The mayor said his budget would set aside money to hire a city attorney to cut through the number of city court cases awaiting adjudication.
Johnson spoke sparingly of what citizens would likely lose through the 3 percent budget cuts, leaving the impression that city residents would barely feel the budget crunch. "There will be some pain. I mean, we've got equipment that we can't buy, we've got city positions that we can't fill," Johnson said. "There will be some disadvantages to the revenue decrease, but our job as policy-makers is to see that we weather the changes with as little pain as possible."
Ward 2 Councilman Chokwe Lumumba said he was pleased by the sheer amount of optimism rolling out of the mayor's office, and expressed confidence in Johnson's ability. His only misgiving in the budget included the loss of pay increases for some city employees. "I would have liked for employees in the Public Works Department to see raises," Lumumba said. "We always take employees in that department for granted."
Otha Burton, Johnson's chief administrative officer during his last administration, predicted cuts in city staff would not negatively impact city services.
"We have almost as many employees as we had in 1980 when we had 25,000 more people (living in the city)," said Burton, who volunteered to work with Johnson as he composed the new budget. "What's happened since 1980 is technology has advanced. There are things we can do much more effectively and efficiently. I expect citizens will see next year's budget will even leaner, but have more effective public services."
Burton added that the constant auditing throughout the year would likely reveal more wasteful expenditures and room for improvement.
The Jackson City Council must approve the city's 2010 budget by Sept. 15, for the fiscal year that starts Oct. 1.
More stories by this author
Support our reporting -- Follow the MFP.