For the record: The new convention center in downtown Jackson is off. the. chain. On the second floor, I spotted maybe 10-15 HD TVs. I think next year I'll embezzle some money from the JFP piggy bank and host a Super Bowl party.
Your host: Guy Hovis
Entertainment: The Fugees and The Spin Doctors
Halftime performance by: The Jabberwockeez
Free entry. Security will be present. It's goin' down y'all.
So the debate last night went well. No disturbances or outbursts. To my knowledge, nobody was escorted from the premises. Frank Melton was a no-show, yet he provided the most laughs with his makeshift campaign bus. I'm sure pictures of this monstrosity are flying around the blogosphere. What is it about school buses that Frank Melton loves so much?
In alphabetical order:
Dorothy "Dot" Benford talks at a rate of about 2.6 miles per hour. She also has issues with the tax collector. Eddie Fair was all smiles as Dorothy went on a tirade about mismanagement in his office, though she never mentioned him by name.
Kinda odd, don't ya think? Dot Benford taking on Eddie Fair. That's like Dennis Kucinich looking around a room full of presidential hopefuls and finally choosing to tackle Ron Paul. Good call, Dot. She also hated leaving the podium. Each candidate had 90 seconds to answer a question. Dot usually took 3 minutes. Jabari took about 3 seconds.
"Time" was called four or five times before she finally walked back to her seat. This was at an even slower rate than her speaking.
Marshand Crisler took a bullet in the line of duty. He reminded us of this courageous act 43 times during the debate. I hope 50 Cent...excuse me...Crisler creates a new campaign commercial in which he stages a reenactment of the shooting a la Rescue 911. At the end of the infomercial, lighthearted music plays and Marshand announces that his family is going to Disneyland, Then he turns to the camera and in a dire tone says, "If you don't elect me as mayor, my family doesn't go to Disneyland." Roll credits.
Throughout the evening, he was also dodging bullets from nearly every candidate. Eddie Fair provided us with the loudest gun blast when he asked Crisler why the public should trust him to reduce crime and boost economic development, when his ward, ward 6, has the worst crime and is the "worst in the city." Ouch. Good aim, Eddie.
It is obvious to me that Crisler has been coached. A smile never left his face. Other candidates slouched in their chairs or fumbled with water bottles. Crisler stood up-right and looked like a marionette ready to hobble over to the podium and sound like a professional politician.
Crisler may be the most polished candidate in this race, but the glare kinda hurts my eyes.
Eddie Fair surprised many with his answers. He admitted to me before the debate that he was pretty nervous, but he handled himself well. In his closing remarks, he used his last name as a double-entendre about double as many times as he should have. As you can imagine, the audience ate it up.
"Give Jackson a fair chance. Vote Eddie Fair." (gasps from the audience)
I wish John Horhn would have done the same.
"Come on Jackson, blow your own horn. Vote John Horhn." ( the audience gyrates in their seats: "Oh my God, that was the sickest thing ever.")
Jabari Toins tries.
"mumble mumble mumble Toins, mumble mumble Toins." (the audience is perplexed.)
John Horhn looked visibly nervous. The first question the mediator-more on the mediator later- posed to Horhn was a doozy. "Should we tear down Memorial Stadium?"
Every candidate, except maybe Toins, had prepared to answer questions about crime, infrastructure, street repairs, and economic development.
I didn't even realize there were other issues. Homeless people? Does that fall under crime or street repairs?
Horhn was not prepared for this question. He fumbled it worse than his water bottle which kept roaming around the stage. I ask the people of Jackson, "How can we expect Horhn to manage the city of Jackson if he can't manage to grasp a plastic bottle?" Joking aside, there was not a soul in the room who was ready to answer that question. Except maybe Benford, who would undoubtedly transform the question into a scathing attack of Eddie Fair.
After his blotched answer, Horhn rebounded and delivered one of the strongest performances of the evening. In the fourth round, Horhn chose to ask Melton a question. He pulled his chair along with him to the podium and asked rhetorically, "Frank, where are you?"
How rad would it have been if the lights would have shut off immediately like an episode of WWE Monday Night Raw. The wrestling announcer then exclaims for the 492nd time in his career, "I can't believe what I am seeing."
The crowd goes into a frenzy and then an ominous voice speaks: "People of Jackson, I am here."
From the rafters, Frank Melton descends wearing a cape and a cowboy hat and delivers a 20-minute monologue about saving our city. YES WE CAN!
I thought John Horhn's question was great. It was the first time Melton's name was mentioned. "Current administration" and "current mayor" was referred to about 50-11 times, but nobody ever used a proper noun.
Harvey Johnson explained to the audience that he spent a great deal of time considering whether or not he should run for office again.
I'm guessing a great deal of time really means 20 seconds.
My father once told me, "If somebody is running for public office, it's usually because they have nothing else to do." Case in point.
Harvey struck the audience with a line-and this is not verbatim- "You can talk about change, but can you deliver change?" The audience, as expected, ate this up.
Harvey took note of the response and then ran this line into the ground. Harvey will obviously have supporters from the first few times he ran for mayor. It was to his benefit that the debate was held in a building that can reasonably be chalked up as one of his accomplishments as mayor.
Robert Johnson was the Chief of Police in like 21 cities. Frankly, I am scared. He seems really serious about crime. REALLY serious. No more House Party III's at my place, folks. Robert Johnson will probably bring in RoboCop and start taking names after he is elected into office. If you are selling Nuke, leave town.
Every time Johnson answered a question, the word "crime" or "police" was mentioned.
"Johnson, how do we fix healthcare?"
RJ: If people weren't getting shot by criminals, they wouldn't be sick in the hospital. I will kill crime. Murder crime. Abuse and torture crime. Finally, crime will speak and tell me who sent him. Crime will pay.
"Um, okay sir. If you were a tree, what kind of tree would you be?"
RJ: A crime-killing tree. My tree trunk would be wearing a Kevlar vest and my branches would be holding tasers and handcuffs.
Robert Johnson is also very persuasive in detailing his vision for Jackson and he impressed many in the audience with his performance last night.
Brenda Scott says she wants to be mayor, not because of the "glamor," but because she "cares." She seemed sincere when she made this statement in her closing remarks.
During the fourth round, she asked Crisler about his "bully pulpit," but it sounded more like "bullet pulpit." I was very confused and assumed she was referring to 50 Cent's constant reminder to the audience that he did, in fact, get shot in the line of duty.
After Crisler answered, Scott informed the mediator that she was not pleased with his answer. Crisler was as confused as the audience. He tried once more to please Scott. Scott was not satisfied. Then, Crisler semi-attempted a third time. Scott finally left the podium, but was still dissatisfied and wanted Crisler to discuss his "Bullet Pulpit." Nobody in the room knew what the hey was going on. I'm not sure Scott knew what was going on.
Jabari Toins. By far, my favorite candidate. He may finish last in the primary, but know this Jabari, you have my vote. His answers never made sense. At all. Sometimes he would provide answers within answers and change topics within those answers. More confusing than anything Brenda Scott said, but three times as entertaining. He slouched in his chair most of the evening and anytime his name was called, you could tell he wasn't to anxious to stand up.
During his closing remarks, he talked about why he was the best fit for mayor, and then all of a sudden he exclaims, "And I'm tired of hearing about these bullet stories." Was this relevant to his closing remarks? Not in the least bit. It was a reference to Marshand Crisler, who by the way, was shot in the line of duty. He then went right back to mumbling in his James Earl Jone-esque voice.
Truth be told, every time the mediator pulled out a slip of paper with a candidate's name on it, I gushed to the person sitting next to me, "Jabari. Please say, Jabari."
A local access channel here in Jackson should pitch a television show idea to Toins.
"Nonsense: An Evening with Jabari Toins" Count me in as a loyal viewer.
Best Dressed: Jabari Toins.
Best Shoes: Jabari Toins. The man knows how to dress.
The mediator was Scott SImmons. He had arguably the toughest job of the evening, besides the ticket man at the door wearing a blazer and a vertical-striped shirt. That guy was one handsome devil.
Simmons handled the audience well and never let them create a ruckus.
At one point, Crisler made a fist-pump after answering one his questions, and I laughed very loudly. Simmons glared in my direction. He was a hawk.
He also made a joke at one point about looking into the bowl of names accidentally. Then he promised a member of the audience, "Coach Gordon," that he wouldn't do it again.
The audience chuckled. Simmons took note of the response.
By the 5th time Simmons made this joke (no hyperbole), the audience was ready for new material. At times, Simmons also improvised with the format of the debate. It threw the candidates for a loop. Then again, if a candidate can't handle surprises during a debate, how will they handle surprises in office?
Notable audience members:
Charlotte Reeves and her husband were in attendance. She has that "I was on an episode of Designing Women" look. Monte Reeves will no doubt be a colorful "First Husband" if Charlotte is elected mayor.
Rick Whitlow was also in attendance. Everyone talks about Obama being a basketballa', but I know Whitlow would take the prez. to school any day of the week.
David L. Archie was in the building. He was very disappointed that he was, in his own words, "uninvited" to participate in the debate. We should all be disappointed. He would have provided fireworks galore.
---------
Overall, the debate was a great success and I look forward to the next one. If you didn't get tickets to this one, call early for the next one. These are the types of events you don't want to miss.
Previous Comments
ID

146270

Comment

I believe you were sitting next to me last night. Nice blog, our views are very similar I can tell. Hey, did you know that Marshand Crisler took a bullet in the line of duty?

Author

chip

Date

2009-04-24T11:31:28-06:00
ID

146275

Comment

That was hil-a-rious! You nailed it. Good thing that I didn't turn the debate into a catch-phrase drinking game, or I would be in an coma....

Author

cricket

Date

2009-04-24T14:18:35-06:00
ID

146276

Comment

Very funny. No one is safe from Fearless Jackson. And great job on the debate, Jackson. ;-)

Author

DonnaLadd

Date

2009-04-24T14:21:01-06:00
ID

146279

Comment

Crime-Killin' Tree! "Nonsense: An Evening with Jabari Toins" ROFLMAO!

Author

LKL

Date

2009-04-24T18:00:56-06:00
ID

146283

Comment

Sad, sad, sad. Not the story, but the subjects. Can it getting any better. Four years of one clown and 14 more auditioning as his replacement.

Author

Shaves

Date

2009-04-24T21:02:23-06:00
ID

146287

Comment

OMG, here it is early morning and I am rolling off the bed laughing. Thanks for starting my Saturday with such an inspriational story! Did you know that David Archie claimed to be the "most attractive candidate" in the building and that he billed himself as an "Independent Democrat", therefore deserving a seat on the stage? You are 100% right, Toins has a future with "the voice" if he could assemilate the rest. He ought to look into this.. And Scott's "bullet" question you have hit to the tee with your "glaring" descriptions! Robert Johnson's "crime tree" is hilariously accurate. Big question with him as mayor would be: "Who could be allowed to be Police Chief? Or any type of Chief?" I mean, when you got the biggest, baddest a$$ sitting in City Hall, who gets to do the work? But, I do think you are wrong with the 20-second rule and Harvey Johnson. When he says he took a great deal of time to decide, he most likely is telling the truth. And, just to mention one good thing about the probably Crisler win is that folks like you will have a whole new field of fodder to write about. It will be a fast-paced term and one which will move toward goals and not take circuitous nonproductive leaps as currently experienced.

Author

Razor

Date

2009-04-25T06:06:32-06:00
ID

146288

Comment

This is my favorite Fearless Jackson bit so far. You're funny, man!

Author

Tom Head

Date

2009-04-25T07:53:26-06:00
ID

146290

Comment

This was pleasantly funny, my friend. :) I had too much on my plate and couldn't be there, si I watched it on TV. I laughed then, but I laughed even harder after reading this. Thank you!

Author

LatashaWillis

Date

2009-04-25T21:16:41-06:00
ID

146327

Comment

"Nonsense: An Evening with Jabari Toins" I too would watch this. Enjoyed this column Jackson! I was there too and it was as hilarious, if not moreso than he described. Jabari actually said, "I'm tired of hearing about that gunshot wound..." and I thought I was going to fall out of my chair. Crisler was definitely robotic at times and surprisingly cocky. I would have liked him more if he'd only mentioned the bullet once and if he had been more humble.

Author

andi

Date

2009-04-26T20:25:55-06:00
ID

146446

Comment

effin' AWESOME. more like this, please!

Author

JSL1

Date

2009-04-29T09:56:16-06:00
More stories by this author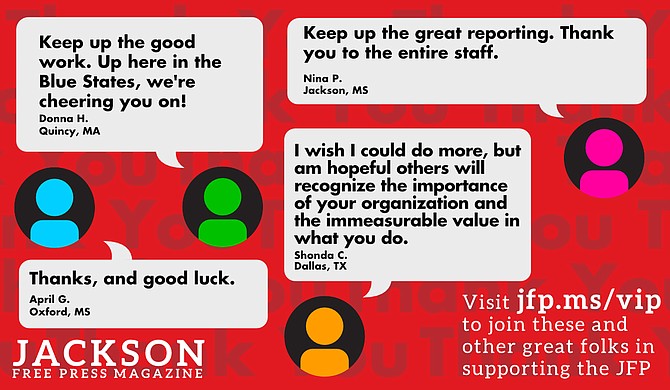 Thanks to all our new JFP VIPs!
COVID-19 has closed down the main sources of the JFP's revenue -- concerts, festivals, fundraisers, restaurants and bars. If everyone reading this article gives $5 or more, we should be able to continue publishing through the crisis. Please pay what you can to keep us reporting and publishing.