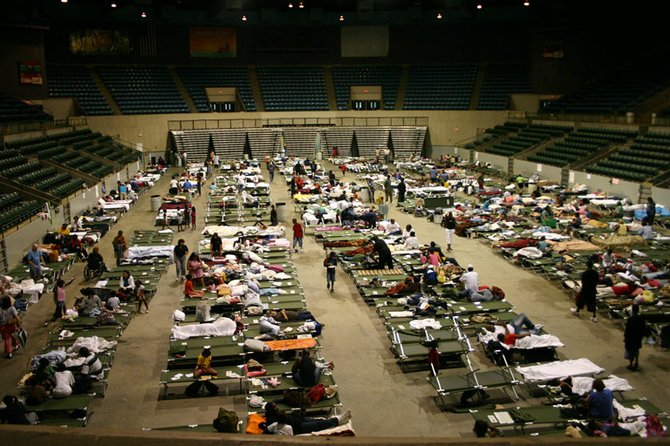 President George Bush praised the coordinated efforts of FEMA, MEMA, local agencies, and humanitarian organizations to work together and do battle with Gustav's category 2 winds when it came ashore in Louisiana earlier this month. The reaction marked a strong difference in the government's response three years ago, when the high winds and waters of Hurricane Katrina knocked the socks off Bush and FEMA.
"Phase one of the response to Gustav went very well," Bush told workers at an emergency command center in Louisiana.
Bush may be pleased with the response to the storm, but some argue that the comparatively happy turnout may have had more to do with the storm's weakness than the government's response.
MEMA, the Red Cross, and county and municipal governments followed a new plan for filling shelters this time around. MEMA submitted partial lists of shelters to which evacuees could flee, but the city government and the Red Cross did not actively publish the list.
"Each one of the counties opens up their shelters, and those locations are available through the Red Cross," MEMA spokesman Greg Flynn explained. "As those shelters begin to open is when they're published, because you don't want to say a shelter is going to open at Richland High School and have people camping out there waiting for it to open."
Jackson Assistant Chief Administration Officer Goldia Revies said city staff coordinated with representatives of the Red Cross to decide upon a plan of opening shelters by increments.
"That kept people from getting scattered, with 10 people over here and five people over there," Revies said.
But the process of shuttling evacuees into Jackson shelters, while hugely improved over the 2005 version under Katrina, was far from perfect. The Red Cross and the city fielded all shelter requests through Mississippi's Emergency Service 2-1-1 number, provided through United Way.
The United Way number was not a 24-hour number, however, and Revies said the number "had a glitch" during business hours on Monday.
United Way Director of Marketing and Community Relations Mandy Scott said she had no knowledge of a reported shutdown on either Sunday or Monday.
The city was specific in its intent to not reveal the location of the shelters.
"[A] systematic method by which each shelter will be filled is in place," Revies told the media late Sunday. "Therefore, it would be extremely helpful if the telephone numbers were given and not the shelter locations." This was counter to the partial lists of shelters MEMA had already released on its Web site.
Some evacuees complained of difficulty finding the unpublished shelters. Even the Hinds County Sheriff's Department was begging churches and private individuals late Sunday and Monday to open their homes and sanctuaries to evacuees as the fairgrounds and Red Cross shelter filled to capacity.
"On Saturday and Sunday there were a larger number of evacuees than what the coliseum was physically able to sustain, and they had probably 40 or 50 shelters in the metro area that are the usual Red Cross back-up shelters. They filled up, then the Trade-Mart filled up, the coliseum filled up, and we had no place for more people so I asked the public to step forward, and we had churches all over the county and surrounding counties to open their doors for 20 to 100 people to come stay," said Hinds County Chief Deputy Steve Pickett.
But Revies said the city had not exhausted its list of shelters, with several unused churches on standby, and Pickett did not see the sheriff department's urgent call as stemming from any kind of shortsightedness. "Compared to three years ago, the preparation made this tough situation seem less frantic," he said.
Still Pickett said he knew nothing of Revies' unused shelters at the time.
Jo Gibbons, director of Red Cross' Department Preparedness and Response, vouched for the system, saying it allowed Red Cross to have shelters staffed and prepared as much as possible before admitting patrons. Even so, the shelters still ran low on supplies, including sheets for the beds. The city faxed out a press release calling for clean sheets and other items after 9 p.m. on Sunday night.
"As far as things we needed on Sunday, we didn't quite reach the number we needed, but we were able to somewhat make do. People were generous," Revies said.
The road back for many Louisiana residents squatting in Mississippi was impossible last week. Some came on buses and made no plans to pay for the trip back. Others couldn't afford the gas money to refuel their cars.
Catholic Charities temporarily offered gas cards, though the handouts didn't last long, and many residents will still be working through how to get home this week.
The Red Cross had some difficulty arranging volunteers during the storm. Some Red Cross volunteers—as well as would-be Red Cross volunteers—complained that the local agency could not readily process and assign volunteer help where it was needed.
Jackson resident Emily Baker said she initially hit a road block trying to volunteer.
"I was looking for information on where to go, how to help, and just couldn't find it," she said. "Eventually I just went to the Coliseum to see if I could help there and they said, 'We need help, but you can't help until you've been registered. But then they couldn't really tell me where to go to get registered."
Gibbons said she regrets any unreturned calls to volunteers and assured that the organization would never discourage volunteer work on purpose.
New Orleans resident Jedd Haas, who blogged of his evacuation experience from his cell phone on the Gambit Weekly site as he sat in highway traffic, called the nation's evacuation response torment.
"When we first got on there on the highway, there was no contra-flow. But then all the sudden they must have opened up the contra-flow behind me because you saw all the cars going full speed on the other side, so I crossed over along with the others, and you got to drive at normal highway speed for about three minutes, but then totally stopped. It was basically a parking lot from bumper to bumper. It stayed that way for hours."
Taking I-10 to I-59 to Birmingham from New Orleans turned out to be an 18-hour disaster.
"A trip that normally takes six to eight hours cost me four or five tanks of gas."
The traffic was so slow at one point that some evacuees believed the state of Mississippi had actually shut down I-10 to discourage Louisiana evacuees from further clogging state highways and preventing the flight of Mississippi coastal residents.
Mississippi Department of Transportation spokeswoman Carrie Adams denied that the state had closed down any highways. "We did the contra-flow on Sunday morning about 4 or 5 a.m. It may have been backed up, but it had never been closed," she said.
Going back was even worse, said Haas.
"I called them and they told me the place would be open that morning," he said. He got as far as Slidell before learning that New Orleans was off limits.
Despondent and broken, Haas began the long trip back to Birmingham before his radiator lost its hard-fought battle with highway crawling and exploded. It took two days to find another.
Hass' newfound cynicism, born on the boiling highways of Mississippi, could mean one more person planted firmly in New Orleans to brave the tender mercies of the next Katrina.
"I think I reflect the sentiment of many residents in New Orleans when I say we're not going to go next time there's an evacuation. I shouldn't have gone this time. In fact, I'm kicking myself for going because the risk was overblown," Haas said.
Previous Comments
ID

135775

Comment

2 comments 1. Volunteers who want to really be helpful during a disaster should be trained in advance and become part of a working team. Otherwise, they can become part of the problem instead of part of the solution. Emergency officials and trained volunteers are too busy to train or look out for untrained volunteers during a disaster. 2. It grieves me to see major roads like Hwy 90 washed out in Mississippi from an indirect hit from a mid-size hurricane like Gustav. We need to do a better job getting publicly funded infrastructure, like roads, away from the storm surge areas. Insurance rates are going to stay too high until the amount of vulnerable structures are reduced either by building higher, or stronger, or farther away from the water.

Author

gwilly

Date

2008-09-16T14:13:37-06:00
ID

135828

Comment

Let me add to my previous post, that it isn't just about money. We need to rebuild better and smarter because people lives are in the balance. So much was lost in Katrina. The tragedy will be compounded if preventable losses happen with each new hurricane. Regarding evacuation, please, a barrier island is the worst place to be in a hurricane. If you live on a barrier island like Galveston or a V Zone (subject to storm surge) do evacuate if you can in advance of a major hurricane. Otherwise you are endangering yourself and endangering the people that will come to rescue you.

Author

gwilly

Date

2008-09-17T11:18:20-06:00
More like this story
More stories by this author
Support our reporting -- Become a JFP VIP.
The news business has changed dramatically in the past year, and we need your help more than ever to keep bringing you important stories about Jackson and the Metro. Become a JFP VIP with an annual membership or you can Sign up as a monthly supporter. Thanks for anything you can do to empower our journalism!