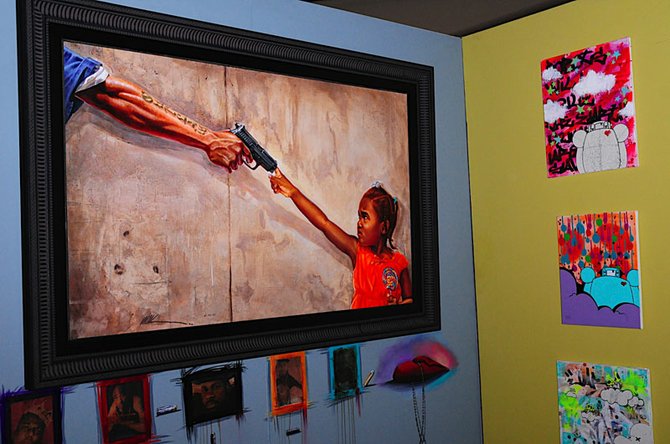 When Jabari Graham, 28, was laid off from his job as creative marketing manager at UniverSoul Circus in 2001, he took what money he had saved and organized an art show in Atlanta's Little Five Points. The success of that show grew into "Jack Daniel's art, beats + lyrics," an urban art exhibit currently touring the Southeast. The event incorporates the visual elements of photography, paintings, and graffiti with live music, DJs and break-dancing.
The Jackson State University graduate wanted to give people an alternative to the typical art museum exhibit, and transform viewing art into an experience that goes beyond just looking at art.
"I always wanted to incorporate live music because just going to a live performance the energy is much different than a DJ pumping out tunes," Graham says.
When Graham organized the first show in Atlanta, it was difficult to find urban artists to show their work, but through word of mouth, the lineup has grown to include several dozen artists from the South.
"It was very hard because that was, I guess, my way to break into the arts community, Graham says. "Basically, I just took pictures of some graffiti around the area and went to some of the stores where cool kids worked, and I asked them … 'Do you know who did this?' and went to some tattoo parlors and got with some artists."
With a full roster of artists, the community took interest in the show, and Graham took a partner. At the exhibit, Graham met Dubelyoo Wright, 32, a freelance illustrator who shared Graham's interest in presenting a positive, artistic view of urban life and combining visual art with interactive art.
"Our particular generation pretty much grew up with the arts being diminished in the school system, so a lot of folks didn't really have a heavy art-infused education. And a lot of folks really want to get into the arts, but they don't know how," Wright says. "Once you educate people about something, then they can have a stronger appreciation for it. Usually, the first part of the show is the art show, and then afterward, people get into more of the celebration. We get down."
One of the central themes of the exhibition is hip-hop culture. While the term has been controversial in recent years, catching blame for inner-city problems, Graham and Wright seek to reclaim a positive image of hip-hop.
"Hip-hop started out in the inner cities as a form of expression, and fun was part of it; that was the main thing about it. There wasn't really a negative attribute to it; it was just (people) talking about the environment that they lived in and trying to uplift people," Wright says. "I think that, you know, we get away from that sometimes, but this show actually tries to highlight the positive aspects of hip-hop and take it back to the core that it began as."
Much of the artwork, by national artists like Gilbert Young and local artists like Shambé Jones, is not just about hip-hop, though. They explore social and political themes that subtly, yet profoundly, speak to viewers. WAK's "Watch Where You Are Pointing That Thing" depicts a young black girl sticking her index finger into the barrel of a pistol. The painting doesn't show the holder of the gun, just his forceful arm, which draws focus toward the young girl. She is small but powerful, and she conveys the idea that we can take hold of our circumstances, our neighborhoods, our crime.
The exhibit is also uniquely southern. Graham's goal is to give more exposure to southern urban artists who don't necessarily thrive on a national scene.
"[A] lot of visual urban artists that get the (publicity) are people from the East Coast and West Coast," Graham says. "There are a lot of good southern urban artists in ... the South, in general, that we want to highlight and let people know, "We got some people, too."
"Jack Daniel's art, beats + lyrics ," has been in Atlanta and Charlotte, N.C., and makes its third stop in Jackson's TelCom Center on Friday, Sept. 5, from 7 p.m. to midnight. In addition to free admission and drinks, the show will offer live music from The Common Ground Collective with Alien on drums. DJs Lord, Princess Cut Mike Relm and Rasta Root will also be spinning the turntables.
More stories by this author
Support our reporting -- Follow the MFP.