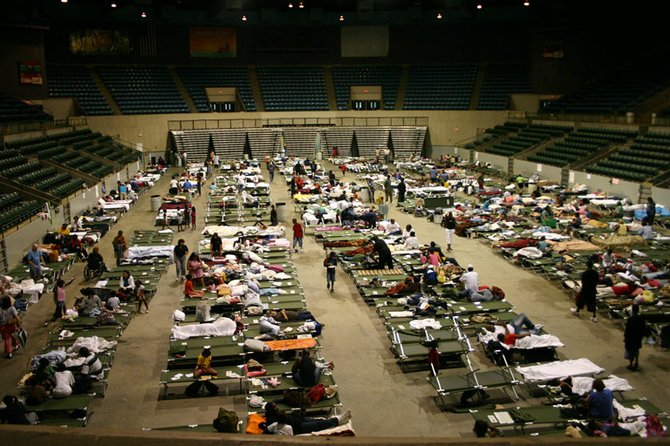 Hurricane Gustav was not the monster people had been fearing. Almost exactly three years ago, Hurricane Katrina showed America what a real hurricane looks like, and made government on all levels, from federal to municipal, look like a Marx Brothers movie.
Gustav petered down to a Category 2 storm by the time it hit the Gulf Coast, however, and broke up quickly into chaotic patches of high wind and rain. The swell it carried still inundated parts of the Coast, and the Associated Press recorded eight deaths as a result of the storm as it sauntered over central Louisiana at about 12 miles per hour, on its way to Texas.
Nevertheless, the storm reminded the state of Mississippi that there is no such thing as too much disaster preparedness.
Most Coast residents opted to abandon their homes in their own vehicles, though some residents complained that the trip up was still slower than it needed to be.
"I'm not going to say it was like it was the last time (during Hurricane Katrina), but it still seemed like people forgot which pedal was the gas," said James Roth, a resident of Biloxi, who was milling around the Mississippi Coliseum in Jackson on Tuesday. Roth wasn't sure about his immediate plans and could not decide whether he should wait for a hotel room to open up, spend more gas and risk a drive up to Memphis, or attempt a drive back to Biloxi.
"I left late because I wasn't sure what the storm was going to do. Maybe I should have waited longer," he said.
Now Roth said he doubts he'll be able to get back using the highway.
"I heard they closed it down for now," he said. "Nobody is telling me when that's going to change."
Although evacuees did not hesitate to abandon their homes this time, emergency officials still revisited memories of the shameful morass of hundreds of car-less New Orleans residents stranded on rooftops during Katrina. The Mississippi Emergency Management Agency asked Jackson Public Schools for the use of 80 of its fleet of 350 buses to move people north from the Coast in preparation for Gustav's landfall. In addition to the 70 regular buses and 10 special-needs buses, the school district also offered a wrecker and 40 safety officers to assist with security.
Jackson Public Schools Deputy Superintendent for Operations Michael Thomas said MEMA quickly approached his district for transportation.
"They had a pretty good plan, and we worked very cooperatively with them," Thomas said, explaining that MEMA would reimburse the district for the use of the vehicles.
Buses departed coastal targets at 6 p.m., carrying almost 500 people to Jackson. Some riders bitterly noted the evacuation was mandatory. Steve Cantrell, of Biloxi, said police rounded him up late Monday afternoon and had him on a bus headed for Jackson by nightfall.
"I sure didn't ask to come. They told me I could either get on the bus or go to jail," Cantrell said. "I've been there way too many times to want to go there again, so I got on the bus. I didn't argue."
Gulfport residents David Towner and his wife said they had caught word of the mass departure in the local newspapers. They said they had been expecting the bus to take them to Memphis, where they had friends and relatives to stay with, but found themselves in Jackson and eager to leave.
"If I could leave today, I would because this place is nasty," Towner said, referring to the Mississippi Coliseum.
Though ultimately thankful for MEMA's service, Towner and Cantrell said when their bus arrived Monday night, there was initially no place to sleep, and blankets were not readily available.
"But I don't blame nobody," Towner said. "It was a blessing. If the water had come up for us this was a blessing."
His wife also did not begrudge the government's reaction, even though their hometown did not suffer overmuch from the storm.
"Right before Katrina, we had a false alarm. Remember Hurricane George? Then Katrina came, turned everything around and tore everything down. I'd rather run from a false alarm than find out a false alarm wasn't false," she said.
Some evacuees say MEMA never released a full list of open shelters. The Jackson Free Press accessed several partial shelter lists from the MEMA Web site on Saturday and Sunday, but then got faxes from the mayor's office late Sunday and Monday not to release the locations to readers, but just a contact number for storm victims to call.
MEMA Spokeswoman Katherine Crowell said MEMA never had a full list to release to the public. "The shelters kept changing whether they were open or closed. We were essentially being a call center, and when people needed shelter information, they would call us and we would look onto the current shelter list and tell them which ones were open near them," she said.
Other evacuees complained that the number MEMA circulated to field United Way shelter information shut down Sunday night.
Mandy Scott, director of marketing and community relations for United Way, which is providing the 2-1-1 number, pointed out that the number is not a 24-hour number. "We closed down between 10 p.m. and 8 a.m. to give our workers a rest, but I do not recall our service shutting down during business hours at any point Sunday or Monday. We had 1,500 calls on Sunday and about 1,700 or 1,800 calls on Monday," Scott said.
The Towners, like many other visitors, are eager to get back home.
"Our boss told us that the city is fine and we need to be back at work on Wednesday," David Towner said. "We wouldn't mind going to a hotel, but right now we're just looking for a phone book, and nobody here knows where one is."
Crowell said MEMA is not ready to pack everybody back on the buses just yet, though.
"We're urging people to hold off until their local governments say its safe. We need to get the go-ahead from the municipalities, because there are still trees down everywhere, power lines down and the crews are out there trying to work and clear streets. That's basically the reason for the wait," Crowell said, adding that there was no departure time set Tuesday morning.
MEMA reported almost 85,000 Mississippi households without power, and that lingering wind gusts spawned by the downgraded tropical storm were delaying repairs in some areas.
There had initially been conflicting reports on whether or not the MEMA evacuees had been forced to abandon pets, though MEMA confirmed that it used one of the JPS buses to transport animals, too.
On Tuesday, pets were being held in pens under the Mississippi Fairground's livestock shelter, along with abandoned animals evacuated from coastal shelters.
"We'll be discharging a lot of pets today and late tomorrow, I think; I hope," said volunteer shelter supervisor Jerry Lousteau. "We're in good shape, but we're always looking for volunteers."
June Towler, a volunteer with the Animal Rescue Foundation, said the animals evacuated from coastal shelters were on their way to a new shelter in Madison.
"The Waveland Shelters said please don't bring them back because we don't know if there's going to be a building left for them to come back to, so we're leaving at 2 p.m. for the new shelter in Madison," she said.
More stories by this author
Support our reporting -- Become a JFP VIP.
The news business has changed dramatically in the past year, and we need your help more than ever to keep bringing you important stories about Jackson and the Metro. Become a JFP VIP with an annual membership or you can Sign up as a monthly supporter. Thanks for anything you can do to empower our journalism!