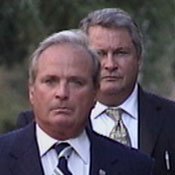 Imprisoned attorney Paul Minor is arguing in Fifth Circuit Court of Appeal filings that presiding U.S. Southern District Court Judge Henry Wingate showed bias against the defense in his 2007 trial by changing his jury instructions from his earlier 2005 trial, and by ordering that evidence be removed from the 2005 trial that had stalled the jury's guilty verdict in that case.
U.S. Attorney Dunn Lampton retried Minor on federal corruption charges after he failed to convince a jury in 2005 that Minor had bribed a judge. In the second trial, Wingate ruled out the necessity of proving quid pro quo—that any money or services were actually exchanged with a judge, which would typically form the basis of proving bribery. The removal made it easier to get a conviction.
Wingate also increased Minor's sentence after his conviction to 11 years, beyond federal guidelines.
Minor's appeal arrived in the wake of an April congressional report on the alleged politicizing of the U.S. Department of Justice under President George Bush and former White House adviser Karl Rove. Rove has ignored congressional subpoenas to testify under oath on his alleged tampering in federal investigations against Democrats.
The report, "Allegations of Selective Prosecution in Our Federal Criminal Justice System," names incidences of possible political targeting against Democrats and Democrat fundraisers in Michigan, Georgia, Alabama, and—in Minor's case—Mississippi.
The U.S. Department of Justice refused Minor's recent motion for release pending appeal on Monday. Minor argued that his wife is dying of cancer, with only months left to live, and that he would have already served the sentence Wingate would have imposed had he not extended it beyond federal guidelines.
Minor's attorney Abbe David Lowell expressed regret at the Fifth Circuit Court's decision, but said he was confident Minor would overturn the jury's verdict because of the holes in the case. "I know we will overturn this verdict," Lowell said, adding that Congress is right to scrutinize Minor's trial and many others because of the DOJ's unethical machinations in the cases.
Another alleged political target, former Democratic Alabama Gov. Don Siegelman, maintains the DOJ targeted him for political reasons, and that the presiding judge and prosecution exhibited severe conflicts of interest. Siegelman's lawyers learned as recently as this July that prosecutors had acted to verify allegations of jury misconduct in his case without alerting the defense. The lawyers for Siegelman, also convicted of corruption in 2006 along with Alabama CEO Richard Scrushy, received a July 8 letter from Patty Merkamp Stemler, chief of the appellate section of the criminal division of the U.S. Department of Justice, revealing a possible case of ex parte communication between the DOJ and U.S. District Judge Mark Fuller, the judge who presided over Siegelman's case regarding matters in a then-pending motion.
Siegelman's defense team received printouts of e-mails in late 2005 and early 2006 from an unknown source that, in the words of Stemler, "suggested that one or more jurors was improperly exposed to extraneous information and outside influence" during the trial. Two 2006 e-mails, provided in Scrushy's 2008 motion to appeal, indicate that outside materials were being downloaded from the Internet and used by jurors in an effort to pressure their wavering peers.
One e-mail, possibly sent through a cell phone on June 25 from juror 40 to Juror 7, states: "….judge really helping w/jurors… still having difficulties with (Juror) #30 …any ideas??? keep pushing on ur side /did not understand ur thoughts on statute but received links." The e-mail bears the alleged signature of Juror 40.
A second June 25 e-mail from Juror 40 to Juror 7 states: "I can't see anything we miss'd. u? articles usent outstanding! gov & pastor (Scrushy) up s—t creek /good thing no one likes them anyway. all public officials r scum; especially this 1. pastor is reall a piece of work …they missed before, but we won't …also, keep working on (Juror) 30… will update u on other meeting." This letter also allegedly bears Juror 40's signature.
The jury delivered a guilty verdict four days later on June 29.
The defense team immediately demanded an investigation on the e-mails in 2005, but prosecutors opposed the investigation. Fuller sided with them in December and denied the defense's motion for a new trial. That same month, however, and in February and March, the anonymous e-mail printouts just kept coming. Horrified, defense lawyers filed a motion to reconsider Fuller's denial, but the prosecution argued against it, saying that an investigation of the jury would "dismantle the jury system," which was "the linchpin of the federal criminal justice system."
Fuller, a former member of the Alabama Republican Executive Committee who was investigated by a Siegelman-appointed DA for spiking a friend's salary with an extra $70,000 in 2000, sided with prosecutors again in June. (Republican Alabama attorney Dana Jill Simpson testified before the investigating U.S. congressional committee in 2007 that she had heard a Republican higher-up say in 2005 that White House adviser Karl Rove had contacted the Public Integrity Section of the Department of Justice and would have Siegelman's case assigned to a federal judge [Fuller] who would "hang Don Siegelman.")
Previous Comments
ID

132673

Comment

A judge has ruled on behalf of the Judiciary Committee in the quest to get Rove and Harriett Miers to testify about the alleged DOJ witchhunt that got us to this place. Hat tip to Talking Points Memo and Folo for pointing us to that.

Author

DonnaLadd

Date

2008-07-31T10:39:56-06:00
ID

132677

Comment

Good, Donna, but unless the House Judiciary Committee plans on using waterboarding or the special services or wishes of Revern Jessie "Nut-Cutting" Jackson to force a confession from Karl "Chucky" Rowe, they're wasting their time. Harriet may eventually jump ship and talk but not Karl. Surely, he going to hell with his devilment.

Author

Walt

Date

2008-07-31T10:55:42-06:00
ID

132694

Comment

A judge has ruled on behalf of the Judiciary Committee in the quest to get Rove and Harriett Miers to testify about the alleged DOJ witchhunt that got us to this place. Great! A federal judge that follows the Constitution. And a Bush appointee at that. Amazing. I'll bet he didn't see that coming.

Author

Jeff Lucas

Date

2008-07-31T12:36:17-06:00
More stories by this author
Support our reporting -- Become a JFP VIP.
The news business has changed dramatically in the past year, and we need your help more than ever to keep bringing you important stories about Jackson and the Metro. Become a JFP VIP with an annual membership or you can Sign up as a monthly supporter. Thanks for anything you can do to empower our journalism!