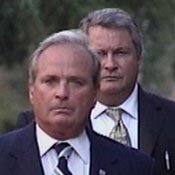 Attorneys for Paul Minor, above, are moving forward to appeal his honest services fraud convictions.
Stories this photo appears in:
Justice
Attorneys for convicted lawyer Paul Minor are planning their next move now that U.S. District Judge Henry Wingate finally re-sentenced Minor and former judges John Whitfield and Walter "Wes" Teel. ...
U. S. District Judge Henry Wingate reduced former Mississippi attorney Paul Minor's federal prison sentence to three years during a hearing yesterday, WLBT reported yesterday.
The USF&G Insurance Company, from which former attorney Paul Minor won a large settlement in 2001, wants former state Supreme Court Judge Oliver Diaz removed from Minor's civil defense team.
Justice
This morning The U.S. Supreme Court announced it would not hear the case of Mississippi Attorney Paul Minor and former judges Walter "Wes" Teel and John Whitfield convicted of fraud ...
Justice
A change in federal court opinion could soon affect some media-saturated state trials, including the corruption trial of Hinds County Circuit Judge Bobby DeLaughter and the ongoing appeal of Mississippi ...
Associated Press and Forbes are reporting:
Talk
Imprisoned attorney Paul Minor is arguing in Fifth Circuit Court of Appeal filings that presiding U.S. Southern District Court Judge Henry Wingate showed bias against the defense in his 2007 ...