Shuffling behind a young black woman in an identical orange jumpsuit, James Ford Seale entered the fourth-floor courtroom of the James O. Eastland Federal Building in Jackson on Feb. 22 with shackles hanging loosely around his waist and ankles, and his hands cuffed in front of him. The 71-year-old retired cropduster from Roxie, Miss., wore thin wire glasses, orange sandals and thick white socks. The words "Madison County Jail" were printed across his slight, but well-postured back. He stood no taller than 5'8" and looked to weigh about 125 pounds, but he showed traces of his muscular past with a thick neck that recalled his open-collared mug shot from 1964—the year he was arrested and released weeks later for the murders of two black teenagers in Franklin County.
As a U.S. marshal led him to a seat next to his lawyers, Seale smiled at his wife, Jean Seale, who sat in the front row on the defense's side of the court. One of his stepsons-in-law arrived late, scanning the half-empty room with his buzzed head held high as he placed his arm around Seale's stepdaughter, a blonde woman in high heels who blew bubbles with her gum. Other than flashes of eye contact with his family, Seale sat upright and still. At one point, he turned to stare at a large security camera behind a glass plane, high in the back corner of the courtroom.
When U.S. District Judge Henry Wingate—the court's black-robed, baritone-pitched voice of authority—granted the defense a 15-minute recess to review case history, Seale sat still and looked at the ground.
One month earlier, on Jan. 24, 2007, a federal jury had indicted Seale for two counts of kidnapping and one count of conspiracy leading to the deaths of Charles Moore and Henry Dee, the 19-year-olds beaten by members of the Ku Klux Klan in the Homochitto National Forest and then drowned in a backwater of the Mississippi River in 1964. The prosecutors believe that Seale chose Dee and Moore because they thought Dee, who had just returned from living in Chicago, was involved in civil rights activity in the area.
Five days later, in a packed courtroom on a lower level of the Eastland Building, U.S. Magistrate Judge Linda Anderson denied bond to Seale, stating, "Neither the weight of the crime nor its circumstances have been diminished by the passage of time."
It had been 42 years and eight months since Dee and Moore died, the longest wait for a case to be successfully tried in a civil rights era killing.
Dunn Lampton, the U.S. attorney who re-opened the case against Seale in 2005, now sat 50 feet from the defendant, along with his legal team from the Civil Rights Division of the Department of Justice: Special Litigation Counsel Paige Fitzgerald and Trial Attorney Eric Gibson. One day after the grand jury indictments, Lampton stood alongside U.S. Attorney General Alberto Gonzales and FBI Director Bob Mueller in Washington, D.C., to announce the charges. As he did then, on Jan. 25, 2007, he let his colleagues do the talking in the courtroom. Fitzgerald, the quick-lipped, short-cropped lawyer of blonde hair and dark suits, emerged early as the voice of the prosecution.
Sitting next to Seale in identical black leather chairs were his lawyers: Public Defender Kathy Nester and Federal Public Defender Dennis Joiner. They urged Wingate to reverse Anderson's bond ruling and throw the case out due to the statute of limitations.
Joiner, a stout, ruddy-faced veteran of the public defender's office, stumbled when Wingate pressed him on the specifics of his motion to dismiss. Citing U.S. v. Jackson, a 1968 ruling that removed the death penalty as a punishment for kidnapping, Joiner argued that kidnapping charges stemming from the 1964 Dee-Moore murders would have exceeded the statute of limitations in 1969. (Non-capital crimes must be tried within five years.) However, Joiner could not prove that the removal of the death penalty as a kidnapping penalty in 1968 changed its status as a capital crime, or that the 1968 ruling would apply retroactively to 1964.
"Kidnapping is typically recognized as a capital offense," Wingate said.
"I can't argue with that," Joiner replied.
Wingate appeared annoyed that Joiner used "extrapolation" to argue his case—the public defender produced only one case that applied directly, and he referred to cases not listed in the defense's original briefing.
"We continued to do research," Joiner said in defense of the incomplete briefing, before Wingate cut him off.
"Because of this, I will deny the motion to strike," the judge said sternly.
It would not be Wingate's last admonishment of Joiner.
Race Has Nothing to Do with It'
One month later, in one of the more dramatic exchanges of the pretrial motion proceedings, Wingate denied a motion from the defense to recuse himself and U.S. Magistrate Judge Linda Anderson—apparently filed, in part, because both judges are African American. In the motion for recusal, Seale's defense attorneys had complained about Wingate and Anderson's prior employment—in Wingate's case, 22 years ago—with the federal prosecutor's office. However, during the hearing, Joiner also seemed to hint that, as African Americans, Wingate and Anderson might be biased against Seale.
"Let's just say that, if I were a prosecutor in this case, I would pick Your Honor even though you've served for 20 years without bias," Joiner said.
The public defender then said, in vague terms, that certain issues might affect Wingate in a certain way, and that these unique responses are the reason law schools need diversity.
"Maybe you're dancing around some issues," Wingate replied. "Does the 'diversity' argument you made mean that you don't want two judges of minority status?"
"Race has nothing to do with it," Joiner answered. He said that by diversity he was referring to different areas of law.
"Mr. Joiner, you've been in court for years, and you've never made this argument before," Wingate said. "Your motion comes for the first time in your five years as a public defender, and it only comes because the magistrate judge is Africa American, and the district judge is African American."
"This is the first time that an indictment was filed in the Western Division (of the Southern District of Mississippi) and mysteriously moved to Jackson," Joiner said, apparently abandoning the issue.
"This court is not persuaded it should recuse itself," Wingate said in denying the motion.
'The Defendant ... Inserted Race'
During an April 12 hearing—two and a half months after Seale was incarcerated—Wingate heard arguments for and against a detailed jury questionnaire. Defense lawyers had opposed detailed questions to ask jury candidates, specifically queries that sought to profile their racial opinions. During an earlier teleconference, Nester had expressed disdain for "shocking questions related to race, interracial dating, interracial rape and white-power groups."
"It's clear that the government wants to make this case about race (and) racial issues, when at the end of the day, it's a criminal case. To allow the government to set the tone and create racial hysteria before the jurors even step into the room, is to deny (Seale) a fair trial," Nester argued on April 12.
"It was the defendant who inserted race into this case," Fitzgerald replied.


Fitzgerald argued that jury candidates would not respond honestly to the question, "Are you a racist?" Instead, questions about their positions on racial issues would illicit more candid responses, she said.
The questionnaire, similar to one federal prosecutors have used in prosecuting seven other defendants, including Edgar Ray Killen, for racially motivated murders from the civil rights era, includes a question about school integration. In the 2003 trial of Ernest Avants, for the 1966 murder of Ben Chester White in Natchez, 11 of 93 jury candidates disagreed with school integration, according to Fitzgerald, who helped prosecute that trial.
"This court has an independent obligation to use the tools it has so that, if prejudice exists, it will be found out," she said.
Wingate agreed. "The process will take longer, but both parties will have the opportunity to inquire deeply into jurors' minds and ensure a fair trial."
'You Are Going to Have to Prove It'
On April 30, Wingate began the final round of pretrial motion hearings. In three days, he settled all remaining motions and heard from all remaining witnesses. These witnesses, most elderly, testified about the circumstances of Seale's arrest on Nov. 6, 1964, the lifelong fear of a deceased FBI informant and the grip the Klan had on Franklin County in the 1960s. On the first day of testimony, witnesses testified regarding the defense's motion to suppress statements Seale made during the two-hour ride from Seale's home in Franklin County to Jackson following his arrest in 1964.
Retired FBI Agent Edward Putz, who rode to Jackson with Seale following his arrest, took the stand April 30 to testify for the defense's motion to suppress Seale's statements. Tall, broad-shouldered and with a shock of white hair, Putz described the arrest by two highway patrolmen, a fellow FBI agent and himself. In a document he filed the day of Seale's arrest, Putz recorded a verbatim exchange between Seale and FBI special agent Lenard Wolf, in which Wolf, referring to the kidnapping and murder of Moore and Dee, said, "We know you did it, you know you did it, the Lord above knows you did it."
"Yes, but I'm not going to admit it; you are going to have to prove it," Seale said.
In the motion to suppress, public defender Kathy Nester wrote that Seale was "subjected to physical abuse by the officers and agents questioning him"—the same argument that his defense attorneys used in 1965 to get District Attorney Lenox Forman to release Seale, and co-defendant Charles Marcus Edwards, and not put the murder case before a grand jury. She also argued that Seale was not advised of his right to remain silent or his right to a lawyer.


Putz denied any physical harm to Seale. "There was no struggle. The man was not assaulted. I did not hear or see it," he said.
Arguing for the prosecution, Eric Gibson noted that Miranda rights did not yet exist in 1964, and that Seale never asked for a lawyer. He argued that Seale's confession was voluntary because it did not result from threats, rewards or extensive interrogation.
"The very defiance of his reply is evidence of its voluntary nature. (Seale) is basically telling (the agents) to go pound sand," Gibson said.
The defense then called Jack Davis, a retired constable, construction worker, stevedore and bartender from Franklin County, to testify that he had witnessed bruising on several of Seale's ribs after his arrest. Davis said that he lived "10 or 15 minutes" from Seale in Franklin County, where he had lived for "80 years or so." A short man with a broad forehead and dark, sharply angled eyebrows, Davis wore a green flannel shirt tucked into jeans and used a courtroom hearing aid.
Davis described receiving a call from Seale's wife at 6:30 a.m. saying that her husband had been picked up in the middle of the night. She asked Davis to come over, and "see the condition the house was in."
"It looked like a storm had gone through it—things gone this way and another. I don't know if it was any big damage or anything. It was just things tore up, turned around," Davis said.
In cross-examination, Davis acknowledged that the reason the house looked disheveled, Seale's wife had told him, was because highway patrolmen and FBI agents were searching for a gun: Seale's sawed-off 12-gauge shotgun. He then described seeing Seale after he had been released from prison—how many days later, Davis could not recall. Davis could not deny that his father, Roy Davis, received funds from the Ku Klux Klan in order to post Seale's bond.
"(Seale) pulled his shirt up, and it was two or three ribs there that were pretty red. I asked, 'What happened to that?' He told me, 'They asked me a question I couldn't answer, and they elbowed me.' I asked him who, and he said, 'The FBI,'" Davis said.


In January 2007, Davis testified before a grand jury that he had seen only one red mark, about the size of a silver dollar, in the week following Seale's arrest.
Under cross-examination by Fitzgerald, Davis admitted to being a member of Americans for the Preservation of the White Race in the 1960s—an organization active in Franklin and Adams counties in the 1960s, holding meetings in City Hall, promoted by David Webb, the now-deceased editor of the Franklin Advocate newspaper and then-publicity director of APWR, according to documents in the Mississippi Sovereignty Commission files. Davis also admitted to helping construct a private school that excluded blacks.
"I knew the schools were being mixed up. That's why we took an old school and built it up," Davis said.
"Did you participate in your goal of keeping the races segregated with members of the Seale family?" Fitzgerald continued.
"I'm pretty sure some of the Seales did. Probably all of them," Davis replied.
As he left the stand, Davis walked toward Seale, but was blocked by defense lawyers from making eye contact with him. Seale watched as clerks escorted Davis out of the courtroom. Davis lingered in the doorway, peering through the circular window back at Seale.
Two days later, Wingate denied the motion to suppress Seale's statements, citing inconsistent testimony from Jack Davis.
'The Leaders, the Dictators'
On April 30 and May 1, Wingate heard testimony from witnesses regarding the government's motion to include the statements of Ernest Gilbert, a deceased FBI informant and former KKK leader who had information linking Seale to the Dee-Moore murders but never testified in court before his
death. Prosecutors argued that Seale forfeited his right to cross-examine Gilbert because he had prevented Gilbert from taking the stand out of fear and intimidation.
Retired FBI agents Billy Bob Williams, Reesie Timmons and Clarence Prospere; former Clinton, La., Police Chief Eddie Stewart, who befriended Gilbert late in his life; and Jimmie Gilbert, Ernest Gilbert's widow, took the stand to provide testimony about Gilbert, who died in 2003.
"It was common knowledge that if the identity of (Gilbert) was revealed, he would be killed," said Timmons, a former FBI agent in McComb, Miss.
Timmons, who slicked his gray hair back and wore a blue jacket and red tie, described James Seale, his brother Jack and his father Clyde as "killers" who were feared by fellow Klansmen.
"I know from Klan members who talked to me on the street that (the Seales) were considered the leaders, the dictators of the Klan in that part of the country. They were strong, and they were feared. (Informants) didn't want them to know who they were. They were killers," he said.
Timmons described the time that he and a fellow FBI agent visited Gilbert at his house to offer protection. Gilbert, convinced that the agents were Klan members in disguise, told them that if they did not leave his property, he would shoot them.
"He was scared to death. The man could hardly talk. He could hardly walk. He was absolutely expecting to be shot to death," Timmons said.
Timmons said that Gilbert later asked to be arrested to escape the Klan.
One day earlier, Billy Bob Williams, a retired FBI agent stationed in Natchez, Miss., in 1964 and who now lives in Oregon, was asked if he was concerned for Gilbert's safety.
"Absolutely. (Gilbert) was aware that if he was exposed, with the information he had furnished (to the FBI), the least he could expect was a bullet to the head," Williams said.
Eddie Stewart, former police chief of Clinton, La., and a friend of Gilbert late in his life, took the stand to testify about Gilbert's fear of reprisal. Stewart, a middle-aged black man with long hair pulled back into a ponytail, remained friends with Gilbert even after he confessed that he had founded the White Knights of the Ku Klux Klan in Mississippi.


"He said he needed to talk to me, that it was very important and that I was the only person he trusted," Stewart said. "He called some names—Clyde, Jack and James Seale and Ernest Parker. They came to his house and told him that they picked up two black kids, took them out to Clyde Seale's farm, beat them and threw them in the river."
Stewart advised Gilbert to tell his story to a Louisiana FBI agent, the transcript of which the government later sought to include in the trial. Stewart also advised Gilbert to reveal himself as an informant on "20/20" in 2000 because ABC producer Eric Phillips, who had contacted Gilbert, "had enough information on (Gilbert)" to reveal him as an informant even if he did not talk. However, Stewart said despite his urging, Gilbert never testified in court because he was "deathly afraid for his family and himself. … (Gilbert) said, 'I gave them everything they need. All they need to do is prosecute,'" Stewart said.
In the most substantial blow to the prosecution, Wingate denied the motion to admit Gilbert's statements, noting that prosecutors failed to provide Gilbert with a judicial forum to testify during the three years between outing himself as an FBI informant on ABC's "20/20" in 2000 and his death, by natural causes, in 2003.
"The court recognizes that (Gilbert) was assured he would never have to testify, and that the witness was filled with dread and fear—until he finally made statements on '20/20,'" Wingate said.
Wingate also denied two motions from the defense to dismiss the trial, one for lack of a speedy trial and one for spoiled evidence. In both motions, the defense argued that Seale would receive an unfair trial because of the 42-year gap between Moore and Dee's deaths in 1964 and Seale's prosecution in 2007.
"[T]he government attempted to prosecute this case, but was prevented from doing so by jurisdiction issues. Once they found they could prosecute, they did," Wingate said.
On May 29, pending any further delay, the prosecution of James Ford Seale will begin in earnest, 43 years and 27 days after the deaths of Charles Moore and Henry Dee.
See the JFP's "Road to Meadville" blog on this case for background on this case, which a JFP team helped get re-opened in 2005. A JFP team will blog daily there during the trial.
Previous Comments
ID

81213

Comment

Matt, Kathy Nester is a federal public defender too.

Author

Ray Carter

Date

2007-05-24T15:46:16-06:00
ID

81214

Comment

Thanks, Ray. I remember asking Kathy Nester and Dennis Joiner their official titles at the beginning of the trial, and those were the answers they gave me. ("Federal Public Defender" for Joiner; "Public Defender" for Nester.) Maybe Nester was just being humble-- but she's never corrected me, and I know she's read my articles. I'll be sure to make a correction.

Author

msaldana

Date

2007-05-24T17:49:39-06:00
ID

81215

Comment

One nota bene: Joiner has left the trial, according to Nester. Nester is now leading the defense, along with George Lucas. I've reported this in earlier articles, but not this one. I haven't gotten an official explanation yet.

Author

msaldana

Date

2007-05-24T17:52:03-06:00
ID

81216

Comment

Jerry Mitchell continues to stumble and bumble his way through the James Ford Seale case. For one, he just can't stop insisting that this will be the last case of its kind. Then, he has this interesting, but very strange, piece about two highway patrolmen and their efforts to fight the Klan. The center of this strange tale is Armistead's admission that he beat up Seale because the man took his picture: In June 1965, he and Butler observed a march in Natchez, watching hundreds of men walk down the street in Klan robes. One man came up to snap a picture, Armistead said. "He was standing 18 inches from my face with his camera." The highway patrolmen recognized the man from the photograph he carried. "God almighty, damn, I got mad," Armistead recalled. "I lost it." Seale filed charges of assault, battery and unlawful arrest against Armistead. Armistead justifies the beating by referring to an anonymous phone threat someone made against his young daughter, though he never explains why he thought Seale was the culprit. Nevertheless, when the governor called in Armistead to ask about the beating, the threat made it all OK. The highway patrolman explained that his daughter had been threatened. With that, the tone of the meeting changed, Armistead said. "He said, 'You're doing a good job. Get your a-- back down there, and quit worrying. I've got the key to Parchman.' " Fellow officer Butler had a similar way of dealing with the Klan. Butler recalled when Klansmen burned a cross near his house. "I let them know I didn't approve of that," Butler said. "They tried to be real tough when they were together, but they weren't so tough when you got them separated. ... We had a little violent session with the Klan or two. We just discussed it with them in a way they understood." What happened then, he said, was "something law enforcement shouldn't do, but something you had to do because of the times." Why does it make me a little queasy to center discussion of Klan violence around these two heroes?

Author

Brian C Johnson

Date

2007-05-27T12:29:39-06:00
ID

81217

Comment

I just got back in from a reporting trip and saw that package of stories, too. I simply cannot believe this headline over what turns out to be a non-story: Seale case could be the last of its kind What's up with this? Why does he keep repeating ad nauseum about what is going to the "last case"? He can't know this; it makes no sense. And remember The Clarion-Ledger had declared the Dee-Moore case over and Seale dead in 2001. I wish Mitchell would not taint his past good work with such bizarre prognostication as this. It' makes no sense, and it's not journalism anyone should copy -- to go around declaring every new cold case the "last case." And it's really strange because all it takes to prove you wrong is a new case to be opened due to evidence or a new prosecutor as happened with Dee-Moore. It certainly wouldn't be ethical for a new case not to be opened if there is evidence put forth. It is starting to sound like The Clarion-Ledger doesn't want any more cold cases investigated/prosecuted. Why would they keep writing these kind of stories/headlines if they want justice for everyone who deserves it? And that Armistead story was just weird. They're clearly trying to fill space with peripheral people who will talk with them. It would have been much more interesting if they had quoted more extensively from those new Klan files that someone gave them. The stuff that paper hasn't reported from the files in their possessions over the years is rather befuddling.

Author

DonnaLadd

Date

2007-05-27T20:23:45-06:00
ID

81218

Comment

My other big problem with this "Krazy Klansman in the Korner" type coverage is that it makes it sound like the Klansmen were the problem and everyone else in Mississippi were victims: A cache of Ku Klux Klan documents that survived despite orders by Klan leader Sam Bowers to destroy them gives insight into how the nation's most violent Klan group terrorized Mississippians in the 1960s. The problem, of course, is that the Klan was not the problem; it was the enforcer arm bolstered by a wide conspiracy of white supremacy. The Clarion-Ledger's coverage, in effect, lets the rest of white Mississippi off the hook by focusing on Klan members in such a simplistic, one-dimensional way—and provides no useful explanation of how or why they did what they did. The Clarion-Ledger style of reporting on Klan violence has had its useful moments, and they should be applauded for those. However, they should learn to do a more contextual, sophisticated kind of coverage of these issues in order to help Mississippians know our history, the whole history, and not a whitewashed version filled with easy heroes and demons, and one in which it's always white guys saving the day. Case in point: The Armistead-Butler story is one more case of trying to shoehorn this issue into one framed with white heroes, a la "Mississippi Burning" and "Ghosts of Mississippi." There are much better ways to go about this, and it would serve Mississippians if The Clarion-Ledger would stop resting on past laurels and do some in-depth reporting/writing/analysis on these issues rather than these he-said-she-said drive-by articles that add little to the conversation. It would also help if they would stop trying to pre-declare "the end" of justice for old civil-rights murders. They are overstepping their bounds there—and will end up with egg on their faces should more cases come up, as happened with Dee-Moore. As we've said, they've been wrong before on this one, and should leave the soothsaying to palm readers.

Author

DonnaLadd

Date

2007-05-27T21:20:26-06:00
ID

81219

Comment

You've got to wonder how many klansmen worked at the CL in the day.

Author

Ironghost

Date

2007-05-27T21:44:28-06:00
ID

81220

Comment

maybe we need some working at the city NOW.

Author

cityofjacksonms

Date

2007-05-27T22:01:42-06:00
ID

81221

Comment

maybe we need some working at the city NOW. or not

Author

cityofjacksonms

Date

2007-05-27T22:02:03-06:00
ID

81222

Comment

Donna: Case in point: The Armistead-Butler story is one more case of trying to shoehorn this issue into one framed with white heroes, a la "Mississippi Burning" and "Ghosts of Mississippi." I wonder that the Executive Editor of the C/L hasn't noticed the same thing and spoken to his staff. It must be a thing of readership demographics - mustn't upset the white readership. CityofJackson - what the heck?

Author

C.W.

Date

2007-05-28T07:41:26-06:00
ID

81223

Comment

Well, C.W., it does seem obvious that the top folks over there these days are status-quo, don't-rock-the-boat kinds of people. I mean, the content reflects that. (See Melton history there.) Many people think about our race history in simplistic terms because that's all they've been taught, or read in the media, to go full circle. Regardless, though, that Krazy Klansmen in a Korner service does a disservice. And Mitchell acts like he has never heard of the rest of the story about guns and African Americans arming themselves, as we reported about in the Rev. Briggs story. He seems to follow (or lead?) the traditional narrative of black victims saved by a few white heroes. And that narrative is a true disservice. This style of reporting worked better a decade back when there was little kinds of reporting about civil rights history at all. Now, though, more sophisticated stories aree needed that tell the whole story, not just allow the white population to convict a Klansmen or two and then feel better about ourselves and our history, and then have The Clarion-Ledger call it a day while vital info sits rotting in their files. No, that is unacceptable.

Author

DonnaLadd

Date

2007-05-28T08:16:38-06:00
ID

81224

Comment

maybe we need some working at the city NOW. betterjackson, I just noticed THIS comment. So you think we need Klansmen working for the city, eh? You just bought your ticket to the showers, buddy. See ya.

Author

DonnaLadd

Date

2007-05-29T09:18:53-06:00
ID

81225

Comment

I can't believe that Jerry doesn't know better. I'd like to know who is pulling the strings on this.

Author

C.W.

Date

2007-05-29T19:40:40-06:00
ID

81226

Comment

Yeah, I don't know. It makes little sense. But, I will say that Jerry has for years been predicting the "last" case. It's just not right. And I say that with full reverence to work he's done in the past. It ain't over 'til it's over. And it ain't over.

Author

DonnaLadd

Date

2007-05-29T19:50:07-06:00
ID

81227

Comment

The Dee/Moore documentary will be shown at 12 AM on MSNBC.

Author

LatashaWillis

Date

2007-06-09T22:00:48-06:00
ID

81228

Comment

I saw that at 9. I'm surprised they're showing it now.

Author

Ironghost

Date

2007-06-09T22:05:11-06:00
ID

81229

Comment

Actually, I'm not. I'm sure a lot of folks nationwide and beyond are keeping up with the case, and I'm sure MSNBC knew that they would be intrigued by the actual footage of getting the case reopened.

Author

LatashaWillis

Date

2007-06-09T22:13:52-06:00
ID

81230

Comment

Today? Darn, darn, darn, I missed it.

Author

C.W.

Date

2007-06-09T22:25:08-06:00
ID

81231

Comment

Hey all, I just watched the CBC's "Mississippi Cold Case" on tape. I was in South Mississippi reporting this weekend and didn't see it when it aired. The film surprised me on several levels. I'll share a few comments now, and then write a real review later. First, I wasn't surprised that they cut out the JFP's role and presence during Thomas' initial visit; the CBC started distancing themselves from us after we all discovered that Seale was alive. That doesn't bother me much because our work is out there telling the whole story, and I wouldn't want to risk being depicted incorrectly anyway. Now, speaking of factual correctness, though: A major inaccuracy jumped out on me in the part where the narrator said that Thomas returned a year later and then implied that that was when Thomas erected the sign in honor of the two young men in front of Seale's house (and they showed Kate in that part photographing it). Kate and I were part of the original July 2005 team with Ridgen and Moore; that footage was from near the end of that visit after we had found out that Seale was alive, he had gone to Lampton's office, we had all gone to Charles Evers' show and so on. They went back down to Meadville (meeting Kate and Natalie Irby at the church) at the end of his trip before he returned to Colorado to speak to the church and erect the sign in front of Seale's house, another in front of Edwards' house and a third in front of Della Mae's (the ice cream store in Meadville). I was sick and couldn't go. The Natchez Democrat got wind of that one and sent a photographer, too. That was the first part of our trip photographed by other media. The signs were torn down after Thomas left; I think the one at Della Mae's stayed up a week if I'm not mistaken. Thomas then decided to pay for a new sign from Colorado and get some of his relatives to return to the spot and put it back up in front of Della Mae's (across the street this time). He asked Kate and me to go cover it, and we scheduled the time with his family members to do it. It was during one of our follow-up trips down there to meet Burl Jones and some other folks (and the weekend that Katrina hit). That sign, which was a more permanent sign, stayed up until the indictments this January -- a year and a half. A few days after the indictments, Thomas left me a message that it had been torn down. I'm really surprised that they changed the narrative timeline like that. I noticed some other little shifts like that, but that was the most prominent one. The other big thing that surprised me was that they didn't update the documentary to reflect the facts of the case as they've been unfolding in court (and before). The film made it sound like Edwards had picked out Dee because he had "peeped" at his wife. But that has long been known to be just an excuse. The doc didn't mention at all (that I recall) that the Klansmen were beating the young men, asking where guns were hidden and that they then pointed out Preacher Briggs' church. And it came out in court already from Edwards that he had pointed Dee out -- but because he thought he was involved in black militancy. The film also didn't include the fact that the Klansmen took the boys to Clyde Seale's farm after the beating and while they searched for the guns -- which was stated in the January indictment (and all helping established federal jurisdiction). Re federal jurisdiction, the film repeats the old belief that the feds have jurisdiction in this case because they were killed on federal property. Actually, they have jurisdiction because they crossed state lines with the young men; this is a kidnapping case, after all. That is clear in the indictments, and confirmed by good sources. Maybe these details seem small to a general TV audience, but I expected the facts to be tighter and more up to date. CBC, after all, took a very long time to do the film. I'm really surprised about Lampton's prominent role in a film released during the trial while the jury is not sequestered. And he didn't seem depicted all that favorably; nor did any Mississippians that I can recall. Which is understandable from Thomas' perspective, although it doesn't reflect the interviews and many of his comments to us in those early scenes in Homochitto National Forest, not to mention during the upcoming months as we were working with him directly. In fact, I was interviewing him during a lot of the footage in the forest. His comments were actually very complex--about the push-pull of being from the state and wanting to love it, but being so hurt by the state and so on. It was very powerful stuff, but I guess it didn't fit into a one-hour TV film. At some point, maybe we'll podcast some of it. I have many tapes from that trip. All that said, Thomas is very powerful everytime he takes the screen. I just wish viewers would have gotten a fuller picture of him and his thoughts from that first trip. But it is TV, I know. There are limitations to the medium.

Author

DonnaLadd

Date

2007-06-10T18:26:42-06:00
ID

81232

Comment

Oh, and one other time shift that jumped out at me. The film made it seem like Thomas and David stopped at the BP the first day they arrived and found out about Seale. They found Seale's house the second day, after we all met in Meadville, went to the cemetary (which I'm surprised they didn't include, come to think of it), the national forest, and so on—basically following the path that the murderers took. It was the next day that we all confirmed that Seale was alive. And I don't think it mentioned that David and Thomas went to see Ronnie Harper the first day down there while waiting for us to arrive. Harper told Thomas then that he thought Seale was alive; Thomas told us immediately after we met, but none of us were sure whether to believe it at that point. I expected to see the footage of Harper telling him that, but I don't remember seeing that. To the film's credit, it does indicate how easy it was to figure out that Seale was alive. All we had to do was hit the ground down there and start asking around in order to factcheck the old rumor that he was dead.

Author

DonnaLadd

Date

2007-06-10T18:35:24-06:00
ID

81233

Comment

Where can a person get a copy of the film? I missed it, too. And I do hope you do a podcast, or your own documentary. In fact, I'd like to see you do a documentary that covers the important details that the CBC film left out or distorted. I hope you're thinking about it. With all the independent filmmakers in this state, I bet it would be easy to find someone to help with the editing and production.

Author

C.W.

Date

2007-06-11T09:07:28-06:00
More like this story
More stories by this author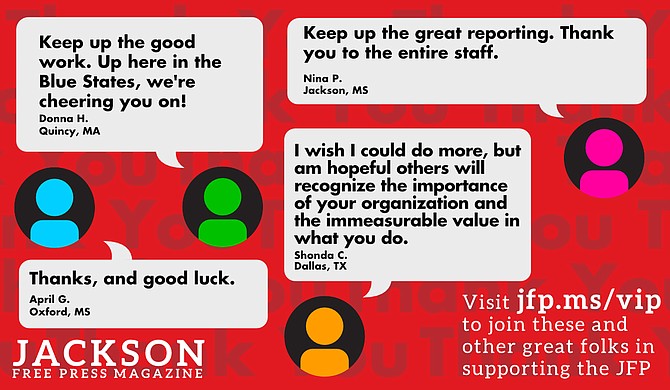 Thanks to all our new JFP VIPs!
COVID-19 has closed down the main sources of the JFP's revenue -- concerts, festivals, fundraisers, restaurants and bars. If everyone reading this article gives $5 or more, we should be able to continue publishing through the crisis. Please pay what you can to keep us reporting and publishing.