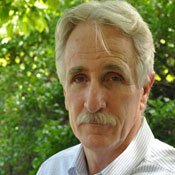 When author and lawyer Harry MacLean arrived in Jackson from Denver to chronicle the federal kidnapping trial of ex-Klansman James Ford Seale, he was prepared to confront a dark history of Klan violence and enduring racial tension. Instead, he watched as white and black jurors let their guards down, confessed their own sins of hatred and violence, and ultimately convicted Seale of kidnapping and conspiracy in the drowning deaths of Charles Moore and Henry Dee in 1964.
A former general counsel of the Peace Corps and law professor at Denver University, MacLean took note as two captivating attorneys competed over law, history and the power of redemption. He spoke with the wife of Seale, the sister of Dee, FBI agents, prosecutors and defense attorneys, and a chorus of Mississippians who had come to witness history. Intent on getting the full picture, MacLean—a compassionate and thoughtful observer— interviewed dozens on historic commissions and in university centers, on front porches and in football stadiums.
For all of his scrupulous attention to the past, MacLean succeeds in capturing, with precise wit and local flavor, modern-day Mississippi, circa 2007—a time when the entire country turned its gaze to a courtroom on Capitol Street in downtown Jackson.
Why did you decide to feature people—some named, some unnamed—who showed up for the trial, or who you met in Mississippi, more prominently than, say, an expert on the trial?
I really wanted to maintain, to the extent it's ever possible, a neutral attitude. In a way, it was the Yankee going down to Mississippi—an outsider's take—without a lot of biases and prejudices affecting my viewpoint. That's not possible, of course. But I didn't want to line up on one side of the debate about Seale's guilt, or about what Mississippi was trying to do (with the trial).
Everyone in Mississippi seemed to have an opinion not only about whether Seale was guilty or not but whether the trial should be happening in the first place.
It was very diverse, too. I ran into blacks who weren't into (the trial). They were more into educational opportunity, better schools, better jobs. They kind of looked over at the Seale case, and thought,"That's alright, but it's not what's important to me." Then there were religious people—we had jurors like this—who said the trial's not proper at all. That it's not necessary to go back and (try Klansmen for past crimes),because they'll face God's judgment.
Had you ever seen a group of jurors so forthcoming during jury selection?
No. That's when I realized that Mississippi was going to be accessible, that it wasn't a closed society any more. I'd never seen anything like that before. There were whites and blacks admitting they were racist. There were people admitting they were depressed, or too much of a drunk or a drug addict to sit there. It was quite striking. It struck (Federal Public Defender) Kathy Nester, too.
One juror, as you write, said she could never separate emotion from fact.
That level of honesty and intelligence was quite remarkable. Everybody just assumes they can (separate the two), but if you really push them, I think they know better. I think most people know emotions color everything they see, and this woman just laid it out there very clearly. It didn't seem to impress the judge very much.
In one of the more remarkable passages, you write that (star witness) Charles Marcus Edwards didn't want to go along with his grand jury testimony, and made contact with Nester to recant it afterward. I assume a lot of that hadn't been reported before.
I did have the transcript. The task was to nail Edwards down, and to get him to feel nailed down. They wanted him to feel committed to the crime, in his own mind. (Special Litigation Counsel Paige Fitzgerald) did it wonderfully. She did it supportively, and passively, but she did push him on the point that he was aware that these two guys were dead. She forced him to admit that, so that he was sort of admitting his complicity in the ultimate crime.
You write that in many ways Edwards ended up being exactly what the prosecution needed. His apology (to the victims' families during a trial recess), which Fitzgerald managed to get into evidence, painted a picture of him as repentant.
Fitzgerald used the whole religious context beautifully. Here's a guy who's a deacon for 40 years, and he confesses to the families. That moves you into the notion of forgiveness.
That seemed to play a pretty big role. Redemption and forgiveness were on everyone's mind.
You've got (Charles Moore's brother) Thomas Moore, Edwards, the state itself. The more I think about it, I think the religious aspect was critical. I think in a cold, hard light of day in Reno or Sacremento, where someone had no framework like that, I'm not sure Edwards could have carried the day.
Do you think the prosecution made a better argument, or did the emotions they appealed to give them a competitive advantage that was too much for the defense to overcome?
I think the prosecution charged conspiracy (in addition to two counts of kidnapping) in order to bring all the Klan evidence in. When they put the picture of the red-robed Klansman, Seale's brother, onto the screen, and you're playing into this notion of the shame and guilt that Mississippi has for that time, it was almost impossible for the defense to respond to that. That, I think, probably bothered Kathy Nester more than anything. She felt like that put her into a terrible corner that she couldn't rebut. And none of it related to the crime.
You write about how, after the 5th Circuit's original ruling (later reversed, to throw out the case on the basis of the statute of limitations), Seale tells his wife that he would take the bus down to Jackson to see her. All he wanted to do when he got home was sit and look at her. How did you get Jeannie Seale to open up to you?
No one had really talked to her. I think Jerry (Mitchell) had gotten a few quotes from her. I expected it to be difficult, but she said, no, come on over, and I was over the next day for a few hours. I called her as time went on, to get her reactions.
She will say she knows (Seale) is not an angel, but she's totally and utterly convinced of his innocence. You can't get into a rational discussion with her about the quality of the evidence. She also claimed that (Seale) had his own story to tell, and that he had a different version of Edwards' role. She didn't go too far, because it kind of implicated (Seale).
Did she say Edwards' role was more, or less?
I couldn't get her to go any further.
You describe the trial as a play. What was it about this trial that gave it that aspect?
It went so much further than the resolution of guilt and innocence itself. It was the culture on trial, the time on trial and where the state is now. It was a much larger fabric. You were playing this trial out on the stage, but its implications were huge.
You write that leaving Mississippi made you a bit sad, and that "the paradoxes, inconsistencies, ironies and contradictions have begun to seem strangely normal." Did you expect the state to have that much of an effect on you?
No, I didn't. And I didn't expect to have the sense that the state was pulling together, black and white, to move forward. And you do feel it.
It's not to say a lot of other attitudes aren't there, in great number and great force, but the other stuff I never would have expected at all. Not only did I not come across any racial tension, but it was almost the opposite. I felt this odd goodwill.
I'm in the hot tub at the Y, and a few black guys were in there, and we start talking about the Seale case. We have a two-hour conversation, and end up having dinner together to talk about race. Imagine doing that in Denver or Detroit.
In 2007, Matt Saldaña was a visiting reporter at the Jackson Free Press. He covered the James Ford Seale for the JFP, Reuters and nola.com alongside Harry MacLean. He is a freelance reporter and immigrantion legal advocate in Massachusetts.
More stories by this author
Support our reporting -- Follow the MFP.