This from Allhiphop.com. In a report just released today, the Republican National Convention had members of the hiphop community spied upon before their 2004 National convention in New York. Ironaically, one fo the names on their "list" was Alicia Keys? Whaaaa? Alicia Keys. Is she an undecover radical and not telling us? And of course officials tried to block the documents from becoming public but were forced to release the information. Ive told my colleagues for a long time that there are forces being set up to "watch" our moves. Officials have become increasingly leery of rappers and the power they wield to change politics. We are being watched. Unfortunately with the wirch hunt going on now, It gives more credence to their spying. and more lawful rappers will again get caught up in the wide net that they cast.
The New York Police Department monitored and spied on various rappers months before the 2004 Republican National Convention, which was held in New York.
The details were revealed in 600 pages worth of secret files released yesterday (May 16) by the New York Civil Liberties Union, who is suing the city on behalf of demonstrators arrested during the questioning.
According to the documents, Sean "Diddy" Combs, Jay-Z, LL Cool and Alicia Keys were all put under surveillance in the months before the 2004 Republican National Convention arrived in New York.
Each one of the artists attended a rally held by Russell Simmons' Hip-Hop Summit Action Network in Aug. Of 2004, to support voter registration and to address various political issues.
"These documents paint a picture of a surveillance program that was broad, clumsy, and often unlawful," said Donna Lieberman, NYCLU Executive Director. "The NYPD failed to differentiate between unlawful behavior and behavior that is not only lawful but should in fact be cherished and protected. Today the public can finally bear witness to that failure."
The documents reveal that undercover NYPD officers infiltrated political meetings and monitored listservs for years before the Republican National Convention.
The NYPD is accused of recording information about activity that was completely peaceful and lawful.
New York officials attempted to block the documents from going public, but a judge ruled in favor of the NYCLU on May 4, ruling that the documents should not be kept under wraps.
Reps for the rappers were not available for comment at press time.
Previous Comments
ID

112890

Comment

LOL..Im STILL buggin'...Alicia Keys?...Huh?

Author

Kamikaze

Date

2007-05-17T09:05:30-06:00
ID

112891

Comment

Alicia Keys? She's not even a rapper. What's up with that? Guilty by association?

Author

LatashaWillis

Date

2007-05-17T09:11:02-06:00
ID

112892

Comment

I dunno WHAT that was??? LOL. Or just grouping all balck artists together. Dunno. they definitely didnt do any homework. But that seems to be the Republican way. :-)

Author

Kamikaze

Date

2007-05-17T09:40:54-06:00
ID

112893

Comment

I would think that Alicia Keys is a part of hip-hop, as well, ey? As far as surveillance is concerned, I believe the RNC as well as any other group who knows of this membership "privilege" will do so. lol, coincidentally I'm listening to "pimp shyt". Didn't pick up on it til just now. The world's self-claimed and elected officials have been on this subverting b.s. for a LONG time and any artist/reporter that has a voice to speak to people should remember that for the rest of time. Here in the states, black people have learned of COINTELPRO operations with the Black Panthers. We seldom hear about the U.S. government (FBI) involvement with trying to break down the United Negro Improvement Association. Then there's the times where there's a supposed justification, like in Houston's case: the investigations into Rap-A-Lot Records and most of Houston's 5th ward. Anyway, true to my form I'm ranting. Nobody wants the truth to come out, but they can't stop it.

Author

lilsoulja

Date

2007-05-21T13:27:55-06:00
ID

112894

Comment

Oh, and I forgot to mention the Ghetto Listening Posts, but I digress.

Author

lilsoulja

Date

2007-05-21T13:35:30-06:00
ID

112895

Comment

That's not from the Grey skies album is it? THATS a coincidence! Cuz we've been talking about that since 1999. I almostcant believe how prophetic some of those words were. Did ya see the piece inthe Source mag this month. They quoted Banner on sum things wanna try to post a link.

Author

Kamikaze

Date

2007-05-21T15:59:35-06:00
ID

112896

Comment

Lil solja....Dang! Cant get the link yet from Source mag site..working on it....But in the interest of fairness. Ive got the link to Master P's response to 50 cent. He speaks on the langauge issue and his new label...It would be so great if I felt like he actually meant it. But anyone who's followed P's career knows that he will do anything to get publicity for his sagging sales. He SO wants to be relevant again. Never said a word when No Limit records was on top. http://www.allhiphop.com/editorial/?ID=371

Author

Kamikaze

Date

2007-05-21T16:51:33-06:00
ID

112897

Comment

Yawn. How many musicians have been investigated by the FBI or other gov't organizations? Consider it a badge of honor. You've made it if the FBI feels they ought to "check you out" once you make your climb to fame. Even Morrissey was recently investigated. Johnny Cash. John Lennon. Mic Jagger. The Dixie Chicks (tee hee, I made that one up). Not saying I like it that they do this. Just saying it happens. They pretty much investigated everyone famous, homeless, and fringe at both Party Conventions. Glad I live in Jackson, MS!

Author

pikersam

Date

2007-05-21T17:51:09-06:00
ID

112898

Comment

Don't get wrong, I think your little Hater of the week thing is fun.

Author

pikersam

Date

2007-05-21T18:26:47-06:00
More stories by this author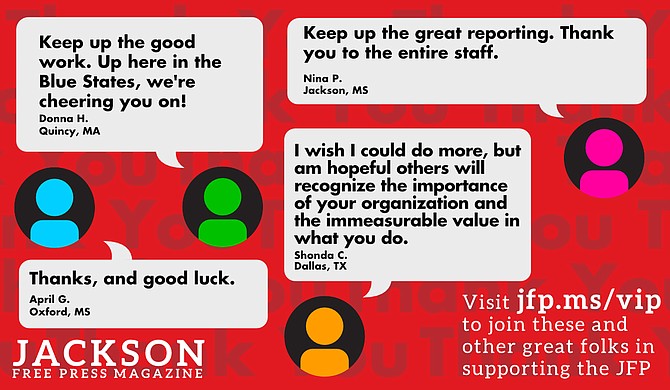 Thanks to all our new JFP VIPs!
COVID-19 has closed down the main sources of the JFP's revenue -- concerts, festivals, fundraisers, restaurants and bars. If everyone reading this article gives $5 or more, we should be able to continue publishing through the crisis. Please pay what you can to keep us reporting and publishing.