Here is the soul of Jackson breathed onto paper.
Twenty-one short years ago, I was born at Women's Hospital (now River Oaks Hospital) to two great parents who loved Jackson and believed in its potential. For my mother, it was an escape into a larger city and a chance to become a successful black journalist in the still thick racial climate of Mississippi. For my father, it was the end of an unintentional migration south from West Virginia.
For me, however, Jackson has been a jewel, constantly showing me new facets, and its youth is ever reflecting its light.
As a young child, Jackson, through its public education system, taught me the love of art. The city taught me the importance of self-expression and social consciousness.
Going to primary school downtown made life rich. I remember going to my first Earth Day and seeing Sherman Dillon play the banjo and teach the importance of caring for the world. I remember walking on the same streets as Eudora Welty on my way to school and imagining how she looked as a child and if we would have been friends.
As a pre-teen, I attended Power APAC, a performing and visual arts school in Jackson Public Schools, where I was able to take dance classes for the price of a leotard and ballet shoes. Attending performances at the International Ballet Competition every four years enriched my experiences as a dancer, and I quickly grew to appreciate the opportunity to practice my art, and the art itself.
As a high school and college student, I discovered many of the things that I love about Jackson. I was in 12th grade when I found Bully's on Livingston Road, a little hole-in-the-wall restaurant that serves the best vegetable soup and cornbread you'll ever find. My best friend used to go there as a child with her father and play checkers with old souls while they waited for their food.
The year before that, I heard jazz for the first time. Cassandra Wilson sang at a "home-going" celebration for a friend, John Reese, and I was changed forever. Never had my soul stirred so. I bought her first two albums and started listening to everything "jazz" that I could get my hands on, from Miles Davis to Sarah Vaughn to Chet Baker.
During my freshman year at Mississippi College, I found 930 Blues Café. It was the first time in a long time that I had a perfect night.
A couple of friends and I went to hear Jackie Bell. We had never heard her, and when we walked in, we tried to pinpoint her by what we thought she would look like. At the bar a tall, slender black woman with tired eyes was talking to the bartender. She drew a long drag from her cigarette and set it in the ashtray still lit. She then swaggered to the mic and not missing a single note, belted out "You've Got Something in Your Toolbox I Ain't Got in Mine."
I will never forget that night.
From the day my father carried me out of Women's Hospital to now, I have been exposed to so much that has made me love and appreciate my time in Jackson. There is a wealth of knowledge and experience in this city, waiting to be tapped into.
This is exactly what you will get in this issue of the Jackson Free Press—the product of the collaboration of Jacksonians who want to share the facets of our jewel with you.
A few months ago the Jackson Free Press' wiki, Jackpedia, was born. Following the lead of readers posting all kinds of info online—from mini-restaurant reviews to where to find a locksmith—the folks at the JFP wanted to create a user-generated guide to the city of Jackson, giving all readers (and non-readers) the opportunity to share their favorite spots in Jackson.
This issue is a product of love for the city of Jackson and the desire to introduce the city to newcomers and re-invent it for old-timers.
Remember, this is a wiki-in-progress.
If there is something that you think is missing from this issue—and there is plenty—go check out the wiki at Jackpedia.com, see what else is there, and add your own posts. Because we had such a large response from users already, we weren't able to fit everything from the wiki into our printed guide, so there's more info there.
There are also plenty of ways to disseminate your own name throughout Jackson by using the wiki. Musicians, lawyers, activists and more now have the outlet to express their views and find commonalities among others in their field.
If there's something missing from the wiki itself, you don't have to wait until next year's print Jackpedia to get it in—just add it yourself. It's easy to create new categories or listings, and it's enlightening to discover what other people are saying about places and other people in Jackson.
We hope that you enjoy reading this issue as much as we enjoyed preparing it for you. Everyone has a different story about their experiences in Jackson, and some people don't have a story yet at all. For those that don't, let this be your writer's guide.
Jackson is a jewel; go out and dis-cover it!
Assistant Editor Maggie Burks edited this first print edition of Jackpedia. Go to Jackpedia to join Jackson's online wiki community.
Previous Comments
ID

75198

Comment

Great job, Maggie. Welcome aboard.

Author

LatashaWillis

Date

2007-08-15T20:18:08-06:00
ID

75199

Comment

Let me second that. Folks, Maggie walked in here about three weeks ago and took charge! She directed the entire Jackpedia issue, even allowing me to go to Chicago at the end of last week. And this column is great. ;-)

Author

DonnaLadd

Date

2007-08-15T20:23:14-06:00
ID

75200

Comment

Maggie, I loved this column, and love learning about your life growing up in Jackson. I can't wait to read more of what you write about & how you see it. Jackson is lucky to still have you.

Author

Izzy

Date

2007-08-15T20:24:28-06:00
ID

75201

Comment

harmless ladd why are you hating on my post.

Author

NewJackson

Date

2007-08-20T12:37:03-06:00
ID

75202

Comment

Didn't hate it; I deleted it because it had nothing to do with the column.

Author

DonnaLadd

Date

2007-08-20T12:48:42-06:00
ID

75203

Comment

I think this jackpedia thing is a good idea there ladd. It's a great way to get people up to speed about Jackson in a hurry. kudes

Author

laughter

Date

2007-08-20T13:18:17-06:00
ID

75204

Comment

Thanks, laughter. We think we're the first media outlet to attempt one, so it's an interesting experiment. ;-)

Author

DonnaLadd

Date

2007-08-20T13:25:15-06:00
ID

75205

Comment

BTW, check this link out. We finally have the links to ALL the Best of Jackson winners/write-ups in one place. We've never organized them well on the site, so this is cool. Also, you can suggest new Best of Jackson categories there. That ballot will be coming around before we know it, so get your two cents in now. Thanks, all.

Author

DonnaLadd

Date

2007-08-20T13:29:10-06:00
ID

75206

Comment

Donna, looking at the list, it's hard to believe that you all have been around that long. Then again, I didn't know about the JFP until a couple of years ago.

Author

LatashaWillis

Date

2007-08-20T16:38:52-06:00
ID

75207

Comment

Yeah, I hear you, L.W. It shocks me, too. Our top editor now started reading us while she was in high school! Melishia Grayson started reading us in the 10th grade. How time flies. ;-)

Author

DonnaLadd

Date

2007-08-20T16:42:34-06:00
ID

75208

Comment

That reminds me...Tell Melishia congratulations! I saw a picture of her with her new baby.

Author

LatashaWillis

Date

2007-08-20T16:45:27-06:00
More like this story
More stories by this author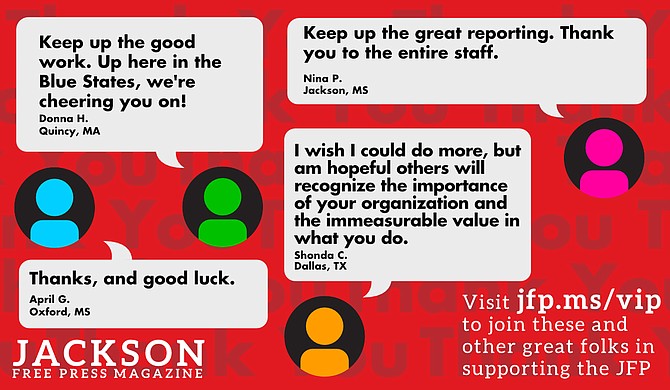 Thanks to all our new JFP VIPs!
COVID-19 has closed down the main sources of the JFP's revenue -- concerts, festivals, fundraisers, restaurants and bars. If everyone reading this article gives $5 or more, we should be able to continue publishing through the crisis. Please pay what you can to keep us reporting and publishing.