This year, the Jackson Free Press interviewed Hinds County Board of Supervisors primary candidates by asking them identical questions. Of the 12 candidates, only Silas Bolden, Jr., the Democratic primary challenger for District 3, refused to participate.
The questions were open-ended, allowing candidates to address topics such as the purchase of the Mississippi Valley Title Insurance Building, funding for inmate medical care, the relationship with the sheriff's office and the board's regular skirting of the Open Meetings Act (which Phil Fisher, Republican primary challenger for District 4, attacked most openly). Fisher was also the only candidate who unequivocally said the supervisors are not doing a good job. All candidates agreed that public safety is the board's top priority, with the exception of Kenneth Stokes, Democratic challenger for district 5, who identified budget increases and George Moore, Democratic challenger for district 2, who said bridges and "taking care of taxes."
District 1 (Open Seat)
Roger Davis (Rep.) (questions)
As a partner in real estate development and home construction, Davis said his business experience is "results driven." "Our local government needs private-sector men and women to take their turn in contributing," he said. He said that full disclosure and transparency are "paramount" in local government, and that supervisors should not have private meetings with developers to make "wink and nod" agreements. He said the board must work toward "the creation of jail space, funding the sheriff's office, working closely with the city and integrating communication systems."
Randy Gant (Rep.) (questions)
Gant, who recently retired from an engineering and architectural firm, said Hinds County doesn't need any "part-time leaders." He said he is the only challenger who attends supervisor meetings, and expressed concern about the secrecy of the proceedings. "I know when I go, they have an agenda, but when they start talking … only the supervisors have the actual papers." He said that, if he is elected, he will go over the plans of recently approved projects—including the Valley Title Building and the $13 million parking garage—and "make sure we're getting what we're saying we're paying for." He said that supervisors must support the sheriff more. "When he asks for something … they need to get it. Although, some of the supervisors act like everybody's got a free check up there." He identified flood control as his main concern, but said that the supervisors' number one priority is reducing crime.
Robert Graham (Dem.) (questions)
Graham, a former spokesman for the Jackson Police Department, said supervisors "must have knowledge of some of the complex problems that exist in the criminal justice system." He said that the supervisors are "trying to do what the public expects them to do," but added that he would not be an "adversarial type of supervisor." "I want to be the bridge that brings us all together as one, so we don't have to argue in front of the public, and fight and talk about each other," he said. He said meetings should be conducted openly, and that "we shouldn't be doing anything that we have to hide from the beginning."
Sean Perkins (Dem.) (questions)
Perkins is the executive director of 100 Black Men of Jackson, and has raised over $100,000 for youths in that capacity. He is also the former deputy chief administrative officer and director of constituent services under former Mayor Harvey Johnson. He said the board of supervisors needs "someone with strong leadership skills and … a vision for Hinds County." He said that Charles Barbour (whom he did not mention by name) lacked this vision and leadership, and instead espoused the "same old rhetoric." He said there has been a "lack of willingness" to have a working relationship between supervisors and the sheriff's office, and that "if we can't be on the same side as the sheriff, that's going to result in the same old, same old that's been going on." He said that open meetings have been a main campaigning point, and he insisted that all meetings should be broadcast on public access TV.
District 2
Doug Anderson (Dem. Incumbent) (questions)
Anderson, the incumbent for District 2, said he has done "so many things" this year, including working toward obtaining a new regional jail for Hinds County. He said he was the "only supervisor" who worked on that project. He said that the supervisors are doing a good job, "even though we have some dissension on various projects." He identified the $13 million parking garage and $2.5 million Miss. Valley Title Building, whose purchases he exclusively negotiated behind closed doors, as a "step in the right direction." He pointed to his lockout of Supervisor Calhoun from private negotiations with Central Parking Corp. as evidence that he complies with the Open Meetings Act. "We had three members wanting to be present, and I know what the law is, so I would not allow that to occur." He said that the supervisors have an "excellent relationship" with the City of Jackson, and identified himself as the city liaison. In reference to the sheriff's department, he said that the supervisors cannot "permit any department or agency to just overspend what we have allocated." He said that public safety spending is the top priority, and that purchasing the parking garage is "unrelated."
George Moore Sr. (Dem.) (questions)
Moore, a former JPS instructor and service man for Sears, said he doesn't see working as a supervisor as "any different." "It's working with people," he said. He said the board is doing "all they can," and said he "(doesn't) know if there's anything else they can do to be more open to the public." He did not identify a number one priority for the supervisors, but said his priorities were bridges and "taking care of taxes." He praised Anderson, his opponent, as a "great public servant and steward." "The only thing I have is positive things to say."
District 3
Peggy Calhoun (Dem. Incumbent) (questions)
Calhoun, the District 3 incumbent and board vice president, said that she has attracted business to the Hinds County Industrial Park and spearheaded legislation that reduced the amount of money for inmate medical care. She also said that she was responsible for the creation of a criminal justice coordinator "to help inmates move through the system faster," and funding of several highway projects. She said the supervisors are doing a good job, but some of her colleagues' focus has been on "building projects" instead of crime. She said that all board meetings, including unofficial work sessions, should be open to the public.
Silas Bolden Jr. (Dem.)
Bolden did not return calls for comment.
District 4
Ronnie Chappell (Rep. Incumbent) (questions)
Chappell, the District 4 incumbent and board president, said he has "served the people" for 16 years. He said the board is doing "the best job we can" and works "very well together." "I have gotten a number of projects funded in my district that ... I could not have done without the assistance of my other board members," he said. He said that the board is "totally in compliance" with the Open Meetings Act. He said that the board works "very closely" with the sheriff's department, which he said it has "fully funded."
Phil Fisher (Rep.) (questions)
Fisher has been a city alderman in Clinton since 1993, and before that served for five years on the city's planning board. He was the only candidate who unequivocally said the board of supervisors are not doing a good job. "I disagree with the board spending $2.5 million buying a building in downtown Jackson that we don't need, without telling the citizens what it's for." He said that the supervisors have "politicized and pandered and avoided every opportunity" to build more jail space. He said that the board is "absolutely in violation" of the Open Meetings Act, and that their regular maneuver of meeting two at a time to avoid the law, is a "travesty." If elected, he said one of the first things he would do is ask the attorney general's opinion of the supervisors' maneuver. He said the supervisors have "failed miserably" in funding public safety and adhering to a responsible budget. He pointed to Chappell's waffling on the Miss. Valley Title building vote, and asked him, "What do you stand for?"
District 5
George Smith (Dem. Incumbent) (questions)
Smith, the District 5 incumbent, said that this year, the supervisors have "brought crime (prevention) to its highest level." He said that he has made sure bridges are "in good shape and safe for kids," and "worked in the health field to make sure we have good health care." He said that his main accomplishment has been recruiting industry for economic development. He said that the board has done an "excellent" job and is "very open." "There are questions sometimes, but people raise them for whatever reason they want to," he said. Beyond funding the sheriff, he said the board must fund judges and prosecutors, or "you're going to have a bottleneck." He claimed to have "come up" with the idea of working with the city, by initiating the first million dollars to give to Jackson for research. "With my strong, effective leadership skills, I challenge any individual to meet the challenge that I meet."
Kenneth Stokes (Dem.) (questions)
Stokes, a Jackson city councilman since 1989 and deputy tax collector for six years before that, said he is the longest-serving black person in city government. He said there is "always room for improvement," and identified a lack of public swimming pools and fire hydrants as major problems. He said that the budget must be increased, and said it is "ridiculous" that the City of Jackson has a larger budget than Hinds County. He said that he "would imagine" that the supervisors are in compliance with the Open Meetings Act, "otherwise there would be lawsuits." He added that he doesn't think there's "anything wrong" with open government.
More like this story
More stories by this author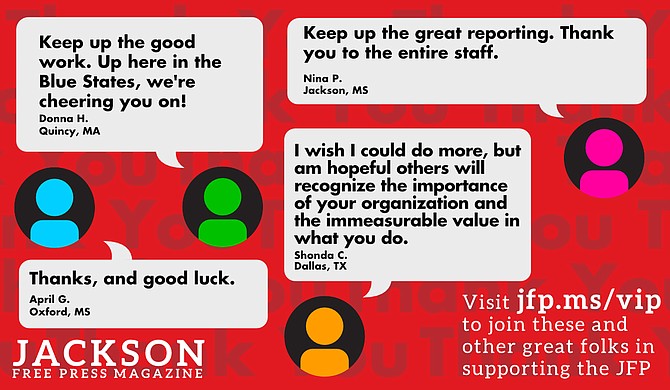 Thanks to all our new JFP VIPs!
COVID-19 has closed down the main sources of the JFP's revenue -- concerts, festivals, fundraisers, restaurants and bars. If everyone reading this article gives $5 or more, we should be able to continue publishing through the crisis. Please pay what you can to keep us reporting and publishing.