On Monday, the Hinds County Board of Supervisors voted to authorize the design development phase of a $12.97 million parking garage proposed by Supervisor Doug Anderson and designed by his former son-in-law's architectural firm, M3A Architects. Later, the supervisors unanimously voted to authorize a series of payments—including $306,562 to M3A for schematic design.
Supervisors initially reviewed the M3A design, the cost of which does not include environmental concerns, geotechnical engineering or topographical engineering, during a April 6 work session. The board did not announce this work session on its Web site, or at its last regular meeting on April 2. Instead, the board posted written notice of the session after that meeting on a bulletin board in the Chancery Court Building.
"The whole process started out behind closed doors," Board Vice President Peggy Calhoun told the JFP in a phone interview. "I guess what I'm saying is the process should have been open to the general public from the start. If one supervisor has information, certainly all supervisors should have that information."
On Jan. 3, Anderson locked Calhoun out of a meeting to discuss the parking garage with executives from Central Parking, a Nashville-based corporation that bills itself as the largest parking services company in the world. One day earlier, Calhoun had raised concerns at a board meeting over the garage's $14 million price tag, which Anderson had exclusively negotiated with Central Parking. Anderson told the JFP on Jan. 22 that opening the meeting to Calhoun would have violated the Open Meetings Act.
In a Jan. 24 memo to Central Parking Regional Manager Bobby Stewart, William McElroy, Anderson's former son-in-law, asked Stewart to confirm that McElroy's firm, M3A Architects, is Central Parking's choice to design the parking garage. Stewart is one of the executives who met with Anderson and Board President Ronnie Chappell during the Jan. 3 lockout. When reached by telephone, Stewart refused comment to the JFP. Chappell has never responded to a JFP phone call.
"They have very little vested interest in this, and that's why I talked to them," Anderson said of Central Parking in the Jan. 22 interview.
On March 26, Anderson addressed concerns over his connection to M3A: "My daughter and McElroy have been divorced for over 13 years. The man has re-married and has a very attractive wife who works with him. They went and checked with the ethics commission and the attorney's office, and everybody said they have no problem with that. So I don't understand what the problem could be with this, since it's been cleared all the way up the line."
During Monday's board meeting, Supervisor Charles Barbour raised concerns about funding the garage, but voted to enter the design phase. "My concern is this: (If) we don't have a funding source to pay (the garage) off, we have a guaranteed tax increase," he said. "General Services Administration has not told us if they want 250 or 400 (parking) spaces (to rent). Those spots will be paid for every day by a taxpayer."
GSA is the independent federal agency that oversees the maintenance of federal buildings, including the new federal courthouse in Jackson. According to Anderson, GSA has given Hinds County "a guarantee" that it will rent at least 250 spaces from the 804-space parking garage to facilitate the new courthouse. However, GSA representative Gary Mote told the JFP that no firm agreement exists between GSA and Hinds County over leasing parking spaces.
"There is a need for space, but we don't know exactly how much. The best thing to do is look over all costs. The bill is $12.9 million, but we need the design team to come up with estimates for environmental, topographical and geotechnical concerns," Calhoun said.
"That's what has to happen by giving (M3A) the authority," said Supervisor George Smith, who seconded Anderson's motion to authorize the firm's design phase.
"They're not giving us back the data," Calhoun replied.
"Once you give them the authority, they have to look into 90 percent of what you just said," Smith said.
The board voted 4-1, with Calhoun dissenting, to authorize M3A to enter this next phase.
"We have actually paid some of the team members for some of the work," Calhoun told the JFP, referring to the $306,562 payment to M3A. "Surely we could pull out, but this project is going forward. There is no doubt in my mind that the project will go forward, and there is a need for parking space. However, how we go about providing sufficient space at an efficient and cost-effective manner is the question, and that has not been answered."
This story has been changed since it was first posted.
Previous Comments
ID

91948

Comment

Ain't NOTHING wrong; but, SOMETHING ain't right.

Author

justjess

Date

2007-04-17T09:54:09-06:00
ID

91949

Comment

It is amazing how the newspaper always seems to write comments in support of Peggy Calhoun's beliefs and tries to make Doug Anderson appear as if he does not know what he is talking about. Doug Anderson is a brilliant man. He is very smart and knows more about what is going on at the board then Peggy Hobson Calhoun and that is what make her so upset with him. I do not agree with everything Doug Anderson says and does, but guess what, we always get an honest answer from him. If you look at your articles in the past, other supervisors run from the confrontational questions, Doug Anderson always comments. This does not sound like a man who is trying to hide anything. I am sick of the badgering of our black county officials. We don't need the KKK anymore, they can sit back and watch us destroy each other. I don't understand how we are crying foul about a parking garage when some bright supervisor wanted to pay a lot of money to plant flowers on a highway. I also just wanted to thank Mr. Anderson for bringing me the food for Christmas. Just to think that someone remembered a poor soul like me does my heart good. And for your paper to continue to try and tear him down is very sad. I wish someone would go and ask Mr. Anderson to mentor them so that when he does retire, there will be someone who understands what is going on at the Board, and not just worry about family ties (which obviously means nothing to them) I doubt if Mr. Anderson reads this, but if he does just know that God will take care of him and bless him for the good work that he does.

Author

rukiddinme

Date

2007-04-17T15:23:08-06:00
ID

91950

Comment

I received a message from a friend that someone actually posted some good about my dad Doug Anderson and I had to pop over from the C-L forum to check it out. Kind of a good post. I think. Let me just say this.... Ms. Calhoun is a Supervisor and deserves just as much respect as I would like for people to show my dad. Not because we agree or disagree with what they have to say, but because they are African-American elected officials. I don't know much about Ms. Calhoun, but grew up knowing her husband Rep. Calhoun and he was always a pleasure to talk to when my pops and he were in the legislature together. I don't like the direction in which the city of Jackson in going, but I think part of the problem is that instead of letting a democracy be a democracy and work as it is suppose to work, we get upset when people don't see our views as we see them. I think I read in previous comments about my dad that someone called him a "snake-oil" salesman. I guess they knew the flavor of the oil because they bought some. I'm not quite sure what that means but as I tell my dad, my husband, and my children, God sees all, and he knows all and if our intentions are good, then even when we make mistakes, he will cover our backs. Noone is perfect. Just wanted to add my two cents, and I hope you all are blessed in your goings and your comings. Peace. P.S. not the daughter that was married to the architect.. just for record. I'm the baby girl.

Author

samebutdifferent

Date

2007-04-17T16:10:39-06:00
ID

91951

Comment

I know you Jackie. You went to Murrah with my daughter Mika. I am just tired of tuning in and watching the comments post about your dad. He is a good man. Whenever I see him, he remembers me. And he remembered to bring me food for Christmas when I told him last July. He remembered. He is old school and I understand that people need new blood to come in to help Jackson take off. But what about the Wisdom that this man has to offer. Look at his record. House of Reps, Senate, and Board of Supervisors. How can anyone say he does not know what he is talking about.

Author

rukiddinme

Date

2007-04-17T16:16:52-06:00
ID

91952

Comment

Man, Doug Anderson needs to go the way of the VCR and retire! Anderson has been around long enough to see that Jackson and Hinds are not in better shape than when he arrived. Look at the inmate medical fiasco as one of many "issues" from the Sup's and Anderson. It just that the Co. Sups have run amok for years without much scrutiny. Glad the JFP is going to cover them more! And, I can't wait for some of the new blood that is going to be joining the Board after the elections. We need it! We need more progressive leadership at the County level if we are to ever break away from the coin-operated system being run now! I'm tired of him blaming everyone from the Sheriff down for the problems in this county when he and a few others over their are not willing to look in the mirror! The county uses the same people for every job like this. Give me a gov't that wants to put 10 or 12 different contractors, architects or designers to work over the one that is beholden to one or two firms because they put dollars in the campaign coffers, the select charities, and pet projects of the Supervisor or councilperson. Indirect kickbacks are a dime a dozen in this town and county! Please spare us the bias... I do not agree with everything Doug Anderson says and does, but guess what, we always get an honest answer from him. rukiddinme then I don't understand how we are crying foul about a parking garage when some bright supervisor wanted to pay a lot of money to plant flowers on a highway. Right... Sounds like you would like to provide the lipstick. How come other parking garages are built for less? This better be one fine garage with lots of security. It better look as good as Parkways Garage! Best I can tell its the Sup's who are kidding us! Since Anderson supported Melton, is he going to support Melton's guys running for Sheriff and DA? ;-)

Author

pikersam

Date

2007-04-17T18:27:21-06:00
ID

91953

Comment

I would like to see a point by point comparison of the two garages. Number of spaces, cost per space, etc. Is the jury pool going to have room to park if the GSA takes 250 spaces? Will GSA guarantee to rent spaces for how long? What are the projected costs for the items enumerated as not being part of the almost $13,000,000 cost estimate. Can't believe a parking garage is going to cost almost as much as the Penal Farm. This is more land being taken out of Jackson's tax rolls so how will it benefit the City of Jackson? The above letter from "rukiddinme" surely is disrespectful to Supervisor Calhoun. I certainly do not understand how 'open meeting law' is ever violated by allowing a duly elected official to attend a meeting that should be public. Perhaps "justjackie" could explain. Or her father. Or the new and welcome press on the County Government. Thanks JFP.

Author

ChrisCavanaugh

Date

2007-04-17T20:32:21-06:00
ID

91954

Comment

I am sick of the badgering of our black county officials. We don't need the KKK anymore, they can sit back and watch us destroy each other. I find this comment offensive. To compare a critical and open discussion of governmental action to the KKK's doctrine of silencing black voices is not only absurd but also harmful. Supervisor Doug Anderson-- whose intellect and personal kindness, might I point out, I am not in the business of challenging or promoting-- has engaged in a similar misinterpretation of Supervisor Peggy Calhoun's concerns over governmental contracts with executives, some of whom are white and some of whom are black. During an interview with the JFP on March 26, Anderson told me: Let me just throw in: we like to have minority participation in what we do with the county. M3A is the only minority owned architectural firm in the entire State. To my knowledge, they have done an excellent job in terms of their design. Much of it has been in Louisiana. They've done a good job and I don't understand why, if this is the only minority firm, and we've given the structural to a majority firm, to give the structure to a minority just makes sense to me. It's unfortunate that you've got a supervisor who does not want to patronize minority firms, apparently. Peggy Calhoun does not have a problem with patronizing minority firms-- I can say that with a good deal of certainty. She has, however, raised concerns over patronizing firms who do not engage openly with the board (both she and Supervisor Charles Barbour have said that M3A has not responded to their questions about the garage), and whose patronage in the first place resulted from a series of backroom meetings-- the content of which we may never know. What happened behind those closed doors on Jan. 3? So far, it appears, the agenda from that day has played out as Anderson envisioned. It is our duty, as citizens and journalists, to challenge and engage with our public officials, to keep a record of their public comment and action, and to hold them accountable for a fair use of tax money. This parking garage involves at least $13 million of it. Demanding that the details of how, and why, this money is being spent-- as Calhoun has done, on several occasions-- is not a disservice to her race (as rukiddinme has suggested). It is both her obligation, as a civil servant, and her right, as a citizen who lives, as we all do, if not out of the shadow, then at least out of the grip of hate groups such as the Klan.

Author

msaldana

Date

2007-04-18T01:00:28-06:00
ID

91955

Comment

BIASED!!! Now that is funny. This entire newspaper is biased towards the likes of Peggy Calhoun. As for the lipstick, if I have to pay that much for lipstick to put on the pig, then I don't want that kind of lipstick. Why is it that is Ms. Calhoun holds a meeting that Mr. Anderson in not invited to, it is o.k. But if Mr. Anderson decides to hold a meeting, and she decides she wants prance in uninvited it is a big deal? Has Mr. Anderson been invited to any of the meetings Ms. Calhoun has called? No, not even when he was President of the Board. The difference is, Ms. Calhoun calls the media and makes a big deal out of nothing. Professionalism does not call for you to barge into someone's meeting and demand that you be invited. That is call black people acting ignorant and jealous. One more question, what new blood will be on the Board? Surely not this George Moore person who does not have a clue about the Board and can barely repeat his name. Or maybe that's who Supv. Calhoun needs on the Board, someone to make her look better. I will be supporting Silas Bolden, so maybe that is the new blood that you speak of.

Author

rukiddinme

Date

2007-04-18T08:27:23-06:00
ID

91956

Comment

Rukiddinme, This is going to come as a shock to you, but this is not high school. We do not care at all who Calhoun dates. We report on her as a public official. Please describe which meeting Calhoun kept private? Provide an example or stop wasting our time. You are, apparently, completely uninformed about open meetings laws in this state. We don't give a rat's ass whether Anderson invites people to public meetings. Public meetings are public, and he has no right to exclude members of the public or other members of the board from them. It is utterly clear that the meeting in question concerned public business. As a consequence, Anderson had no right to close it. And his legalistic parsing, that he couldn't let Calhoun in because then there would be sufficient members of the board to make it absolutely clear the meeting was public, is one of the more ridiculous arguments I have ever heard. It is offensive to democratic transparency, and "professionalism" has nothing to do with it. (County government has a real problem in this regard. I don't know why Larry Fisher thinks he has fiat powers over releasing public documents, including the emergency plan, but such actions are a public records lawsuit waiting to happen.) I have no particular feelings about either Anderson or Calhoun one way or the other. Anderson has, on a couple of occassions, undermined transparency to push through this parking garage, and that is unacceptable. We have quoted extensively from Calhoun in part because she is one of the few supervisors to express opposition. We do not "support" Calhoun or oppose Anderson. We do support open government and democratic due process. If you don't like that, move to China.

Author

Brian Johnson

Date

2007-04-18T08:43:18-06:00
ID

91957

Comment

The Calhoun v. Anderson game is not business, it is personal. So when there is someone that you don't like, then you will always find fault with everything they do. The good thing about the VCR, is that its simple and a lot of my tapes I have had for years, I can still use. Can't say that for all my DVD's so that analogy was a little worthless.. sorry.:) Justjackie lives in Atlanta and serves the likes of Mayor Shirley Franklin (who I love!!) As my post stated before, I heard someone said something good about my pops on the website, and I chimed in. I can't speak much on the parking garage except, my dad was reviewing numbers and paperwork the whole week he was suppose to be babysitting my three kids. He pours his heart and soul into his decisions. That's all I can tell you. One thing that I found to be really funny is that the Board of supervisors has five members: Supv. Anderson, Supv. Barbour, Supv. Calhoun, Supv. Smith, and Supv. Chappell. Am I correct? My dad is ONE vote. Yet is is always his name that comes up when it is a majority vote that dictates what actions the Board takes or does not take. Yet, everyone says Doug Anderson. So please don't patronize me about a civil servant, who has four other members to hold accountable but chooses only one to put her focus on. I appreciate your articles as my dad always forwards them to me, they are quite entertaining. We really do like them, especially those that Supv. Calhoun instructs you to write. As for JustJackie explaining anything. Not going to happen, but I do have one better for you. My dad's HOME phone number is 601-366-3451, tell him I sent you. Call and ask him yourself. Do you need the address as well?

Author

samebutdifferent

Date

2007-04-18T08:51:34-06:00
ID

91958

Comment

Justjackie, I appreciate that this is your father, but watch your remarks, particularly ones like this: We really do like them, especially those that Supv. Calhoun instructs you to write. That's way out of line.

Author

Brian C Johnson

Date

2007-04-18T08:55:23-06:00
ID

91959

Comment

Gosh, Mr. Johnson.. by no means did I mean to offend you. I understand that this website does not mean to offend ANYONE . Please accept my sincerest apologies. I'll change it for you. How about, "especially those that Supv. Calhoun has much input." All in all, my family does enjoy reading your articles. I even read them to my 6 and 5 year olds for bedtime. They love to know what's going on with their Grandpa. You want have to worry about me anymore. This will be my last entry if I can help it. After a good laugh, my daddy asked me to stop it, so I will oblige. He liked the VCR comment. Go figure.

Author

samebutdifferent

Date

2007-04-18T09:19:44-06:00
ID

91960

Comment

First of all, I didn't even mention Calhoun in my post. I'm not sold on Calhoun as a Sup either. In fact, I think each and everyone of them should be turned out for more progressive, active, forward thinking leadership. I'm glad that Barbour is leaving. To bad the others are not moving on either. It appears as if the Board of Sup's is not working in the best interest of the citizens by many of the actions they have taken over the last several years. The way this parking garage project has unfolded raises many eyebrows - especially when it is my tax dollars being wasted! Maybe if Anderson wouldn't say such negative things about Jackson (lipstick) and other Supervisors, the public wouldn't think he doesn't give a flip about us. Mr. Anderson has served MS well throughout his career. He is a good man. But, I feel the County and its cities would be better served with new Supervisors. BTW: I indirectly helped Shirley Franklin get elected! Nah!

Author

pikersam

Date

2007-04-18T09:25:27-06:00
ID

91961

Comment

You didn't offend me, Jackie. You slandered my newspaper by falsely asserting that Supervisor Calhoun directs us to write articles. That violates the user agreement, and it's horse shit besides. Let me say something more. What we do on this Web site is have intelligent discussion of the issues. You and rukid are more than welcome to come here and discuss those issues. You are not welcome to come here and make a bunch of ad hominem attacks, which is mostly what you've done so far. Do you understand the difference?

Author

Brian C Johnson

Date

2007-04-18T09:32:34-06:00
ID

91962

Comment

OK, I'm just in from a meeting and started reading this thread. For all you new folks who clearly are coming here to trash certain people and defend others, you need to know that personal attacks are NOT allowed. The next person who posts one is suspended forever. Meantime, we will go back through and delete personal attacks on people. Thanks for wasting for our damn time, folks.

Author

DonnaLadd

Date

2007-04-18T09:46:17-06:00
ID

91963

Comment

OK, I deleted some of the more vicious and unsubstantiated attacks and suspended that person. Mr. Anderson's supporters certainly are not putting their best foot forward today. Wow. Now, for the woman presenting herself as his daughter (which I cannot know whether it is true and don't really care)—you are not suspended, yet, as the level of your ad hominems did not reach the other person's. However, Brian is right. We do not offer you a free forum to come here and lie about anyone, including my newspaper and my reporters. Mr. Anderson has the opportunity to speak to the JFP as does any other supervisor. And I am the only woman around here who instructs my staff what to right. So I suggest that you put that crap back into your bag of offensive tricks and leave it there. You may discuss the issues, and you may defend your daddy as you wish. But you may not lodge personal attacks against anyone on this site. I'm sure your parents raised you better than that. Personally, my only direct dealing with Mr. Anderson was the night I moderated the JAN candidate forum at the Medical Mall, and Mr. Melton and his support entourage acted a fool because he did not want to sit next to a convicted felon because we all know that he does not like to hang out around convicted felons. I remember all of them outside the forum trying to shout it down after Melton walked out, and I sure don't remember Mr. Anderson trying to get them to all act like respectful adults. That said, I still offer Mr. Anderson a fair forum anytime he would like to speak on an issue we're reporting on, or to suggest stories to us. If I have not made it clear, yet, the trash talk ends here, boys and girls.

Author

DonnaLadd

Date

2007-04-18T10:06:07-06:00
ID

91964

Comment

Its probably his daughter. When I used to check out fablechat, she would post over there. By the way, I posted some more CL bait for you yesterday.

Author

Kingfish

Date

2007-04-18T10:10:36-06:00
ID

91965

Comment

Excuse me, Brian, I have not attacked anyone. Please show me where I attacked anyone in my post and I will profusely apologize. What I did say is that Ms. Calhoun deserves respect just as my father does, please reference my first post. Furthermore, I have not slandered your newspaper, I may have misspoke and said that she instructed you to write it, but I corrected myself and said that she had a great amount of input in your articles, which you explained. Either accept the freakin apology or not. If you want to take an innocdent mistake and manipulate it to say I violated your "user agreement" then whooptie freakin do. Do you. Also, Brian, I beg to differ regarding your latter comment. Your discussions, from what I have read, contain plenty of attacks against my father, the mayor, and many many others. The difference is that those HOMINEM attacks are not dissenting from your opinion. That is the only difference I understand. By the way, I do not want to be associated with the comments rukid has made (which is his/her right) because I am very good friends with Mr. and Mrs. Bluntson. And I consider them family. Pikersam, the point of the Lipstick on the pig was this. Jackson has so many problems that we need to put money towards. Planting flowers was not a major concern. Let's use the money to develop the city and worry about housecleaning later. That's all he meant. Besides that, they received the money a while ago. Yet, there are no flowers planted to date. I guess it wasn't that important after all. My father cares about Jackson. He constantly is working and thinking about the business of the county and driving all over the county to make sure roads are paved etc. I thank you for your positive comments. I really do appreciate them. To be honest, I have asked my dad to mentor someone to take his place upon his retirement. He has a lot on his plate with several ill family members including my six year old who has diabetes. So I do understand and appreciate your comment.

Author

samebutdifferent

Date

2007-04-18T10:18:30-06:00
ID

91966

Comment

Good post ladd.. ha! ha! ha! If he couldn't control them at the meeting, can't do much for me either. But I have not personally attacked anyone, only defended my dad. Thanks for the open invite. Have a good day.

Author

samebutdifferent

Date

2007-04-18T10:24:58-06:00
ID

91967

Comment

Justjackie, I don't mind you defending your dad. What I do mind is your statements about the JFP and my staff. I have professionals working her who do not deserve your immature little vitriolic jabs about them. Got it? And the phrase is "ad hominem." And, no it is not a "to the man" attack if it is fact-based and based on disagreements with his actions and policies as a public official. The posts I deleted by your friend were complete ad hominem. Yours so far seem to be mostly the opinions of a daughter who doesn't like to see her dad the public official criticized. That's fine; we'll take themf or what they're worth. But what you are not allowed to do here is make statements about other people's motives (or dating habits, which you didn't do) that you cannot know to be true. Your father is a public servant. What he does on our behalf is our business. I suggest that you start to understand that. And you should also know that no one has the "right" to post on the JFP site, a privately owned forum. We offer the "privilege" to you in exchange for adhering to our User Agreement. You're welcome.

Author

DonnaLadd

Date

2007-04-18T10:49:16-06:00
ID

91968

Comment

Show me one ad hominem attack I have made on Anderson, Jackie. Any time, anywhere. You won't be able to find any because I never HAVE made such an attack.

Author

Brian C Johnson

Date

2007-04-18T11:04:32-06:00
ID

91969

Comment

I really do thank you guys (you too Brian) for your work and your articles. Thanks for allowing me to defend my father on your private site. After 31 years, Ms Ladd, I have accepted that. I have enjoyed your comments and your input and will share them with my father and try to get those number for you. Hope you all had a wonderful Easter and as always, take Jesus with you. Keep up the good work.

Author

samebutdifferent

Date

2007-04-18T11:10:20-06:00
ID

91970

Comment

A question about the garage itself kind of feels odd against all the discussion so far, but...where is the garage to be located? I have a lot of opinions about parking garages, but I'd like to know a little about this project before I start spouting off.

Author

Mark Michalovic

Date

2007-04-24T07:03:42-06:00
ID

91971

Comment

Justjackie lives in Atlanta and serves the likes of Mayor Shirley Franklin I think Shirley Franklin is the best Mayor this city has ever had (and I was here for the last term of Maynard, Andy Young and well....Bill Campbell (nuf said)....) I saw her last night on atlanta rising talking about Eastlake and the Mechanicsburg redevelopemnt and she is on the dime.....I wish that Jackson could have a mayor like her......there is no better and I can't imagine her being ever Not Mayor....

Author

ATLExile

Date

2007-04-24T16:02:57-06:00
ID

91972

Comment

how about some info from the inside? Mr. Anderson is the ONLY supe we have that's worth keeping. lord knows the trouble that the county would be in if it wasn't for his leadership. I don't agree with everything he says or does, but probably around 95%. He is the only supe that will tell you one thing OUTSIDE a board meeting and then back it up IN the board meeting. Peggy's problem is that she can't help stepping on her own tongue all the time. As far as our wonderful sheriff, here's a few thoughts - name 1 thing he has done for this county since being elected. he always whines about needed more money, more cars, more people,....well, the population of hinds county has gone DOWN since he came to power, the county has not grown any (same area to patrol)...and the sheriff's budget has gone from $4mill when he took office to $17mill today. now, when he took office we did not have the new jail open and that was projected (by him and his buds) to cost $7mill to operate (a ridiculous figure, btw) ...but if you do the math 4mill + 7mill = 11mill -------where's the other 6??? are we 6million dollars safer? I don't think say. Thank God Doug has kept him somewhat in check or the sheriffs office would consume 80% of the general fund instead of just a mere 40%!!! Doug is not trying to stifle the sheriff - he's just trying to keep him from driving us to the poor house!!

Author

ohenry

Date

2007-04-24T20:27:12-06:00
More like this story
More stories by this author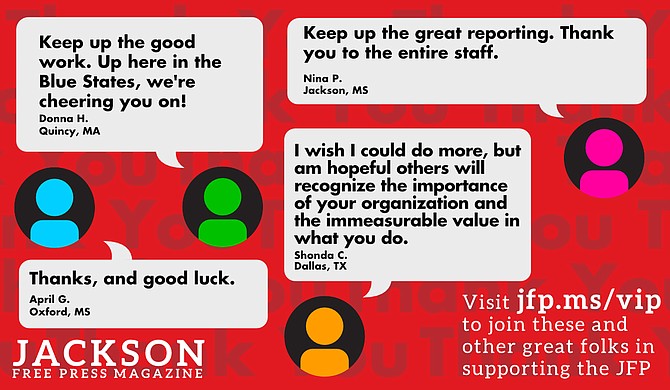 Thanks to all our new JFP VIPs!
COVID-19 has closed down the main sources of the JFP's revenue -- concerts, festivals, fundraisers, restaurants and bars. If everyone reading this article gives $5 or more, we should be able to continue publishing through the crisis. Please pay what you can to keep us reporting and publishing.