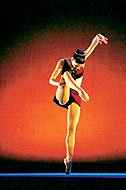 "I liked to dance since I was little. I started with gymnastics first when I was 4, and when we moved to America, I decided to try ballet," Christina Shevchenko, 17, says. She will represent the United States at the 8th USA International Ballet Competition, which starts at Thalia Mara Hall on Saturday, June 17, with the Gertrude C. Ford Opening Ceremony, and runs through Sunday, July 2.
Shevchenko is one of five students from Philadelphia's Rock School of Education who have been selected for the 44 spots in this year's junior division of the competition. In addition to Shevchenko, these dancers—affectionately monikered "The Jackson Five" by their school—include Kyle Davis, 16, Isaac Hernandez, 16, Jun Tanabe, 18, and Kyohei Yoshida, 17, who will travel to Jackson with their teachers Bo and Stephanie Spassoff on June 14 to participate in the competition. They all remain cool as cucumbers when discussing their past accomplishments and their preparation for the competition.
Shevchenko moved to America from the Ukraine when she was 6, and has been dancing at the Rock School for the last nine years. The last competition she danced in was the Moscow International Ballet Competition, she says, adding almost as an afterthought that she received a gold medal there. She says students at the Rock School are pretty casual about winning medals—everyone seems to be doing it. For her, the goal of the IBC is "hopefully to get a job offer or have important people see you."
Davis, also representing the United States, hails from Green Bay, Wis. "My parents signed both me and my sister up for lots of different sports—dance, basketball, stuff like that—and we just picked the one we liked the best," he says. As for what he's looking forward to at the IBC, he explains that "You get to see a lot of other dancers around; you gain more appreciation for dance as a whole."
Tanabe was born and raised in Japan, the country he will be representing in the competition, and his family is still there. Having been in America only since September, Tanabe's knowledge of English is still shaky. Translator Yurika Nakano says Tanabe finds "the training is a lot better (in America) compared to Japan, and he likes it a lot here." Tanabe most recently won a silver medal in the senior division at the Youth American Grand Prix, and is looking forward to "the fact that he can dance and look at all these young dancers from all over the world," Nakano says.
Yoshida, also representing Japan, participated in the Youth American Grand Prix as well. Though his family was able to get to that event from Japan, they won't be able to make it to Jackson. While Yoshida was not very talkative about his dancing, he was enthusiastic about his other interests: "I really like music, video games, things like that, and sometime I play the piano." Yoshida is looking forward to seeing "different styles of dancers" at the IBC.
Hernandez, the last of the five, was not available for comment, but he will be representing Mexico at the IBC. In 2004, he was the first non-Cuban ever to win a gold medal at the Havana International Ballet Competition.
The competition will be fierce, but these young dancers seem ready for the challenge.
The Road to IBC
Between July 25, 2005, and Feb. 3, 2006, prospective competitors sent in their videos to the International Ballet Competition for review. From about 300 videos submitted this past year, the Competitor Selection Committee chose 121 dancers from 27 countries to compete in the 2006 USA IBC. Those accepted dancers who elect to participate (And why wouldn't they? Financial hardship, conflicting plans, difficulty in getting a visa) come to Jackson for a two-week stay.
Though travel arrangements and costs to and from Jackson are the responsibility of each dancer, the IBC takes good care of the competitors during their time in the city. If they get cut in the first (or second or third) round, they are welcome to go home, but, recognizing all the work the dancers have put into preparing for the rounds of competition, the IBC is fully prepared (and more than happy) to put them up for the entire two weeks if they want to stay and enjoy the rest of the competition and events.
With that in mind, the Edward Stierle Contemporary Showcase was set up for this competition for the first time so that dancers who get cut after their classical performances are not made to feel that they had wasted their time in preparing their contemporary pieces, but instead get to perform them in the showcase. Soon after he won the 1986 IBC junior gold medal, American Edward Stierle joined the Robert Joffrey Ballet, for which he danced and choreographed until his AIDS-related death in 1991. Set for June 25 at 2 p.m. in the Belhaven Center for the Arts, the showcase named for Stierle embodies the supportive spirit of the IBC.
"You'd think it would be really cutthroat," IBC Director of Public Relations Nicole Bradshaw says, "(but) from what I've heard, it's a very supportive environment." In fact, coaches for dancers have been known to assist other dancers, even though they are in direct competition with their protégés, Bradshaw says. When certain dancers appear not to have had as much exposure to the latest contemporary ballet techniques, other coaches have stepped in to help them update their routines.
The competition consists of three rounds: In the first round (which runs from June 18-21), all competitors perform a classical ballet piece from the IBC-determined repertoire, with those dancers who make it on to the second round (June 23-25) performing a contemporary piece. The third and final round (June 27-29) combines both styles. After round three, the Jury of the USA International Ballet Competition awards the prizes, which include a gold medal, a silver medal and a bronze medal (with accompanying cash prizes) to the best male and female in both the junior and senior divisions; a bronze medal to the best couple in both divisions; and the coveted Grand Prix Award, which comes with a $10,000 cash prize.
Dancers may also win the Choreography Award, the Robert Joffrey Memorial Award and the Jury Awards of Encouragement (one male, one female), all of which involve a cash prize. Less conventional winnings include the Tutu.Com Award (a custom tutu for the top junior and senior female medalists), the TutusDivine Award (a custom tunic for the top junior and senior male medalists) and the Ballet International Award (an original art piece by Paige Bradley).
Ultimately, though, even the Grand Prix itself may not be the highest ambition for these dancers. "It's nice to win a medal," says Bradshaw, "but what you want is a job." Artistic directors from such prestigious companies as the Miami City Ballet, The Washington Ballet Studio Company and Ballet San José Silicon Valley will be scouting at the IBC, making this event not only a competition and a tremendous physical strain, but a job interview at the same time.
"What it all boils down to is that it's about the dancers. … We want to give (them) an experience—networking, exposure, learning about the craft and seeing what other people are doing," Bradshaw says.
Even medal winners are likely to request the services of the Competitor Evaluation Program, through which a small committee with access to the Jury's remarks, evaluates the dancers' strengths and weaknesses in their performances. The dancers are there to improve and cultivate their craft, not just to demonstrate what they already have mastered, Bradshaw says.
Biblical Ballet
Native Jacksonian Kathy Thibodeaux won the silver medal at the 1982 Jackson IBC. She got her pre-competition training here in Jackson, where she studied under Albia Kavan and Rex Cooper at Jackson Ballet.
"Then it changed to Ballet Mississippi, and Thalia Mara came in, and I got a lot of my training from her," Thibodeaux recalls.
Though it has been over 20 years since her IBC appearance, Thibodeaux can still recall what an experience it was for her. "Just being from Jackson and its being hosted here was really a treat. Seeing all the other dancers and meeting so many teachers—I mean, it was just a wonderful experience," she says.
But that's not to say it was all lighthearted fun. "You're um … yeah, you're pretty nervous," she says, laughing, "but it was great. I hope the new dancers coming in this year will have as good an experience as I did when I did it."
Wu Haiyan, 2002 gold medalist, also wins as Thibodeaux's favorite IBC memory of recent years: "Seeing her perform 'Giselle' … that was beautiful," Thibodeaux says.
After winning her own medal, Thibodeaux decided to stay with Ballet Mississippi: "I think that's what God wanted me to do. I guess I could have pursued some other companies. The competition opens up a lot of doors. … But I decided to stay here in Jackson."
In 1986, Thibodeaux founded Ballet Magnificat!, having recently become a Christian and praying to figure out how she should use her talents. "I had never heard of dancing for (God), but the Bible says you should praise him by dancing," she says. People told her the company would never take off or get dancers and support, but she is proud to say that the company is this year celebrating its 20th anniversary.
Ballet Magnificat! will be lending its facilities to the IBC during the two-week event: Competitors will rehearse in their studios, and the Teachers' Workshop—a new IBC program in which dance school teachers learn to hone their skills in both jazz and ballet instruction—will be held there also.
Taking Over Jackson
Nicole Bradshaw explains that the IBC submits their own information as to who purchased tickets and from where, and using that information, the Mississippi Institutions of Higher Learning extrapolates how much money was brought into the state (from travel expenses, hotels, food, etc.) by these visitors for an independent financial impact report.
In 2002, the Mississippi Institutions of Higher Learning calculated that the USA IBC had a $6.2 million impact on the state of Mississippi, a marked 38 percent increase over the previous competition in 1998. Even allowing for inflation, this jump in revenue demonstrates the growing popularity and marketability of this international event.
The majority of tickets are sold in the Southeast United States, which makes sense, as the IBC advertises heavily in magazines in Memphis, New Orleans, Birmingham and Nashville in order to attract audiences who can easily drive in to town for the event, Bradshaw says. Despite this regional tourism base, though, the 2002 competition boasted ticket sales to patrons from 41 states and seven foreign countries.
Jackson does not take the responsibility of all these guests lightly. The whole town is crawling with events, geared up with an extra dose of flair, from the Crossroads Film Society's screening of "Ballets Russes" (June 26) to the Mississippi Museum of Natural Science's (possibly less related) Giant Insects exhibit.
The Smith Robertson Museum and Cultural Center, for example, is hosting an exhibition entitled "Classic Black," on tour from the New York Public Library for the Performing Arts. The exhibition, which illustrates the experiences of black ballet dancers performing in the mid-20th century with oral histories and photographs, runs through July 31.
"It's a collaboration between the two of us (Smith Robertson and the IBC)," curator Gregory Jones says. "They approached us because they were wanting to bring the exhibition to Mississippi in July, and we obviously make sense for that because Smith Robertson Museum is an African-American museum." The exhibition is significant for the Jackson public because "they (will) get an opportunity to see this genre of our culture that they may or may not otherwise see," he says.
Tickets may be purchased by calling the IBC box office at 601-973-9249 or by e-mailing Aislynn Thomas at [e-mail unavailable]. Get the latest updates on all IBC events by checking out http://www.usaibc.com and watching your Lounge List at http://www.jacksonfreepress.com
Previous Comments
ID

80070

Comment

With all this good news now we have FM talking about 'state of ememgency" National Guards and all kinds of silly stuff. I hope this does not get us the same attention the competition gets or else we might loose this great event. I know if I read about all the stuff this kook is doing I would be afraid to come to Jackson. Does he even care how his antics might look to those outside MS? I would like to know your thoughts on this.

Author

jada

Date

2006-06-17T19:43:32-06:00
More stories by this author
Support our reporting -- Become a JFP VIP.
The news business has changed dramatically in the past year, and we need your help more than ever to keep bringing you important stories about Jackson and the Metro. Become a JFP VIP with an annual membership or you can Sign up as a monthly supporter. Thanks for anything you can do to empower our journalism!