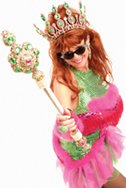 So you wannabe a wannabe. Congratulations. By inviting the spirit of the Sweet Potato Queens into your heart, you have committed yourself to a lifetime of fun and laughter and "unbridled joy." Gone are the days of self-pity, purposelessness and overall indecisiveness. From this moment on, all decisions in life should be approached with this one question, "What will I wish I'd have done when I'm older?"
The path to self-actualized queendom begins with a personal inventory. What in this life makes you miserable, and what are you going to do about it? What aspirations did you have as a child that you have been putting off to another day? Make a list and make it happen. No one else is going to live a life for you.
After getting that bit of therapy out of the way, the next step requires creating your own queenly look. Of course, an actual Sweet Potato Queen has this mastered (see diagram), but remember this is about you. Fortunately, you won't need a panel of judges to approve your choice in evening gowns, nor your thighs in a swimsuit, to wear this crown. Get a tan. Paint your nails. Buy the shoes. Again, no one else is going to do it for you, and a true queen knows that brown fat is prettier than white fat.
You'll want to find your people, those who have likewise accepted queendom as their path of righteousness. The search will be easier done than said because queens are all over the place. Keep your eye open for the irreverent and your ears open for squealing laughter. While the prototype queen is a fallen Southern belle, many types have evolved from the original over the years, including Yankee queens. Queens are crawling all over the place: the office, church, family reunions and block parties. Get yourself to the Mal's St. Paddy's Day Parade for a gimme. You won't be able to flip hair without hitting a queen. You're going to need plenty of friends to support your royal witness.
After you gather your yoke, it is of dire importance to form a chapter, then close off membership. While you will most likely remain a wannabe-wannabe Sweet Potato Queen, you can be the head, reigning queen of your own group. Name your chapter, brand your image and declare at least one night a month "queen night." Your goal is to create queenus envy (see glossary) among all in your presence. If done correctly, you soon will have your own set of wannabes gathered in your name, and you will never have to refresh your own libation.
Yes, the responsibility may seem awesome. Please find peace in the fact that this world holds thousands of women, and men, who have made the same decision and will be with you as you walk the path of true queenliness. And for God's sakes, read the Sweet Potato Queen books written by Jill Conner Browne if you have not already; it will serve as a sword for your spirit.
SPQ Glossary
You might feel like you're in a foreign land this week if you don't study up a bit on the lingo. Official Wannabe Emily Braden offers this glossary:
Queenus Envy
n.-the coveting of the Sweet Potato Queen spirit by those who don't "get it," which leads to feelings of inferiority and compensatory behavior such as eye rolls and chest pounding.
Crown Up
v.-command alerting all queens within earshot of pending photo opportunity.
Tatered Out
adj.-fatigued to the point of exhaustion; special kind of hangover suffered the Monday post-parade.
Larva
adj.-term of endearment coined by Jill Conner Browne describing wannabes under the age of 40.
Nevergonnabes
adj.-term used to describe the unqueenly masses.
Spud Stud
n.-person of the male persuasion who steps and fetches for a queen; sense of humor required.
Chipper/Shredder
n.-device used to hide the evidence in the case of "IhatehimIhopehedies."
IhatehimIhopehedies
adv.-the only acceptable response when a queen gets her heart broken or takes a general disliking to a person of the male persuasion.
What You Need To Be The Queen
- Teased, Red Hair: The higher the hair, the closer to God.
- Cat-Eye Sunglasses: Wannasees to hide the eye rolls.
- Revlon Love That Pink Lipstick: Smile! We're just like you, only prettier.
- T&A: Buy yourself a fancy pair.
- Majorette Boots: Get the real thing. Spats are so immature.
- Blinding Jewelry: The affinity for things that go sparkle.
- Sceptor: The only thing better than a fire baton.
- Crown: Pretty is fleeting, but ugly is forever. Fortunately, so is smart. Get you own crown already.
- The Bible ("The Sweet Potato Queens' Field Guide to Men" by Jill Conner Browne): The Commandments of Queendom await you in Her Highness' books.
More like this story
More stories by this author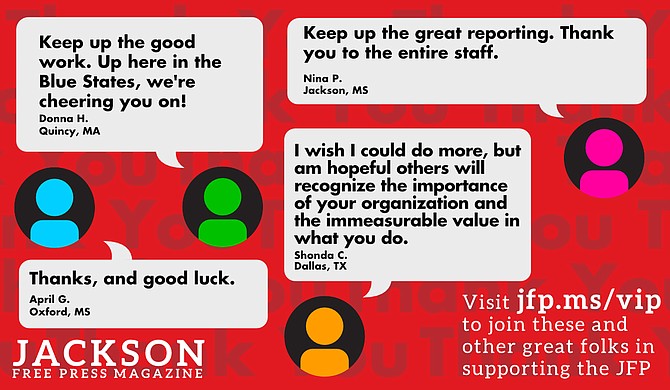 Thanks to all our new JFP VIPs!
COVID-19 has closed down the main sources of the JFP's revenue -- concerts, festivals, fundraisers, restaurants and bars. If everyone reading this article gives $5 or more, we should be able to continue publishing through the crisis. Please pay what you can to keep us reporting and publishing.