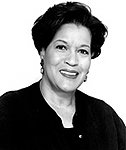 Myrlie Evers-Williams, 72, and I talked long distance last Saturday at noon, separated by distance but connected by more than the telephone—both Mississippians, both widows, albeit by excruciatingly different circumstances, both left to raise small children without our beloved husbands, both survivors by the grace of God and with the love and support of family and friends.
Looking on the Internet, I learned that Bend, Ore., is her home now. I was surprised to learn Oregon is a state with its own history of treating its citizens inauspiciously at the least, with discrimination due only to differences in skin color and culture at the worst. It didn't surprise me to discover that Evers-Williams—an activist in her own right and the former chairman of the National Association for the Advancement of Colored People—has been involved in changing that, serving as co-chairman for the Day of Acknowledgement on April 22, 1999, when 800 everyday Oregonians packed the House chamber at the state capitol in Salem and awakened in their elected officials an awareness that the need for change was upon them.
We talked for a long time about the need for change, the pain of losing a husband, and her upcoming visit to Jackson to sign and promote her new book, "The Autobiography of Medgar Evers," edited with Manning Marable.
What, in your mind, is the connection, if any, between what happened on June 12, 1963, when your husband Medgar Evers was assassinated—we all know his life's work did not die on that day—and April 22, 1999, the Day of Acknowledgement in Salem, Ore.?
That's the first time I've been asked that. It speaks to the power of one, what one person can do in taking action, in fighting for justice. It's similar to a pebble in water—you see the ripples. I certainly cannot claim that Medgar Evers' life's work caused this, but in some small way it truly did. Medgar's role might be miniscule in many things that happen today in this country. Take, for instance, the third murder trial that ended in a conviction. Who would possibly think that we would have 18 to 22 civil rights cases revived—I mean Dahmer, those girls in Birmingham and others? These came about as a result of the action on Medgar's case. I know that for a fact, and I am humble and proud. I've gotten letter after letter saying without that conviction, we never would have moved ahead to reopen the case. It's the power of one, to do what we know is right, we make an impact locally and, I dare say, on a global basis.
I'm not saying Medgar had a direct impact on Oregon, but surely in the back of someone's mind there came the thought it's time to clean up, it's past time for change. It's the planting of a seed to rectify wrongs and to take action in a state that has more hate groups than probably Mississippi does. U.S. News or Newsweek, I can't remember which, did a hate groups story. There was a map of the country with red dots representing hate groups, and the Northwest had more hate groups than the Deep South. To me (the Day of Awareness) represents more an awakening of the need to rectify old injustices. We people were not allowed to live or work in certain areas. We had to live outside the city limits of Portland and Salem.
When I moved in 1964 to California to start life again, I had to truly look out for discrimination, hatred, prejudice and racism. I told myself no matter where you go, you're going to be faced with it. I hope that we'll be able to get across to the young people today that the battle is not over. We have to work hard to hold onto the gains we have made.
How important is it for ordinary citizens to challenge, to call to task, our political leaders?
Community and citizen partnership in pursuing the needs of our citizens indicates that we must let our elected and appointed officials know our concerns in our communities. And this goes across color lines. Our rights, we must do what it takes to keep some sort of balance in the electoral process, to let those elected know that they are not anointed, that they won't be in office forever, if they don't represent the people who voted them in. It's democracy, democracy, democracy. People fought and died for the right to vote. Speak your mind. If we're not careful, if we sit back, these rights can be taken away from us. The Patriot Act, I am afraid that all privacy will be taken away from Americans in acts like the terrorism act and the privacy act. I know we must be vigilant as a country, but what about being vigilant about individuals and our rights? Some say it's not my business because the government's going to do whatever it wants to anyway—that attitude can do away with rights, with citizenship, with what Medgar and all those others fought for. It's important to be watchful, to be able to express yourself in a positive way about a negative issue, to know what your rights are. We have the power of the vote. Use it. Take advantage of the power of the vote.
What is the mission of the Medgar Evers Institute?
The mission of the Institute is to increase awareness through the building of an active memorial to Medgar Evers and the others who worked with him, to lift that awareness through the areas that Medgar had an interest in—education and youth development and leadership. We've been able to do that initially and were successful. The Institute is a virtual institute—national in scope.
Online I read an article in the October 2002 Wisconsin State Journal that included a list of the horrible names you've been called. What's the best name you've been called?
A child of God, because without my faith, my trust in a supreme being that I call God, I would not have survived to this time, and if I've carried myself in a way or manner that people have said 'You are a child of God,' I'm grateful. I'm human, I've made mistakes, I've been at a point when I was filled with hatred, thankfully no longer so. When working with Medgar's papers and Manning Marable to put the book together, it took me back to a dark time, an emotional time. I chuckled when I said I was a tired 72; it's more an emotional than a physical tiredness. There's something about being called names that may be inappropriate that serves as a motivator, to keep you doing. Everyone who thinks that they can do as they please is sadly mistaken. I may have been like that once, but I've changed. You cannot be successful if you do that. I've been called determined and things like that, but my best description is a child of God. My granddaughter asked me what was the best thing that ever happened to me in my life. I thought about it and told her that it was that I have been loved every day of my life. She said, 'That's it?' I told her to think about it, that there are people out there who've never been loved while I have been loved every day. She came back to me later and said, 'I've thought about it, and that is a gift.' I told her 'Yes, it is and it applies to you, too, because you've been loved every day of your life, too.'
How did you put aside the pain of being a widow and go about raising your children without your husband? How did you deal with being widowed a second time?
Within the last week of Medgar's life, when we finally could say to each other that more than likely his death was near, we were holding onto each other and crying. He said to me, 'Promise me you will take care of my children.' I told him, 'Of course I will because they are mine, too.' I have kept that promise. I didn't want my children to be orphaned; I didn't think that I could live without him. I had three little faces looking up at me. I was surrounded with people who said we will help you. The children were the reason I left Mississippi. It was too difficult to live in that house. It took an emotional toll on them, particularly my oldest son. I needed to go to school and could get a scholarship at the school I graduated from, Pomona.
By the grace of God and my love for Medgar, I did what I did to survive and take care of my children. My children were adults before we could sit down and share our feelings of hurt and disappointment at what had happened. At the end, I said to them, 'Do you know how blessed we are that we are as sane as we are?' They never presented me with problems. Through God, family and friends, I pulled through. I couldn't disappoint Medgar, based on what I thought he would want.
Walter (Evers-Williams' second husband) was my best friend. He said to me very early on that he had no objection to our marriage being three in number. He said, 'I don't want you to ever stop promoting him.' Walter had prostate cancer. He was given two and a half years. We made the most of that time, devastated, but we worked through it. The NAACP had asked me to run for chairman. I told them no, my husband was ill. It was Walter who said to me, 'You must run. You must win.' I can't leave you, I told him. He said, 'This is the last thing I will ask you to do.' What could I do? I told him you can't go anywhere until I get back. He had told me he was ready to go; the pain was awful. I miss his counsel, his friendship and his admiration of Medgar. It's been eight years. I'm not crying, but it's still painful.
The most difficult loss of all was losing my son, Darrell. There's no pain like the pain of a parent losing a child. I'm not over it; I don't know if I ever will be. It's the pain of having my son gone before me. A friend said to me, 'Myrlie, you haven't been the same since Darrell passed.' I said, 'You're right.' The pain is almost unbearable. I couldn't cry. The pain is in my chest and won't go away. But, God is good. Someone said that's your crutch—thank goodness my crutch isn't drinking or such. I encourage those who don't have it to seek it out.
I'm at a turning point in my life. I am forced now to reevaluate my hectic pace and to pull back and take care of myself. I have called on Him time and time again, as Abraham Lincoln said, brought to my knees till all I could say was 'Mercy.' The public sees the upbeat Myrlie. The other part of me still hurts, still bleeds.
In your June 10, 2003, reflections on the 40th anniversary of Medgar's assassination, you said that you once asked him 'Why you?' and he replied 'If not me, who?' Couldn't the same thing be said about you? Couldn't he have just as easily noticed a different girl when he first noticed you?
Medgar was very good at sizing up people. He knew he would have a loyal and supportive mate in me. The poor man, I think at times how frustrated he must have been at the young and inexperienced woman who nagged him so much the first few years. I wanted him with me all of the time. Medgar was my husband, the father of my children, my teacher, a father figure to me, my love and my lover—so many things rolled up into one. One of his family members said, 'He belonged to you, to us.' I said, 'No, he did not. He belonged to the people.' That's the only way Medgar could have seen that—he belonged to the people, to the cause. A day or so before he was killed, he got out of the car, came into the living room and said, 'I'm so tired, but I can't stop.'
Myrlie Evers-Williams will be in Jackson at Lemuria on June 11 to sign "The Autobiography of Medgar Evers: A Hero's Life and Legacy Revealed Through His Writings, Letters and Speeches" (Basic Civitas Books, 2005, $26) at 4 p.m.
She will also sign and read at the Old Capitol Museum (State Street at Capitol) Monday, June 13, from 4 to 6 p.m.
Previous Comments
ID

78087

Comment

Another great interview by Lynette Hanson, one of my favority JFP writers! I admit that I know very little about the role that Myrlie Evers-Williams played in the work of her husband, but this interview gave me a glimpse into the world that is hers and how she used an inner strength to survive the death of two husbands, a son and the trying times that lay ahead. What a great snapshot to the life of the woman who is a role model to so many. Congrats to the JFP for this interview.

Author

c a webb

Date

2005-06-12T09:25:53-06:00
More like this story
More stories by this author