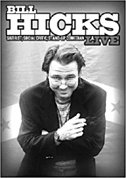 After President Bush's re-election on Nov. 2, I found myself singing the line from Hamell on Trial's song, "I Wish Bill Hicks Were Alive." Man, do we need Bill Hicks today. Though he died over 10 years ago and is buried in the Hicks family plot in Leakesville, Miss., his stand-up comedy couldn't be more relevant. Railing against the Bush administration, the war in Iraq, and the rise of the Christian Right, Hicks could be just as easily be talking about today. And now for the first time, you have an opportunity to watch Hicks at the top of his game as Ryko has just released his first DVD "Bill Hicks Live," compiling three extended live performances as well as the biographical documentary "Just a Ride."
Over the past several years, Ryko has reissued all of Hicks' comedy albums as well as some previously unreleased live performances on CD. But watching the new DVD, one can see how hearing Bill Hicks on CD is like listening to the ballet on the radio. Like Richard Pryor at his peak, Hicks needs to be seen to be fully appreciated. The highlight of the DVD is "Revelations," first broadcast on Channel 4 in England. Limp pop music, the war on drugs, the Gulf War and the Bush administration, anti-smoking activists, and religious fundamentalists were all targets of Hicks' acerbic rants.
Hicks was never famous, and was better known among other comedians than the public at large. He started out as a young teenager in Houston, sneaking out of his house to do stand-up sets at a local comedy club. He became a part of a loose confederation in Houston known as the "Outlaw Comics" whose most famous member was Sam Kinison. After touring America's comedy clubs for a decade, Hicks began to gain notoriety for his biting satire of America's culture of mediocrity.
His time on the road is apparent in his later performances. He would open his sets with, "I've been on the road doing comedy now for 10 years, so bear with me while I plaster on a fake smile and plow through this #### one more time. ... I'm teasing, it's magic every show." In reality, Hicks had honed his act through his grueling 200 shows a year schedule and was comfortable enough on stage to follow his ideas wherever they took him. He never told the same joke the same way twice. Instead of the rambling observations of today's political comedians like David Cross and Janeane Garafalo, Hicks used his words with a piercing precision that challenged society's dogma.
Hicks reveled in attacking sacred cows, especially traditional religion. He wondered how creationists could explain the absence of dinosaurs in the Bible, imagining the scene: "And Jesus and the disciples walked down the path towards Nazareth, but oh, the trail was blocked by a giant brontosaurus. And the disciples went running and screaming, 'what a big f*cking lizard.' 'I'm sure going to mention this in my book,' said Luke. 'I'm sure going to mention this in my book,' said Matthew. 'I'm not sure what I saw,' said Thomas." He also asked whether Jesus would really appreciate his followers wearing crosses, "it's sort of like going up to Jackie Onassis with a rifle pendant on."
This was one of the jokes that got Hicks censored during his final performance on the Late Show with David Letterman. He taped his five-minute bit, talking about religion, the anti-abortion movement and other controversial issues. Later that night, the show's nervous producers pulled Hicks' profanity and sexuality-free routine before the show was broadcast.
Despite the Letterman show's timidity, Hicks' career was on an upswing. He was named Rolling Stone's Hot Comedian for 1993, and a growing following in England led to a popular TV special (released on the DVD). After a glowing feature in The New Yorker magazine, The Nation asked him to write a regular column. Hicks was finally poised to achieve the success he deserved. Little did everyone know that Hicks had already been diagnosed with pancreatic cancer. Success and fame never came. Bill Hicks died on Feb. 26, 1994, at the age of 33. Yet, as "Bill Hicks Live" shows, his art survives.
During progressivism's dark days of the 1980s, artists like Hicks played a crucial role in challenging the status quo and getting people to think outside of the stories put forth by the government and mainstream media. With conservatism riding high once again in the 21st century, we progressives need voices like Hicks more than ever. I wish Bill Hicks were alive.
More stories by this author
Support our reporting -- Follow the MFP.