Over the almost eight-year-long span that my family spent on the road, we never had a chimney for Santa. Being well-loved, wide-eyed and innocent of grown-up concerns like how late would the stores be open in a new town, my little brother and I knew that Santa'd find us, so we'd write our letter, give it to Mama to mail, and wait, being good.
One year when we were still living in our 1951 Spartan Royal Mansion house trailer, the two of us put our little heads together and decided we should seal the letter ourselves, without letting Mama read it first. Yeah, right. Chickened out is what we did. The presents arrived forthwith, just like they did whether we were at our grandparents in Mississippi or in one of the 26 states we traveled.
Mama remembers the Christmas Eve that we rolled into Muscatine, Iowa, a small town on the Mississippi River across from Illinois. In an odd Christmas Eve twist, a la no room in the inn, Daddy had found not one trailer park in Muscatine. "We just asked around and found out that sometimes a trailer was parked behind a service station at a triangle-shaped intersection, so we went there and asked," Mama said.
The man said sure, and as soon as possible Mama left to shop—she and Daddy hadn't wanted to buy our presents in Borger, Texas, and haul them for 900 miles. "I drove the car with the overload springs still on the back-end. I went bouncing up the street," she said with a wide grin. I remember how thrilled I was to find my pale blue enamel Amsco doll bottle sterlizer, complete with a wire rack, glass bottles with rubber nipples and a bottle brush.
No matter what Mama might have fixed for Christmas dinner, she always stood at the stove a few days before Christmas and stirred and stirred homemade fudge and date nut loaf. To the fudge mixture made using Hershey's Cocoa, Mama added three big tablespoonfuls of Peter Pan Peanut Butter, creamy not crunchy. Absolutely no other fudge I've ever eaten has the same taste or texture. Mama knew it was ready to pour into a buttered oblong pan when she had dropped a bit into cold water and it became a soft, firm ball. We always knew it was ready when she had cut it into pieces, piled high on a platter alongside the date nut loaf. Actually, the date nut loaf sometimes had a mind of its own, deciding not to set up properly. Perfect date nut loaf, oval in shape and cut into slender slices, joined the fudge on the platter. Imperfect date nut loaf crumbled when cut or, one time, had to be eaten with a spoon.
Christmas 1955 found us in Leake County at Ma and Pa's in the little town of Walnut Grove. My brother was 5; I was 8. Their wooden house with a porch across the front was heated with pot-belly heaters, a big one in the living room and a little one at the back of the house. A large part of the kitchen was a black iron wood-burning stove that cranked out a great deal of warmth as well as Ma's scrumptious chicken and dressing with giblet gravy, yeast rolls, chocolate cake, caramel cake and all sorts of vegetables from the ones she had canned earlier in the year. Mason jar after Mason jar filled with corn, string beans, tomatoes, pickled peaches, butter beans, crowder peas, cucumber pickles, blackberries, pear preserves, fig preserves and peaches stood on shelves lining the walls in the back room, sparkling like jewels.
This Christmas we'll eat chicken and dressing at my aunt and uncle's in Puckett; she's got her mother's recipe down pat and makes the best butter beans with okra in the world. I'm going to contribute truffles, cupcakes, and Martha Washingtons from Three Sisters and a Mixer out on Lakeland Drive, along with some Mississippi-made treats in a gift basket from Aunt V's Candies across the highway. Or I might become ambitious and make Corn Flake Candy from a recipe our neighbor Margaret gave me. She got it from her sister-in-law Dianne who got it from Mrs. Inez Bugg who used to work at the Lake High School Cafeteria over in Lake, Miss. Seems that back in the '70s Dianne liked it so much that she asked Mrs. Bugg to change the recipe for 500 hungry high schoolers into something more manageable. Now that's a good one.
Corn Flake Candy
2 C. Blackburn syrup, 1 C. sugar
2 C. peanut butter
1/4 stick butter
1 12-ounce box corn flakes
Bring syrup and sugar to a boil over low heat (1 to 2 min.). Remove from heat. Add peanut butter and butter; stir in cereal. Drop spoonfuls onto a buttered cookie sheet and allow to cool; it makes about 60. They should be eaten pretty quickly once everyone gets a taste, but you can store leftovers in an airtight plastic container.
Three Sisters and a Mixer, 5517 Lakeland Dr., 601-992-8110.
Aunt V's Candies and Mississippi Gourmet Foods, 4352 Lakeland Dr., 601-992-8990.
More like this story
More stories by this author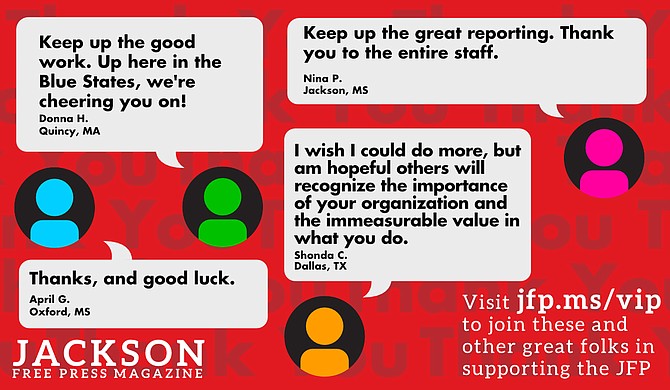 Thanks to all our new JFP VIPs!
COVID-19 has closed down the main sources of the JFP's revenue -- concerts, festivals, fundraisers, restaurants and bars. If everyone reading this article gives $5 or more, we should be able to continue publishing through the crisis. Please pay what you can to keep us reporting and publishing.