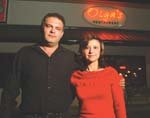 Think about it. What's the least likely soup you could order homemade-fresh in a Flowood restaurant? In a million years, you'd probably never guess Russian borscht. That's the answer, though, and it's served Thursday nights—Russian night—at Olga's Restaurant at 1679 Old Fannin Road, 992-1092, in front of Winners Circle Park, one-fourth mile north of Dogwood Festival.
When Olga and Yuriy Abramovich opened their restaurant last year, all the dishes on the menu were American. Since day one, though, Olga, 33, and Yuriy, 38, have been asked to serve Russian food. "We wanted to introduce Russian dishes slowly to Olga's," she said, "to see what people like. Many customers have been to Russia, to Ukraine, so I ask them what's their favorite dish when they visited. So, we have American favorites with a Russian flair." On Oct. 14, the restaurant's one-year anniversary and their 14th wedding anniversary, Olga and Yuriy changed the dinner menu to feature Russian dishes once night a week, maybe two later on.
The Abramovichs met in the Ukraine and married in 1989. By the time their now 13-year-old son Michael was almost 3 months old—in June 1991—they had made the move to the United States. On the back of the dinner menu, Yuriy and Olga tell a bit of their story, pointing out that neither one of them spoke English when they made the move and all they had in their pockets was $600.
Friends in New York told them about Jackson and its Southern hospitality, so they headed here on that recommendation, knowing that they wanted to live in a city, but not one too big or too small.
Like Goldilocks, they were looking for one just the right size, and Olga says they've found it in Jackson. Not that they didn't look at other cities early on. After visiting Russian friends around the country, the Abramovichs settled on Jackson because, she told me, a smile on her heart-shaped face, "It's a great place to live and raise children." Alex, their other son, turned 4 on Nov. 1. And you know they've come to the right place the minute you hear the Southern accent mixed lyrically with their Russian one—just hearing Yuriy say "grits" made me feel like ordering some right then and there.
Neither Abramovich is afraid of hard work. Since 1993 Olga has worked at River Hills Country Club. Yuriy's first job in Jackson was as a server at Nick's where he soaked up the restaurant business before buying and operating Jackson Ice Company, which he recently sold to cook full time at Olga's. Also, as of Oct. 14, Olga's is open for lunch Monday through Friday with a gourmet buffet and ordering from the menu, dinner Tuesday through Saturday and brunch from 10 a.m. until 2 p.m. on Sundays. That's when those grits are served as part of the breakfast, along with Yuriy's special chicken dressing and other Southern specialities like fried chicken.
Both sons know the restaurant inside and out. After all, it's a family affair. Dressed in his Spider-Man Halloween costume, Alex played quietly among the tables covered with snow-white cloths, set with tented napkins and glistening silverware, while Olga, Yuriy and I talked on a recent Saturday. Every so often, he'd look up and ask his Papa a question or hug his Mama. Michael had helped out the night before, washing dishes all evening, and was at home sleeping a bit late. "He cares and helps, he's a wonderful helper," Olga said. "He helps with computer stuff and makes the Russian menu insert every Thursday all by himself on the computer." Both parents are proud of Michael's grades, too, at Northwest Rankin Middle School where he's an eighth grader.
The Thursday night menu insert, decorated with Russian dolls, explains Olga's Trio, a choice of chicken potato salad or crabmeat salad, a bowl of Russian borscht and an entrée, all for the price of the entrée. Special Russian entrées are pelmini, a Russian-style ravioli; kotlety, Russian-style meatballs served with new potatoes and sautéed cabbage; Minsk tuna, an eight-ounce filet served with crabmeat, shrimp and butter sauce and a choice of grilled vegetables or asparagus; rib-eye Ukraine, a 12-ounce rib-eye topped with crab claws, fried red onions and cheese; and filet Belarus, a nine-ounce filet served with crabmeat, blue cheese, ravioli, topped with garlic butter sauce and sautéed asparagus.
Finally, for dessert there's blintz, two thin crepes stuffed with cream cheese and served with a tiny bowl of apple jelly on the side. Prices range from $24 to $14 on Thursday, while the blintz are $6.
And there's one other entrée, available on the regular dinner menu, that the Abramovichs say is their signature dish—pirogi filet. That's a nine-ounce filet, the American favorite, served with five pirogi, the Russian flair. Pirogi are Russian-style ravioli, in this case stuffed with mashed potatoes. The topping is sautéed mushrooms, green and white onions.
Cooking had long been a hobby of Yuriy's, Olga told me. In fact, both of them loved to cook at home in Russia, but when they opened the restaurant, they knew that the best way to use their talents would be for Yuriy to share the cooking with chef Thomas Cameron, formerly of Bruno's.
Olga's job at the restaurant that bears her name is the front of the house. Her winning smile and grace greets everyone who comes in the door, just like she would if she were opening her home to you. "I want customers to feel not rushed, but relaxed, to enjoy themselves and the atmosphere," she said as she explained the reasons for their recent re-decorating of the restaurant. The colorful presentation of the dishes prepared from family recipes—the borscht, from Yuriy's mother, the chicken potato salad, from Olga herself—suits the fine-dining atmosphere created by subdued lighting and cozy seating. Reaching for a menu, Olga smiles the minute she sees someone pulling up out front, so you walk in feeling welcome and at home.
In fact, Olga and Yuriy used to entertain as many as 40 people at a time in their home, serving a typical Russian dinner with several courses—salad, soup, entrée—sort of like the Olga's Trio except that in Russia the salads and soups would be on the table for guests; then they'd be removed and everyone would take a break, enjoying each other's company. Next, the entrées would be served in the same way, followed by another break before dessert, served with hot tea or coffee.
Olga wants Jacksonians to come try something you don't see everyday in Mississippi. She must mean the Russian food, because everything else at Olga's is just what you'd expect from an establishment whose goal is to create a fine-dining experience, much like when you go to a beloved friend's home, complete with delicious food and a relaxing atmosphere.
More like this story
More stories by this author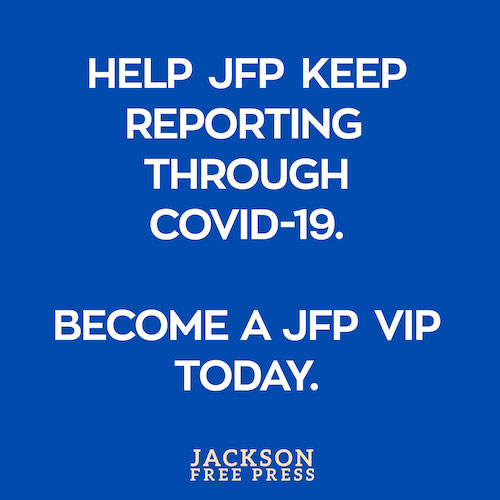 COVID-19 has closed down the main sources of the JFP's revenue -- concerts, festivals, fundraisers, restaurants and bars. If everyone reading this article gives $5 or more, we should be able to continue publishing through the crisis. Please pay what you can to keep us reporting and publishing.