Sept. 17, 2003
I'm tired of being politically correct. I'm tired of tiptoeing around people's feelings and trying to make everyone comfortable. So I'll just say it: I'm very disturbed by the recent confirmation of Bishop Gene Robinson of New Hampshire, an openly gay clergyman, by the Episcopal Church. The event has been heralded as a history-making moment and perhaps a divisive blow to the Episcopal Church. I'm sure Robinson is a nice guy, great father and even better partner to his longtime companion, but I don't believe he should be a leader in any Christian-based church. His confirmation demonstrates what is wrong with religion and specifically Christianity today.
As Christians, sensitivity and acceptance of all people should not come at the high price of compromising our most sacred beliefs and the very principles on which the church is built. As a Christian, I am taught to love everyone—faults and all, friend or foe. But also as a Christian, I have a duty to hold my fellow man and woman accountable for their actions based on the commandments of God and the teachings of Jesus Christ.
No, we shouldn't judge, condemn or persecute others, nor should we condone their behaviors in an effort to be "liked" by the masses. Didn't we learn that lesson back in grade school? It doesn't work, and it dilutes our faith.
Whatever you may call it—the Good Book, the Holy Bible, God's Word or pure bologna—the Bible is the guidebook by which Christians are to live. And it strictly condemns homosexuality in both the Old and New Testaments. The last time I checked, the Episcopal Church was a Christian organization, founded on the tenets of the Christian faith as outlined in the Bible.
Yes, the church is a refuge and a place for all to seek sanctuary. The church is not, however, to be molded into whatever suits the current majority viewpoint. It's not a democracy. We don't vote on which commandments to follow and which ones to toss aside at our whimsy. We're here to make people a little uncomfortable, to make them ask questions of themselves and to examine the implications of their actions. Only when we're uncomfortable or uneasy do we began to transform and grow to our fullest potential.
We are a society that abhors rules and discipline. Like children rebelling against the house rules of a caring parent, Americans cringe at the sound of the word "no." A little voice whispers, "If it feels good, do it. If you want it, go and get it." "It's your right after all," that voice proclaims. Americans will defend to the death everyone's right to be heard, to express themselves in deed and action, to parade the streets rallying for their causes—except Christians' rights.
Granted, a few ultra conservatives, psycho-fundamentalists and shady televangelists have given us a bad name, but none of us seems willing to come forward and dispel the myths or assert the Christian's case. As the world curses our beliefs, Christians sit sullen and tight-lipped, twiddling our thumbs while it happens. Shame on us!
When we do respond, it's weak at best. Turning hymns into rap songs, saints into androgynous demi-gods (don't refer to God as masculine in some religious circles) or priests into alternative lifestyle coaches will not lead people to a life of peace and harmony fulfilled in the love of God. We cannot allow the ever-changing winds of public opinion or the latest pop trends to alter our faith.
Since the 9/11 tragedy and, well, even before, we've made faith into a fad, even a badge of patriotism. WWJD bracelets (What Would Jesus Do), "God Bless America" bumper stickers and the like are emblazoned everywhere. Maybe that's our way of emotionally uniting against our enemies ... or our way of watering down the real message of Christianity with politically correct catch phrases.
Whatever the case, I do know this: There may be a time and place for everything in our "anything goes" society, but it shouldn't be among Christians.
Jennifer Spann is a regular columnist for the JFP.
Previous Comments
ID

68427

Comment

Spann, for me, and those that I've talked with about this issue, it's not a matter of "if it feels good, do it." Nor is it a matter of blind "acceptance" of everything, in an effort to be "open minded." In fact, I share your horror at the notion. There is a line between right and wrong - the trick, occassionally, is in discerning just where it lies. I support the ordination of a gay bishop for a few key reasons: 1. Sexual orientation, like gender, economic status, race or ethinicity, is never an indicator of moral virtue. I think we need to be paying much closer attention to our religious leaders' actions and moral values, instead of their sexual orientation, or gender, or race. I, for one, have had my fill of corrupt and sexually deviant heterosexual males running the pulpit. If we find a candidate who is, according to those who have worked with him, a just and honest man with a true faith in his calling, then he should be elected. 2. The bible condones alot of things, and is often contradictory. I do not think that it is viable as the sole basis for church law. If that were the case, then (I think), there'd be no divorce in Christian society today, among other things. 3. The part that really gets me though, is that in my 39 years, I've read, seen and felt many many arguments about how women are somehow less than (straight) men. Granted, sexism is not as virulent as it once was, but it's still alive and kicking. And, I remember when the Episcopal Church started ordaining women, and so many of the same arguments were used to oppose that. I'm tired of being told that women are less important, and, by extension, I'm tired of hearing that Gays are less important, and somehow unclean before god. They are simply people. So, yes, I agree with you that "anything goes" should not be the case with christians, or with anyone else. I don't support the ordination of a gay bishop because it feels "good" - I support it because it feels right.

Author

Kate

Date

2003-09-17T09:37:21-06:00
ID

68428

Comment

"Americans will defend to the death everyoneís right to be heard, to express themselves in deed and action, to parade the streets rallying for their causesóexcept Christians' rights." Kudos to the JFP for demonstrating that it "feels right" to support Spann's freedom to disagree.

Author

Reader

Date

2003-09-17T10:58:50-06:00
ID

68429

Comment

Ms. Spann: Good thing someone decided to follow the spirit of Jesus' teaching rather than adhering to many-thousand-year-old cultural laws that were NEVER meant to be taken literally. Otherwise, you and I would be somewhere having babies for much-older-than-us goatherds, wondering what it would be like to read and write, or travel without the permission of the husbands we'd been sold to. Over the course ot the thousands of years that the books of the Old Testament were written, only merchants and priests/priestesses were schooled in the cutting-edge technology called writing. People spoke and wrote using metaphor, simile, and analogy far more than people do in common speech today. If I wanted to let you know that my mule wouldn't carry a heavy load, I wouldn't have said, "My mule won't budge." I probably would have told you a long story about mules, dancing monkeys, and the virtue of manual labor. A good analogy is sculpture: In those days, sculptures resembled the subject only in that they had the appropriate number of heads, arms, legs, etc. And they were modeled on some heroic folk figure or ruler, regardless of gender or ethnicity. Yet they were perceived as exact representations of their subject because they represented the SPIRIT of the subject. In other words, the facial expressions, color, tone, and texture of the piece conveyed the mood of the subject or expressed a specific idea. A sculptor could produce three works using three different subjects and the sculptures could look almost identical--and yet look nothing like any of the subjects. If I made a sculpture of you that looked like Thurgood Marshall, you'd say I was crazy for believing it looks like you because he is percieved as wise and so are you. So, too, you shouldn't misinterpret the Bible by failing to take into context the language and lexicon used to write it. Since 9/11, scholars have debated why Islam is mired in fundamentalism. The consensus seems to be that the kind of rigorous, faith-testing Christian scholarship that took place in Europe during the Reformation never happened for Islam. Too bad--for all of us. We'd be a much more peaceful, appreciative-of-each-other people if we weren't always looking to perceive the subgroup we belong to as less sinful than, more worthy of, than others. True faith stands the test of scholarship. It doesn't hide from it or refuse to look at it.

Author

Nia

Date

2003-09-17T13:38:45-06:00
ID

68430

Comment

"Since 9/11, scholars have debated why Islam is mired in fundamentalism. The consensus seems to be that the kind of rigorous, faith-testing Christian scholarship that took place in Europe during the Reformation never happened for Islam." WOW. I'd love to see you back this up with some links or other references. Islam, as a collective body, is clearly grappling with the interpretational tendencies (behaviour) of one of its most fundamentalist offshoots, but I've yet to read any scholar who has made the broad brush conclusion you've drawn that Islam is mired in fundamentalism.

Author

Reader

Date

2003-09-17T14:08:36-06:00
ID

68431

Comment

Shocked and awed, hunh Reader? (And picky, too. Didn't you understand the SPIRIT of my words?) Don't be defensive. :-) I'm neither an ardent Christian nor a Muslim-basher. My intention was not to slight adherants of the Koran, but rather to point out that fundalmentalism of any kind is more about politics and people's comfort zones than about religion. I was hoping to spur Ms. Span to question the reasoning behind her beliefs, especially since she's going to condone the governing of other people's lives based on those beliefs. And let's be clear: Are we talking about Islam or Muslim? Muslim people I know make a distinction between Muslim (religion) and Islam (politics). Also, the Muslim religion has more than a few fundamentalists offshoots--and even the major denominations of the religion have fundamentalist adherants. I can't now recall the authors of the articles, but immediately after Sept. 11, the New York Times and Le Monde ran nearly a column a day about the lack of, or silence of, moderate Muslim believers. Discussions centered on the question of whether a moderate islam exists; and the widely held perception--and not just in the West--that the Muslim faith is being held hostage a bit by its fundamentalist arms. The argument threw out examples of "the silent majority" in Pakistan, Iran, and Egypt. In these countries, people wear jeans and dance to bootleg Madonna CDs only in the secrecy of their homes for fear of the vice patrols that are governmental ministries in such countries. I'm a bit busy at work (deadlines, deadlines), but here are a few references for starters: http://www.rferl.org/nca/features/2002/09/06092002190208.asp http://www.nytimes.com/2001/11/02/opinion/02RUSH.html?ex=1063944000&en=16fdcc1129683002&ei=5070 http://www.amazon.com/exec/obidos/tg/detail/-/0813016584/104-6141642-3759936?v=glance#product-details

Author

Nia

Date

2003-09-17T16:17:46-06:00
ID

68432

Comment

And a couple more: http://globetrotter.berkeley.edu/people2/Nasr/nasr-con3.html http://www.softcom.net/webnews/wed/bx/Qmorocco-pakistan.RyFL_DlI.html

Author

Nia

Date

2003-09-17T16:18:13-06:00
ID

68433

Comment

I'd suggest Karen Armstrong's book, "The Battle for God", which addresses the rise of fundamentalism in the 3 related monotheistic religions - Judaism, Christianity and Islam.

Author

Kate

Date

2003-09-17T16:47:59-06:00
ID

68434

Comment

That sounds like a good read--and well on point. I haven't thought it all the way through yet, but I'm not sure you can make a distinction between homophobic Christians and anti-Western Islamists. Both groups base their beliefs on fundamentalist, literal interpretations of their religious texts; interpretations that are inspired not by science or even religious scholarship, but rather by politics and national and familial culture (AKA: "My mother/father/governor said so and so it must be so.").

Author

Nia

Date

2003-09-17T17:02:23-06:00
ID

68435

Comment

My goodness. Shocked and awed? Please. Certainly you can do better than that? As I suspected you couldn't, you didn't, provide anything that remotely supported any contention or conclusion that Islam was mired in fundamentalism. (Your words, not mine, notwithstanding your attempts to flail in the seeking of a 'clarification spin' to distinguish between the meanings of "Islam" and "Muslim". LOL) No kidding, there are more than a few offshoots? LMAO Thanks for the "starters". Having anything to support the your original conclusion?

Author

Reader

Date

2003-09-17T18:29:47-06:00
ID

68436

Comment

Kate, we listened to "The Battle for God" on books-on-tape on a car trip (I know, light entertainment). It was very good, and informative. I'd like to read the book as well, though; it's a lot to soak up with one listen. Thanks for the recommendation. Nia, good point about the perceived differents between "Muslim" and "Islam." That's not something folks think about every day.

Author

ladd

Date

2003-09-17T20:34:23-06:00
ID

68437

Comment

Reader: Iím not sure what your point is (or why youíre taking this so seriously and behaving as if youíve been personally insulted); but since you missed my point, Iíll restate it: Fundamentalism of any kindóChristian, Muslim, Buddhistóis more about politics and culture than about religion. And it may not be a philosophy that you subscribe to (or me either for that matter), but many people, including an awful lot of Muslims, make a clear distinction between Muslim and Islam. For them, the terms are not synonymous. And as for the idea of Islam (meaning politics) being mired in fundamentalism, since you clearly didnít read the articles I provided links to earlier, it hardly pays to post more of them. But since you asked: http://www.scholarofthehouse.org/modnewyortim.html http://www.islamfortoday.com/akbar04.htm Conspicuously missing from your diatribe is your argument for why Iím wrong....

Author

Nia

Date

2003-09-18T00:16:35-06:00
ID

68438

Comment

Keep playing defense. Islam is not mired in fundamentalism. I realize that you only have a surface understanding of the religion and its politics. I let you off the hook for your original mis-statement.

Author

Reader

Date

2003-09-18T07:35:07-06:00
ID

68439

Comment

Nia, I think your point about fundmentalism being more about politics and culture than religion bears thought and is, of course, very provocative. I'd love to hear what some other readers have to say about it.

Author

ladd

Date

2003-09-18T10:47:31-06:00
ID

68440

Comment

Reader: So...you don't actually have a valid argument, just more scriven barbs? If you're having difficulty getting me off the hook, it's probably because I'm not on it.

Author

Nia

Date

2003-09-18T12:44:18-06:00
ID

68441

Comment

Here's an interesting take on the relationship between terrorism, fundamentalism, religion, and politics. Reader take note.... http://www.nytimes.com/2003/09/22/opinion/22PAPE.html

Author

Nia

Date

2003-09-22T15:41:48-06:00
ID

68442

Comment

Way to go Ms. Spann! I totally agree with you and I'm so proud you had the guts, knowledge and Heart to say it all! It is Truth you speak, indeed. As Christians, especially priests/pastors/preachers, we are supposed to abide by the Book (Bible) and its teachings. Isn't the whole point of a Christian faith Priest to lead the people by way of the teachings of the Bible. To lead by example? Seems the real problem is that the majority are living by man's law with complete disregard for God's Law. This Church especially. You will have all sorts of people knocking you on here due to speaking up and speaking truth for Christians and what the Church is supposed to be... I want you to know that we hear you and give you a THUMBS UP! I think the Church should take a better look at things. Re-evaluate or try to rediscover the Bible. Maybe you could have them look up the story of Sodom and Gomorrah. Maybe you could show them the laws of God written clearly in the book they are supposed to be teaching to the flock. I guess they must have skipped those books..maybe because..well, it just felt right. So Ms. Spann..the people your article was supposed to reach, it did. Have no worries about the rest. Good Day and May God Bless you!

Author

stacy

Date

2003-09-23T00:19:31-06:00
ID

68443

Comment

Well written/stated, Ms. Spann. I find myself in agreement with a lot of your column. I find it hard to understand how some can look up to Canon Robinson as a morla example. He went from a life of fidelity within marriage to the practice of unchastity outside marriage. Even without the matter of his being sexually active with another guy, what does the fact that he left his marriage - and two children - do to his status as a moral leader? I thought that priests and bishops were supposed to people who lead by example and are someone who their congregation or diocese can see as being Christ-like. I won't argue that every church leader has been a sterling example of being Christian - but most people take marriage and the vows made as pretty serious commitments. Canon Robinson hasn't really been much of an example.

Author

Fielding

Date

2003-09-29T13:37:43-06:00
ID

68444

Comment

Fancy that... everyone making a stink over one(1) gay bishop. You'd think there weren't hetero, child molesting priests already camping out in the Anglican wings. Not that I am Christian (though Buddha's teachings are of the same fabric) but I can safely assume if Christ were to walk into Six Flags over Jesus (downtown) or any other decadant church that needs a city block to flaunt its power, he'd probably cause more uproar over the squabbling and opinionated Christians that have perverted a simple religion than some lonely and isolated homosexual Bishop/Priest/Rabbi/Preacher. You should all be ashamed for thinking you know God's will or Christ's way because you read a misinterpreted book literally. Even a Buddhist can tell you are far from knowing the wisdom of the words of Christ.

Author

Somewhat Buddhist

Date

2003-09-29T17:58:09-06:00
ID

68445

Comment

Here's a recent article from the NYT on the author of what sounds like a great book on how fundamentalism has hijacked Islam: http://www.nytimes.com/2003/10/04/international/americas/04FPRO.html?8hpib

Author

Nia

Date

2003-10-04T10:23:31-06:00
ID

68446

Comment

Washington Post today: "Republican lawmakers and conservative activists are making plans to turn gay marriage into a major issue in next year's elections, with some Christian groups saying that banning same-sex unions is a higher immediate priority for them than restricting abortion." "Party strategists said the issue could be a bonanza for mobilizing conservatives to fund campaigns and turn out to vote, particularly in the South. Conservative groups said they plan to challenge candidates to sign a pledge in support of a constitutional amendment precluding gay marriage, then use the results -- along with votes Republicans hope to force in the House and Senate -- as a wedge against Democrats." http://www.washingtonpost.com/wp-dyn/articles/A14193-2003Oct24.html

Author

ladd

Date

2003-10-25T18:23:34-06:00
ID

68447

Comment

Canada never looked so attractive... ;-)

Author

Knol Aust

Date

2003-10-25T21:06:07-06:00
ID

68448

Comment

OMG! A constitutional amendment. It would never get through both houses. That's scary that someone could even think up such an idea. I swear, if they do that, I'm moving to Canada, too. Or Italy, which probably isn't much better than here, but at least it's gorgeous and the food is all good.

Author

Nia

Date

2003-10-25T21:28:59-06:00
ID

68449

Comment

It is amazing with the problems on our U.S. plate -- education funding, terrorism, war and poverty, to name four -- that there are elected official who can find the time to lobby for a constitutional amendment (that would, in effect, encourage promiscuity). Y'all can't go to Canada, though. Then the bad guys win.

Author

ladd

Date

2003-10-25T21:50:51-06:00
ID

68450

Comment

Don't worry. I can barely stand the cold weather in NY! :-)

Author

Nia

Date

2003-10-25T22:59:16-06:00
More stories by this author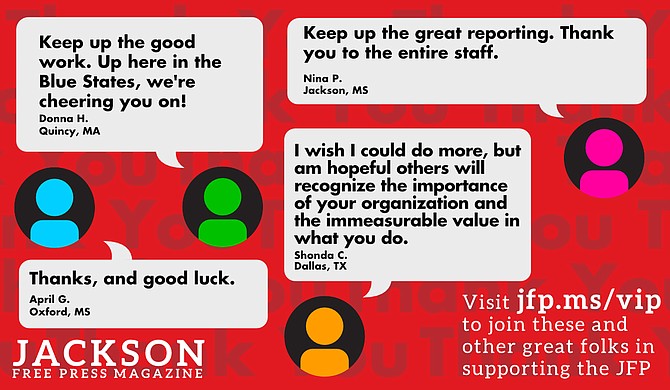 Thanks to all our new JFP VIPs!
COVID-19 has closed down the main sources of the JFP's revenue -- concerts, festivals, fundraisers, restaurants and bars. If everyone reading this article gives $5 or more, we should be able to continue publishing through the crisis. Please pay what you can to keep us reporting and publishing.