I watched the previews on television all week with apprehension. I thought, "Please don't let it be Mississippi." I've never been ashamed of Mississippi, though I've often renounced the racists and other trite characters that call our state home. But fears about my state being misrepresented ran rampant when I saw scenes from an upcoming episode of the NBC drama "Crossing Jordan." The show's characters were to visit a southern state to render Bostonian justice for an old hate crime.
My fears came true; the episode was indeed set in Mississippi. From the exclamation, "I can't let you go, Jordan. They shoot people down there!" to the tired accents and clichéd characters, I knew we were doomed. The episode's tidy ending was just as inexcusable: the Yankees save the day with a few pointed words to the town bigot outside of a very dated gas station. So moved by these simply stated truths, Mr. Bigot Extraordinaire hightails it on over to apologize to the family of the black man he shot in the back 40 years earlier for trying to integrate the local movie theater. I could visualize patronizing viewers from "the North" turning up their noses at our backwardness. They'd say, "See how simple that was? Why can't you people handle your race problem the same way?"
Last year, we invited friends from the Washington, D.C., area to visit. They were wary of coming South. As African Americans, they didn't want to deal with the racist comments or the tense atmosphere they believed was everyday life in Mississippi. I jokingly told them that they had nothing to fear; we'd only had a cross burned in our yard once since we'd bought our house three years earlier. You should have seen their faces. It was hilarious! For about three seconds, they actually believed me. The stages of that realization were palpable: from disgust that such events still occurred to horror at my nonchalance and finally to frustration that I'd joke about such a thing.
I don't know if it was the 300-thread-count sheets in the guest room or the Southern hospitality they felt in every restaurant, shop and home, but since that conversation, they've already visited twice and are planning a return trip. They even entertained the idea of buying a house in Metro Jackson when they retire. Our friends are an excellent example of how we must learn to "sell" our state to the world: getting them here is the key. Mississippi speaks for herself, drawl and all. The rich personality of both people and places proclaim that life is quite different from the images of movies and television.
It's sad when we realize just how the rest of the world perceives life in our state. I'd hoped that perceptions had changed, but that one episode of "Crossing Jordan" reminded me how far we haven't come. Even sadder is the fact that some of us don't care about those perceptions or at least our actions give that impression. The alarming majority of citizens who voted to keep the current state flag fit that bill. Certainly folks like Richard Barrett with his ill-planned and misguided attempt to polarize state fairgoers couldn't care about perceptions.
Life is good in Mississippi. Sure, we're still growing, and old wounds are often slow to heal both here and across the nation. That growth, however, won't continue if we don't open our doors to the rest of the world. We have to roll out the welcome mat with a hearty "Come on in!" By the way, the welcome mat shouldn't be emblazoned with Confederate battle flags. Some vestiges of the Old South are not worth salvaging; southern anomalies like "Yes, ma'am" and offering guests a cool drink are.
More importantly, our neighbors across the U.S. must be willing to step inside and visit for a while. There's more to us than down-home cookin', pick-up trucks with gun racks and old black guys playing the blues. And contrary to depictions in all of those John Grisham movies, most of us have air conditioning in our homes.
There's love and laughter and a fullness of life in Mississippi that I haven't seen in many places. I believe that because of the pain of the past, people relish life just a little more. The dark past doesn't hold us back. Of course, we shouldn't pretend it didn't happen, but we've got to finally convince ourselves—and invite the rest of the world to see—that the future's much brighter than the past.
Invite your Yankee brethren to come on down. Then they'll discover for themselves what's true and good about life in Mississippi … all without dodging a single bullet.
Jennifer Spann, a writer in Jackson, has provided frequent columns for the JFP since the first issue. After a short sabbatical, we welcome her back.
More like this story
More stories by this author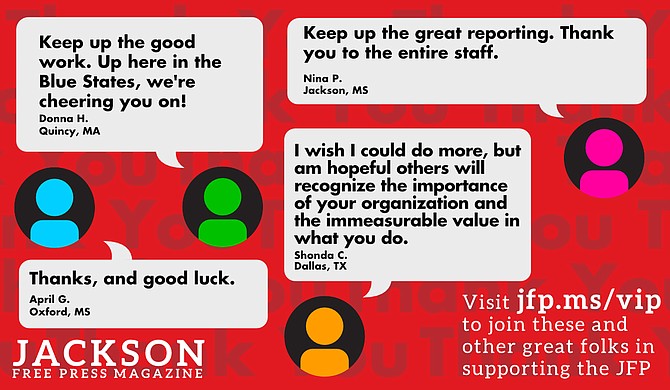 Thanks to all our new JFP VIPs!
COVID-19 has closed down the main sources of the JFP's revenue -- concerts, festivals, fundraisers, restaurants and bars. If everyone reading this article gives $5 or more, we should be able to continue publishing through the crisis. Please pay what you can to keep us reporting and publishing.