I still remember the day I discovered my first gray hair. I was blow-drying my hair and just as I parted a new section to dry, I saw it in all its pale, wiry glory. I gasped and froze, not sure whether to jump for joy or cry out in despair. I raced from the bathroom into our home office to share my discovery with my husband. "I have a gray hair," I said with a mixture of confusion and delight. I saw him pause suddenly with his hands poised above the computer keyboard. "OK," he said tentatively. I could almost see the wheels turning in his head as he deliberated his next response. Were congratulations in order, or should he be prepared to comfort me with some lame comment about wisdom? Luckily, I broke the tension with something like "I guess I'm officially a grown-up now. This is kind of a special moment, huh?"
That was shortly after my 30th birthday. Back then (I'm 31 now), I thought I was OK with getting older. I'd proudly announce my age for all the world to hear. I even reveled in the idea of getting a line or two around my eyes for character and a gray hair to show maturity. But now that I look back at the last couple of years, I realize that many of my lesser obsessions have been about stopping or at least slowing down the aging process. To make matters worse, I have some pretty high standards to live up to in the aging department: My 57-year-old mom doesn't look a day over 45. That can give a girl a major complex.
As a result, I've been hitting the gym religiously to combat my decelerating metabolism and to tone those nasty sagging areas that keep popping up. My favorite Mary Kay beauty consultant has also been turning quite a profit on the myriad of cleansers and creams I've been purchasing from the company's ever-expanding anti-aging collection. Reflecting on my efforts, though, I realize my pursuits aren't as much about clinging to a youthful appearance as they are about preserving an active body and youthful spirit. Maintenance work you could call it and, in some cases, minor upgrades.
I vowed to be in the best shape of my life by my 31st birthday, and I did it. I've completed a marathon, continue to run at least three days a week and lift weights regularly. My husband does the same (minus the marathon). There's nothing wrong with taking care of yourself even if a little vanity is the catalyst that jumpstarts your particular regimen. Too many of us neglect our health and appearance. I don't know about you, but I want to look my best for my mate and myself. No, one shouldn't dump the spouse for Miss or Mr. Tenderoni just because the significant other's butt is spreading. Nor should one always use the kids and work as an excuse why the treadmill is draped in dirty clothes instead of one's hard-earned sweat. The natural aging process certainly can impact our waistlines as much as our eyesight and hairlines. So you invest in eyeglasses when you can't read the fine print and Rogaine or a crafty barber when the hair starts to go, right? I hope you get my drift.
I may never have buns of steel to bounce a dime off of, and the lurking cellulite may eventually take over my thighs, but I've got something extra that those firm young things in their teens and 20s can't touch. My spiritual and emotional fitness have been honed in the gym of life, and it shows. When I look at old photographs of myself from high school and even college, I always think how much better I look now. Sounds kind of vain, I know. But I'm not talking about a new hairstyle, better clothes or the absence of oversized eyewear. Sure, I have a classier hair stylist now and the guts to avoid unflattering fashion trends. It's something greater. I see a confidence, an assurance that was missing in my younger days. That's what accompanies the lines, gray hairs and weathered exterior we all develop over time— a sense of self and a healthy disillusionment about the world sprouting forth with every passing birthday. Of course, none of us has it all figured out. That wouldn't be any fun. Many of us have, however, have determined just how clueless we indeed are.
Why hide all of that road-tested knowledge and wisdom with pounds of makeup or nip it away with a surgeon's scalpel? Enjoy the new view with pride. Besides, if you've got a youthful attitude and a warm, winning spirit, those lines and wrinkles won't be the first thing that people see anyway.
I've counted a couple more gray hairs since that fateful day so long ago, and I shrug off each new one with ease. Yes, Mom's secret is out. Her fountain of youth is finally within my grasp, and I'm sharing it with the world. All the same, I'm still working on those buns of steel. Gotta dime?
Jennifer Spann is a frequent columnist for the JFP.
More like this story
More stories by this author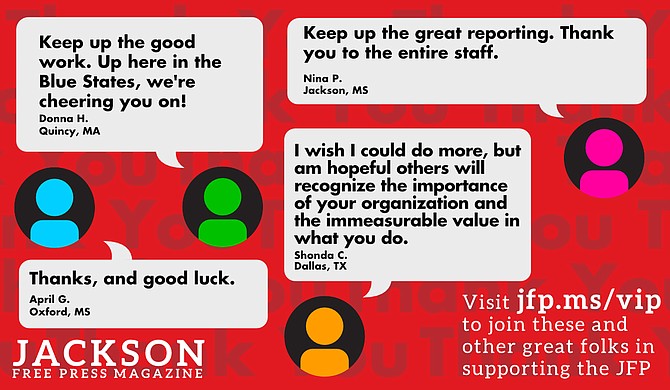 Thanks to all our new JFP VIPs!
COVID-19 has closed down the main sources of the JFP's revenue -- concerts, festivals, fundraisers, restaurants and bars. If everyone reading this article gives $5 or more, we should be able to continue publishing through the crisis. Please pay what you can to keep us reporting and publishing.