So Vanilla Ice is a rock star these days? I heard that he even played a set at a club in the Jackson area not so long ago. Perhaps a heavy-metal version of "Ice Ice Baby" was at the core of his set. Well, maybe he's finally found his place in the music world. Sorry … was that too cold, too cold? White fans of hiphop and artists like Eminem have had to contend with comparisons and jokes since the dark days when Vanilla Ice donned those baggy Hammer pants and did that annoying neck-jerking dance on the Arsenio Hall Show. But a whole new generation of rappers and rap aficionados with a lot of heart and no pretensions of ghetto hardship has cropped up in the white community.
Take my buddies Sam and Triathlon Man: two mostly wholesome, clean-cut white kids from the suburbs (or the equivalent). They're artistic types in their 30s whom you would expect to enjoy the soothing melodies of Norah Jones and John Mayer. But pull up next to them in traffic, and you'll probably be blown away by thumping bass and taken aback with their bobbing heads as they groove to the likes of 50 Cent, Trick Daddy or Sean Paul. Like most of my friends of all ethnicities, they listen to a variety of music genres, but seem to prefer the rousing beats of hiphop for car trips.
They represent a different stereotype. When a car passes me with loud music, I often assume it's a young white kid with a new sound system rather than a group of black guys. I'll admit that I often wonder if this is the new way to rebel (like listening to Elvis and the Beatles in the 50s and 60s) or to be cool ("See, my black friend, white isn't whack after all!"). But I guess folks are finally realizing that rap and hiphop are about more than boastin', bangin' (as in gang banging or other street violence) and bitches. Yes, unfortunately a lot of artists still focus on those three Bs, and I am definitely disappointed in the wide-scale endorsement of drug use. On the other hand, some rap music can provide an amusing look at our lives in these crazy times and a snapshot of our fragile humanity.
First, I should offer a short primer on terminology: rap - popular music with spoken, rhyming lyrics and often featuring a looped electronic beat in the background; hiphop—popular culture that started in the '80s in inner-city areas, includes rap music, graffiti art and breakdancing (courtesy of Encarta World English Dictionary). Both terms have come a long way since their inception in the '80s. I personally define hiphop as music that is influenced by rap, but may not necessarily include spoken lyrics—a kind of fusion of rhythm & blues and rap.
Some rap/hiphop songs have a great party vibe for dancing or enjoying the sounds as you drive or clean the house. Others broach the subject of love and romance in very realistic ways. 50 Cent's recent hit, "21 Questions," and LL Cool J's "Luv U Better" explore the ups and downs of relationships and whether we can hold on through the rough times.
Still other songs offer a glimpse into the artist's life. Eminem lyrically illustrates his tumultuous relationships with his mother and ex-wife. And DMX battles internal struggles between good and evil right before our ears on his albums. The language is raw, and the images are often brutal, but if you can tolerate the intensity of the message, these artists reveal a picture of every man's struggle with his personal demons.
Music is the great equalizer. It defines moments and experiences that transcend ethnicity, age, gender or religion. Black friends in junior high and high school would often ask me why I listened to "white music." I didn't understand what they meant. It seemed like a dumb question. Music is music: The face of the artist has nothing to do with me. When artists sing and write what they know and have lived, a certain authenticity comes through in the music. (Sorry again, Vanilla). If I can relate to the experience being shared or simply enjoy the rhythm of the music, that's what really matters.
As music, especially rap and hiphop, continues to evolve and reach a wider audience, I believe all people will realize the universality of our existence. No matter our upbringing, income or educational level, we have the same hang-ups, fears, joys and triumphs. Music simply offers a multiplicity of ways to express those feelings.
So in this season of rump-shaking good times, pool parties from dusk to dawn and other bootylicious events, I say turn up the volume and get your head bobbin' to whatever tunes you enjoy. But please, everyone, spare us that Vanilla Ice dance.
Jennifer Spann is a regular columnist for the JFP.
More like this story
More stories by this author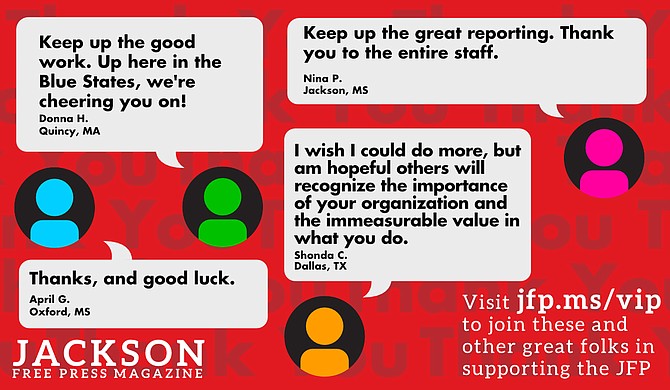 Thanks to all our new JFP VIPs!
COVID-19 has closed down the main sources of the JFP's revenue -- concerts, festivals, fundraisers, restaurants and bars. If everyone reading this article gives $5 or more, we should be able to continue publishing through the crisis. Please pay what you can to keep us reporting and publishing.