"Sweetie, what do you think of all these corporate scandals?" "Well, management guru Charles Handy would posit that …" Uh-oh! The Wacky Professor strikes again!
A friend coined the moniker after hearing tales of my husband's intellectual musings, and now I've taken to referring to him by this little nickname. These days, simple dinner conversation often elevates into a philosophical battle of wits in the Spann household. My husband can't be out-quoted, and I simply won't be out-philosophized.
For those who know my husband or have at least met him, you can probably see why the nickname stuck. For the rest of you, my husband is a tall, slender guy who wears eyeglasses with hip retro frames and has a certain propensity for sweaters (think Banana Republic, not Bill Cosby, thank goodness). Oh, and did I mention how cute he is? Anyhow, the Wackster, for short, is currently enrolled in a doctoral program with the University of Phoenix Online and has become quite the philosopher in recent months. This is a man who didn't used to read the back of the cereal box, and now he plows through four to five textbooks and a whole bevy of journal articles every month.
Needless to say, this has certainly opened his mind and ignited his passion for learning.
My husband has never really said it, but I believe that one of his heroes is Booker T. Washington. His eyes light up when he recounts Washington's life story. Born a slave on a West Virginia plantation, Washington overcame discrimination and poverty to become a vocal champion for the equality of black people. He is, of course, the founder of Tuskegee University, a historical black institution in Alabama. Booker T. Washington's driving passion? Educating himself and other black people.
Though the obstacles in his life haven't been nearly as overwhelming, the Wackster can relate to Washington's challenges. After all, he is a young black man in America struggling with the stigmas and stereotypes that often plague his demographic group. My husband grew up in Clinton, Miss., quite literally on the wrong side of the tracks in a close-knit family where everyone did (and still does) take care of each other. They are far from rich, but no one ever wants for the basics. Going to college wasn't necessarily a given, but a young Wacky Professor-to-be understood even then that attaining an education would be fundamental to achieving his goals.
The pursuit of education has long been a cornerstone of the black struggle in the United States. When we consider that reading and writing were often offenses punishable by beating and even death during the years of slavery, we can see why that forbidden fruit looms so enticingly for black people today. Throughout the Civil Rights Movement, the desegregation of schools and the availability of equitable school materials, such as books, were high priorities right next to voting rights. Even today the proudest moment in a black family's history is often the day the first child or grandchild graduates from college.
Like so many before him—Booker T. Washington, the Little Rock Nine, James Meredith and others—the Wackster is committed to not only educating himself, but to paving the way for generations to come. In fact, he wants to take the hands-on approach by becoming a college professor.
My husband has never considered himself an academician; he still doesn't. Here he is two and a half degrees later (a bachelor's and master's already under his belt and the doctorate well under way), and he would say that he's more street-smart than book-smart. However, as I watch him hunched over the computer in our home office or furrow-browed on the phone with a classmate, I see a great mind at work and a man committed to a cause: the pursuit of excellence through education.
Black people often lament that we need a new leader to stimulate our community and lead us into a new era of progress and change—say, the next W.E.B. DuBois or Martin Luther King Jr. I don't particularly agree with that assessment, but I will say that I've found my leader. I know he'd never guess it, particularly when I whine about a 12-page paper he wants me to edit or roll my eyes when he starts quoting Plato again. But the Wacky Professor is my hero. His strength, dedication and loving spirit embrace everything that he touches, including me.
My husband is often baffled when family and friends seek his advice or boast about his radiant personality. I try to tell him that he's well loved, immensely respected and a successful leader in his own right. The Wackster would probably quote Booker T. Washington and say, "Success is to be measured not so much by the position that one has reached in life as by the obstacles which he has overcome while trying to succeed." Ah, the Wacky Professor strikes again.
Jennifer Spann is a regular columnist for the Jackson Free Press.
More like this story
More stories by this author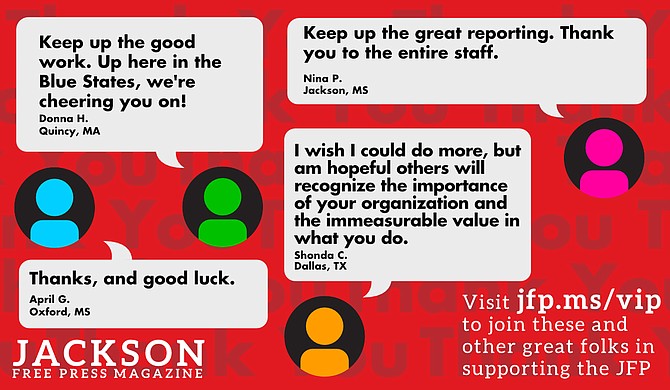 Thanks to all our new JFP VIPs!
COVID-19 has closed down the main sources of the JFP's revenue -- concerts, festivals, fundraisers, restaurants and bars. If everyone reading this article gives $5 or more, we should be able to continue publishing through the crisis. Please pay what you can to keep us reporting and publishing.